Join us in supporting the Woodstock Rec Center a local gem providing classes and programs for the community. Proceeds from tickets purchased will go directly to supporting the Rec Center.
Tickets are $5 each and can be purchased at the door (Children 12 and under are free).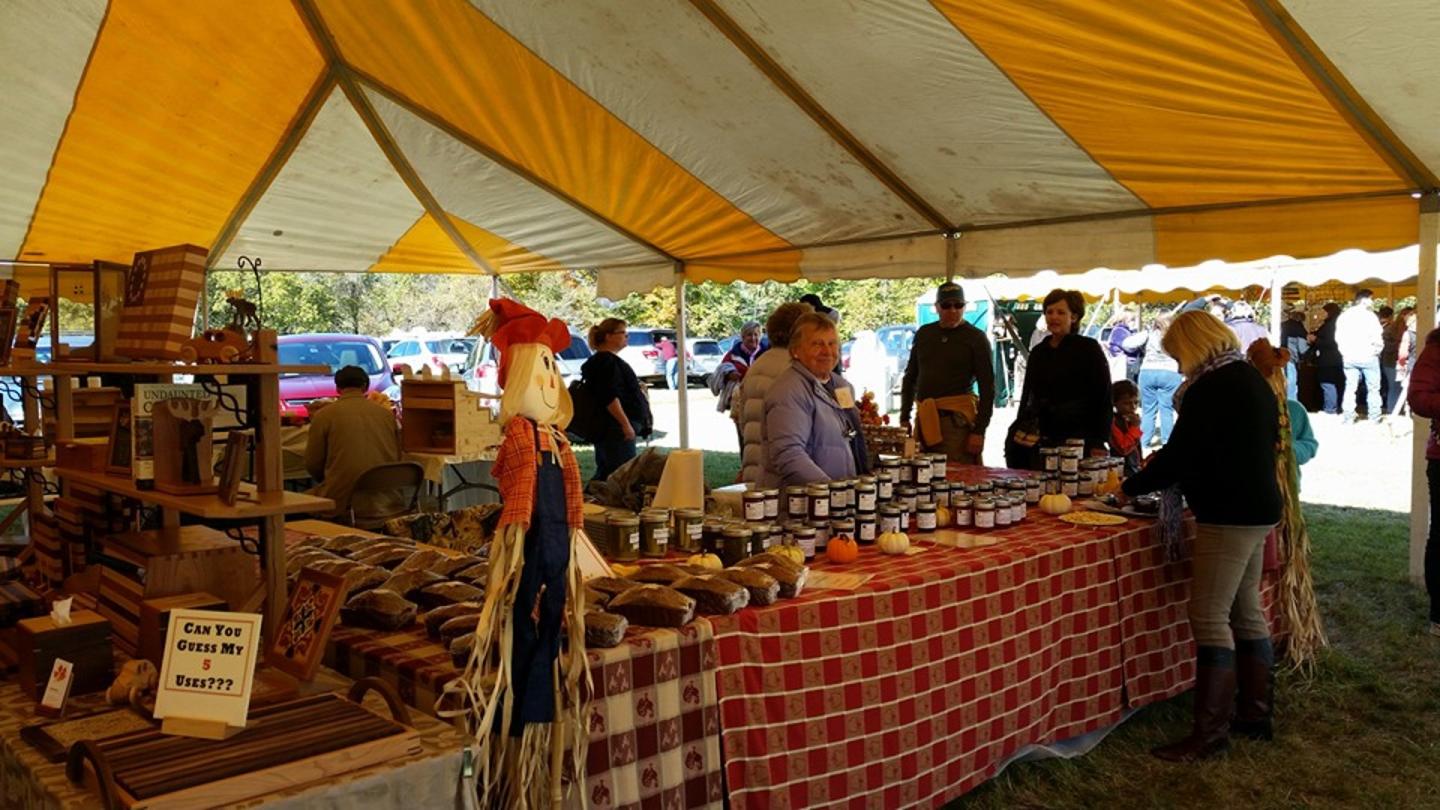 Enjoy a variety of Good Food 
Warm up your soul and fill your belly with all different types of cuisine this year at the Apple's and Crafts Fair!
Filipino BBQ, rice, spring rolls, and noodles (

Maria's Kusina)

Classic Grilled cheese with tomato soup (Flynn, Gail)
Poutine with hand-cut fries, fresh cheese curds (yum!), and homemade gravy (Farmers Kitchen)
Mediterranean Spanikopita, lasagna, dolma (stuffed grape leaves), and baklava for a sweet treat (

Mediterranean Mix)

Pre-made picnic boxes (

Ulman, Angela)

Assorted baked goods (

Hackett, Pat)

, mini doughnuts & coffee (

Ingalls, Kevin)

, pies, bread, popcorn(

Paris-Wilkerson)

, kettle corn (

Whalen, Michelle)

, and more!
Your tastebuds will not be disappointed with this lineup.
vendors to browse 
Abbott Mead, Kit: Painted home treasures 
Alan, Robert: Dried Flowers 
Albanese & Tuttle-Recycled: winter sports equip.
Barrett, Amanda: Rope Vases & Bowls
Berquist, Meagen: Sustainable products
Brouard, Pam: Ireland soap
Browne, Christine: Silver Handmade Jewelry
Bryant-Linda: Wooden Pixies
Bushueff, Katelyn: Hand-Crafted Jewelry
Chubby Chicks: Jams, pickles & relish
Cook, Dianne: Recycle bags, hats & clothes
Dahlstrom, Connolly, Morse: Pottery & woodworking
DiCarlois, Monica: Canvas prints
Dunigan, Sharon: Pottery
Dupuis, Pattie: Dips & dessert mixes
Echlin, Diane: Porcelain & stoneware ceramics
vendors continued
Gallison, Maria: Organic Soy bathroom products
Garrison, Linda and John: Handblown Balloons
Gates, Donna: Baskets
Gatto, John: Painted items
Glenbowski, Gina: Art, handmade jewelry
Gray, Megan: Pottery
Krieger, Barbara: Jewelry, Textiles
Krueger, Stephen: Knit hats & scarves
Lecuyer, Sue: Beadwork Jewelry
Lemay, Allisen: Jewelry & Accessories
Lessard, Brian: Wood Art
Lidie, Judy: Handcrafted soaps
MacFadden, Charlotte: Mixed Metal  jewelry
Manice, Tita: Skin products & Honey
Manning, Lisa: Photography & small gift items
McNally, Nancy: Painted hope & healing stones
Moore: Wooden boxes & Botanical products
Oldenburg, Barb: Crocheted items & cards
Parent, Zoie: Jewelry
Paschell, Alan: Stoneware Ceramics
Picardy, John: Book, WWII Veteran
Piconi, Eden: Organic lavender & garlic
Plante, Catelynn: Wood/canvas signs, home décor
Potter, Phyllis: Jams/Jellies, bread, syrup, apples
Quirion, Tracie: Handwoven Baskets & honey
Rizzo/Diaz: Jewelry, Crochet & Knitted items
Scarborough, Leslie: Needle-Felted animals
Scott, Jeff: Photography
Senner: Goat Milk products & CBD
vendors continued
Silo Distillery: Spirits and Cider
Snyder, Andy: Pottery
Therrien-Hook, Amy: Watercolor paintings
Thompson, Terry & Sarah: Jams, toys, ornaments
Thurston, Christina: Stained glass
Trzesiara, Melissa: Items from recycled sweaters
Wallis, Shannon: Ukrainian eggs & Jewelry
Wardwell, Jeff: Yard Art
Wehmeyer, Meggan: Bath and body products
White, Laura: Pottery 
Whitney, Angie Whitney: Handcrafted Jewelry
Windsor, Wendy: Cotton canvas bags & masks
Wuttke, Christopher: Stoneware Pottery
There is so much to see and enjoy at the 49th annual Apple and Crafts Fair... you can easily spend the entire afternoon shopping and enjoying food and fun. Bring your family and friends to enjoy the fair and give back to the community as well.
As a reminder, all proceeds will benefit the Woodstock Recreation Center
TO ACCESS MORE GREAT CONTENT ON OUR BLOG...