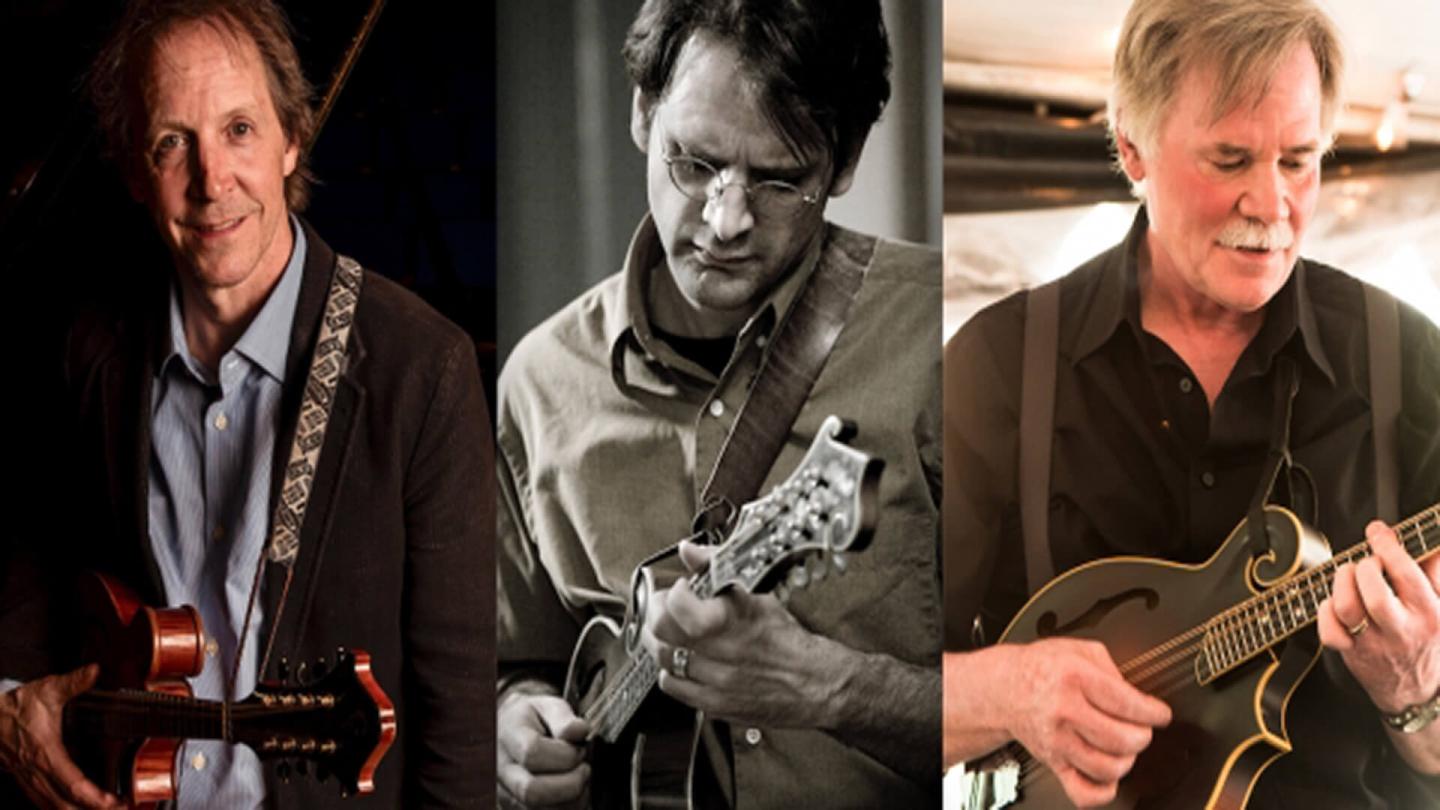 Events
The Vermont Mandolin Trio
The trio of Jamie Masefield, Will Patton and Matt Flinner brings together three of Vermont's finest mandolinists for a rare evening of bluegrass, jazz and roots music in the unique (and very happy sounding) setting of three mandolins.  Joined by journeyman bassist Pat Melvin, the group performs music of Bill Monroe, Django Reinhardt, J.S. Bach and everything in between, all with the flair of virtuosity and originality.  
Grammy-nominated mandolinist Matt Flinner has made a career out of playing acoustic music in new ways. Whether it's with his own Matt Flinner Trio or with Phillips, Grier and Flinner, the Frank Vignola Quartet, Darrell Scott, Steve Martin, the Ying Quartet, Tim O'Brien, Leftover Salmon or the Modern Mandolin Quartet, Flinner's style and compositional ability have established him as one of the most accomplished and musically diverse mandolinists in the world. Starting out as a banjo prodigy who was playing bluegrass festivals before he entered his teens, Flinner later took up the mandolin, won the National Banjo Competition in Winfield, KS in 1990, and won the mandolin award there the following year. Matt now tours regularly with the Matt Flinner Trio, which is known for its off-the-cuff compositional daring, writing music the same day it's performed on most of their shows. He also tours regularly with the Modern Mandolin Quartet, which was nominated for three Grammy awards for their CD "Americana" in 2013. Over the last several years, Flinner has become known as one of the leading writers of instrumental music in the acoustic world, and his background in classical composition has led him into new avenues in both classical and string band music. Some of Flinner's longer-form compositions have been performed by the Ying Quartet, the Nashville Chamber Orchestra, Chatterbird, the Expedition Quintet and the Modern Mandolin Quartet. Flinner currently lives in Ripton, VT.
Mandolinist Jamie Masefield began playing on the tenor banjo when he was 11, learning traditional New Orleans jazz.  This continuously influenced his approach to playing the mandolin over the years on his way to becoming one of the most widely-recognized jazz mandolinists in the country.  Jamie is perhaps best known for his ground breaking group, the Jazz Mandolin Project, which toured the US extensively from 1996 to 2006, and helped carve out new territory for the mandolin in jazz while bringing the instrument to wider audiences in both the jazz and jam band scenes.  The group released six albums, including its major label album Xenoblast on Blue Note Records in 2000. Jamie has also toured and recorded with virtuoso guitarist Frank Vignola and Phish drummer Jon Fishman. When he's not out playing the mandolin, Jamie is a highly-respected dry stone mason, creating projects around the northeast for civic use as well as artistic display.  Jamie currently lives in Monkton, VT.  
Will Patton has been playing music since the age of 6, starting on piano and taking up guitar at age 12.  Mandolin and bass soon followed, and he's been leading bands since he was thirteen. He studied at Middlebury College in Vermont and discovered a deep connection with the rural landscape there.  "Vermont called to me immediately as the place I wanted to call home... I love to travel, and I love returning to these Green Mountains."
His travels have taken him to Rio, Paris and the Caribbean as well as all over the U.S. and Canada, playing rock and roll, folk, bluegrass, Brazilian music, and jazz. His bands have opened for Van Morrison, Ray Charles, Bonnie Raitt, Earl Scruggs, Maynard Ferguson, John McLaughlin and Toots Thielemans.  He has shared the stage with Roy Eldridge and Mose Allison and is featured on many recordings as a bassist and mandolinist. During the last twenty years he has been visiting and playing in Paris, and his collaborations with legendary gypsy guitarist Ninine Garcia as documented on his recordings have received critical acclaim both in the U.S. and abroad.
His recordings, made with his long time working ensemble as well as guest artists such as Ninine, have all been very well reviewed nationally and have been heard on folk, World and jazz radio shows all across America, as well as on NPR.   
"I've been very fortunate in being able to play the music I love, and to find wonderful, inspired musicians to join me in exploring some new ways of looking at acoustic music."
Dates & Times
10
January
7:30pm to 9:30pm
Contact
Marie Cross
2095 Pomfret Road
South Pomfret, VT 05091
United States

Upcoming
Events
View all events