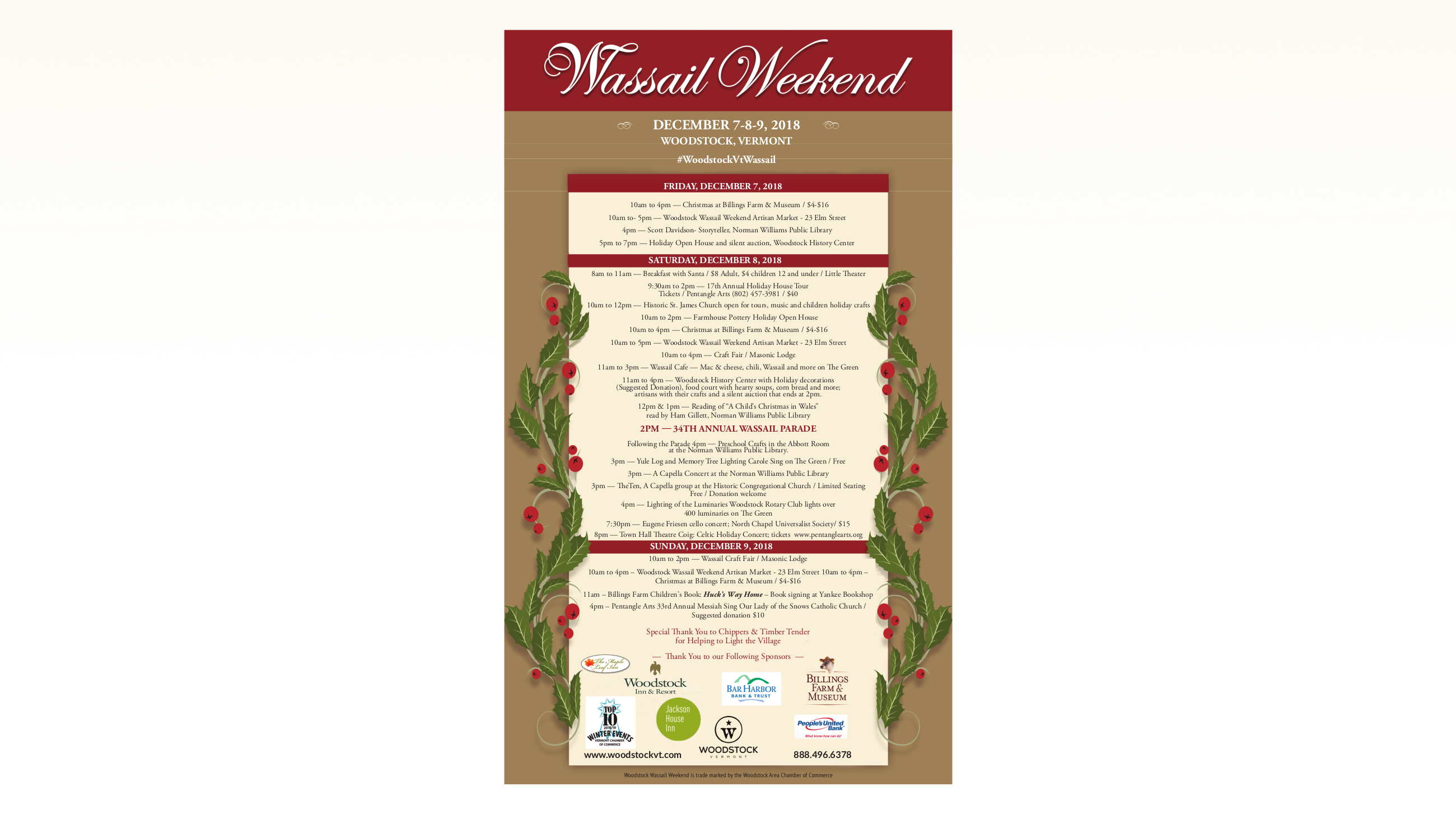 Filled with twinkling lights, historic decorated homes, breakfast with Santa, and so much more, the town transforms into the holiday wonderland of your dreams, complete with sleigh bells during our Wassail Parade and holiday decorations at Billings Farm that harken back to historic 19th century charm. There's something for all ages throughout this festive holiday weekend. But don't wait! Lodging and activities are filling up fast, so make your reservations now!
Friday, December 7...
Saturday, December 8...
8 - 11 AM: Breakfast with Santa at the Little Theater / $8 Adult, $4 children 12 and under
9:30 AM - 2 PM: 17th Annual Holiday House Tour

, tickets available through Pentangle Arts (802) 457-3981 / $45

10 AM - 12 PM: Historic St. James Church open for tours and music
10 AM – 3 PM: Open House at Farmhouse Pottery
10 AM - 4 PM: Christmas at Billings Farm & Museum / $4-$16
10 AM - 4 PM: Craft Fair at the Masonic Lodge
10 AM - 5 PM: Woodstock Wassail Weekend Artisan Market at 23 Elm Street
11 AM - 3 PM: Wassail Cafe on the Green, serving mac & cheese, chili, Wassail and more
11 AM - 4 PM: Silent Auction and Wassail at the Woodstock History Center (suggested donation), including a food court with hearty soups, corn bread and more; artisans with their crafts, and a silent auction that ends at 2 PM.
12 PM & 1 PM: Reading of "A Child's Christmas in Wales" by Ham Gillett at the Norman Williams Public Library
1 PM: Craft-making activity for children and adults at the Norman Williams Public Library

2PM: 34TH ANNUAL WASSAIL PARADE,

coordinated by High Horses Therapeutic Riding Program and the Woodstock Area Chamber of Commerce. Best viewed on the village green.

3 PM:

Yule Log and Memory Tree Lighting Carole Sing / Free

3 PM: The Ten-A capella group at the Historic Congregational Church / Limited Seating, Free / Donation welcome
3 PM: A capella Concert at the Norman Williams Public Library
4 PM: Preschool Crafts in the Abbott Room at the Norman Williams Public Library
4 PM: Lighting of the Luminaries by the Woodstock Rotary Club
7:30 PM: Eugene Friesen cello concert at North Chapel Universalist Society/ $15
Sunday, December 9...
Dates & Times
7

-

9

December
10:00am to 7:30pm
FOR AN IN-DEPTH ITINERARY WITH ALL THE WONDERFUL, WHIMSICAL DETAILS...

Upcoming
Events
View all events