With 30% beginner, 40% intermediate, and 30% advanced trails, you can fly solo black-diamond style down the face, pace yourself on the blues and greens, or stuff the kids in cozy layers and take to the bunny slope en masse. So get ready to choose your adventure.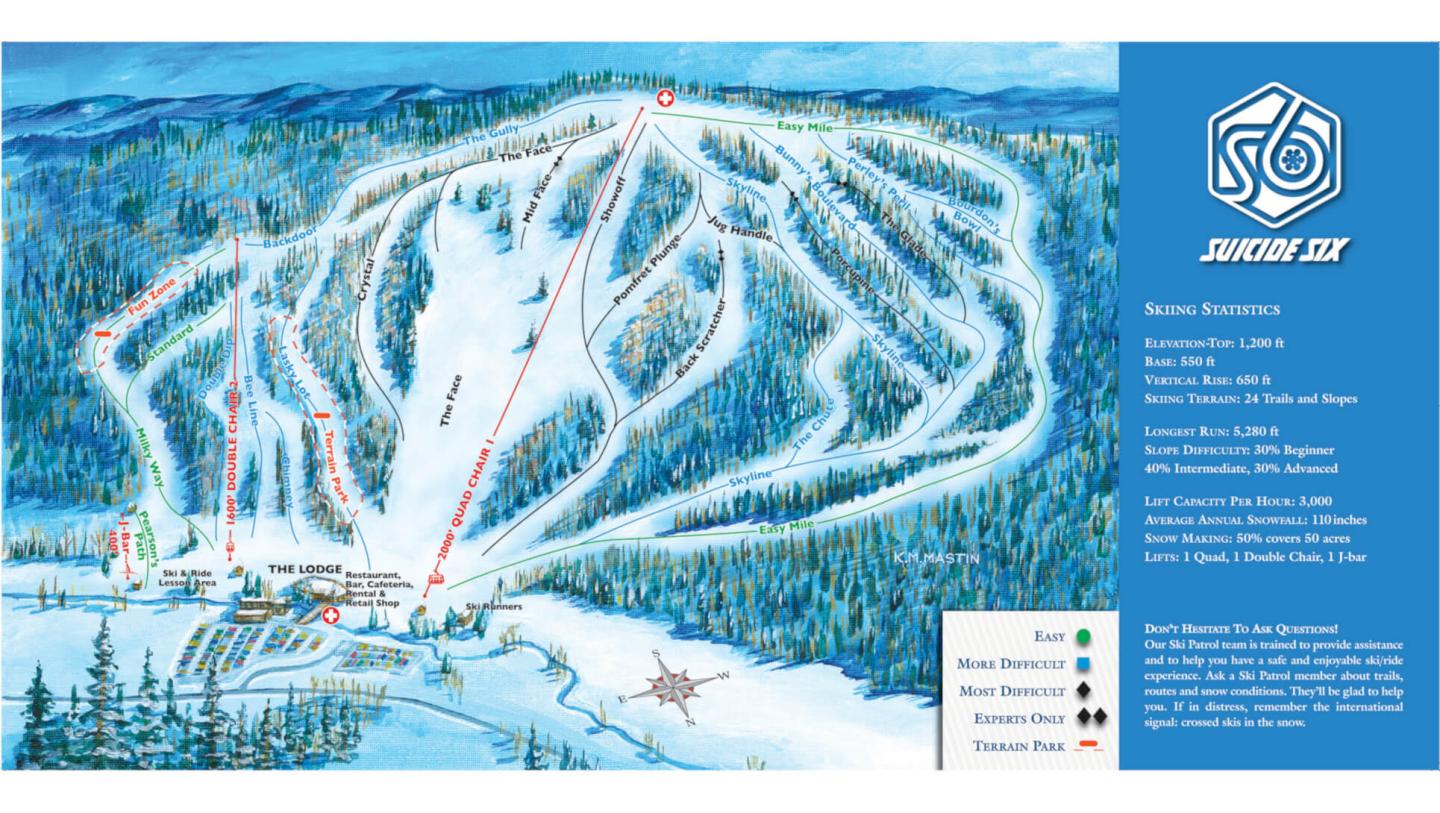 The trails
Beginner (green circle): If you're new to this wonderful wintertime pastime, it all begins at Pearson's Path, directly to your left when you exit the lodge. Grab hold of the j-bar that'll transport you 400' uphill for a gradual, wide-open decent you can take at your own speed (thank you, snowplow!). Then, rip and repeat. There's no better place to get your ski legs.
Feeling confident after several successful rides? You can upgrade your game with your choice of green runs: The Fun Zone (with terrain park perfect for attaining some entry-level air) and Standard – which merge into the Milky Way just above Pearson's Path – or the long, luxurious Easy Mile on the other side of the mountain, accessible via the 2000' Quad Chair, featuring glorious views of the valley as you descend the broad path back to the lift.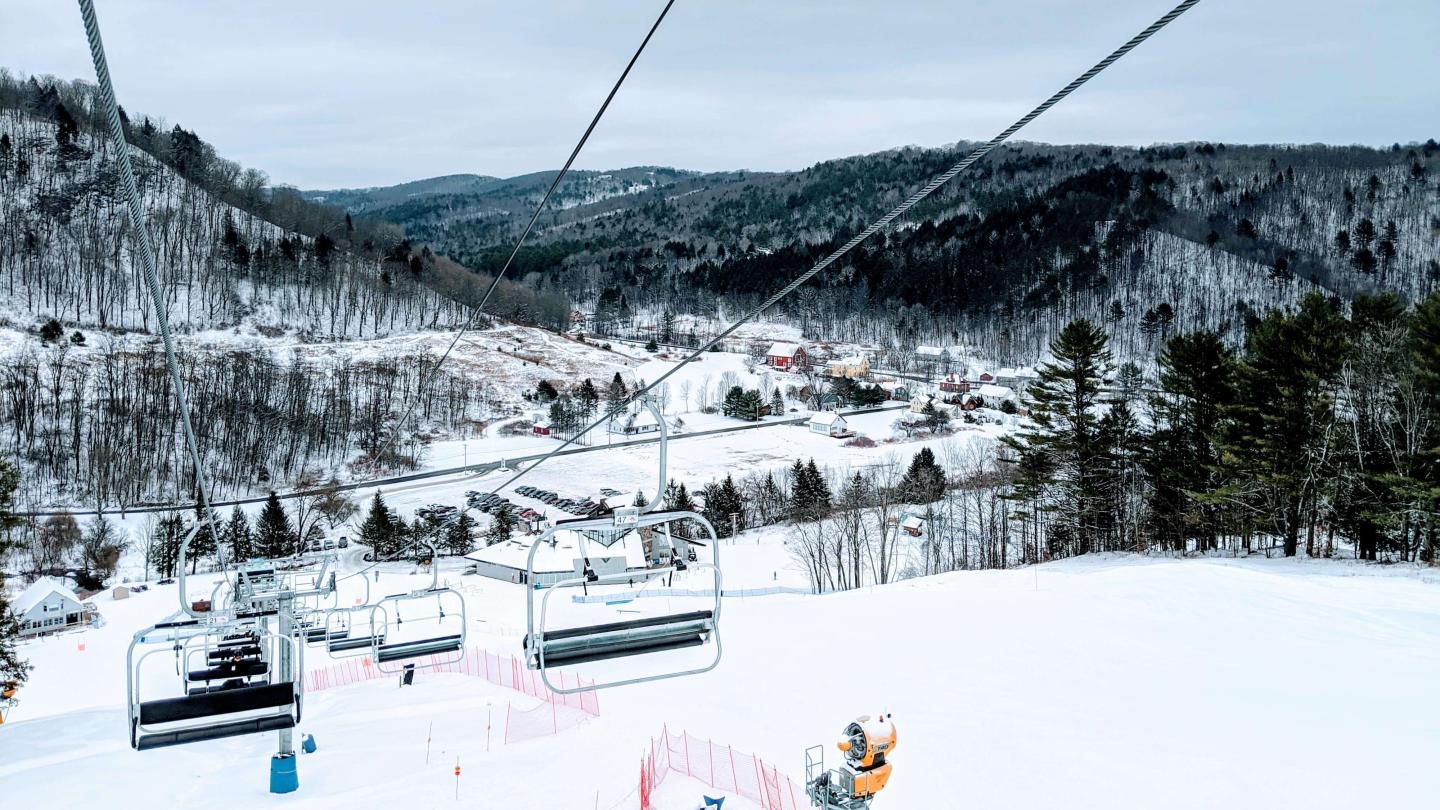 A pair of skis are the ultimate transformation to freedom.
Intermediate (blue square): If you're no slouch when it comes to shred game, both the Quad Chair and Double Chair offer the blues you're looking for. After hitting the Quad Chair, carve your way down the sweet slopes of Skyline (one of S6's longest runs), Bunny's Boulevard, or Perley's Peril, which branch off onto fresh, fun side-runs like The Chute and Bourdon's Bowl.
Want to conquer the other side of the mountain? Bang a left off the lift for a dip into The Gully, giving way to Backdoor where you can take your pick from Lasky Lot (featuring a terrain park to show your stuff), or Double Dip and Bee Line (with branch-off access to Chimney) – both accessible via the 1600' Double Chair lift.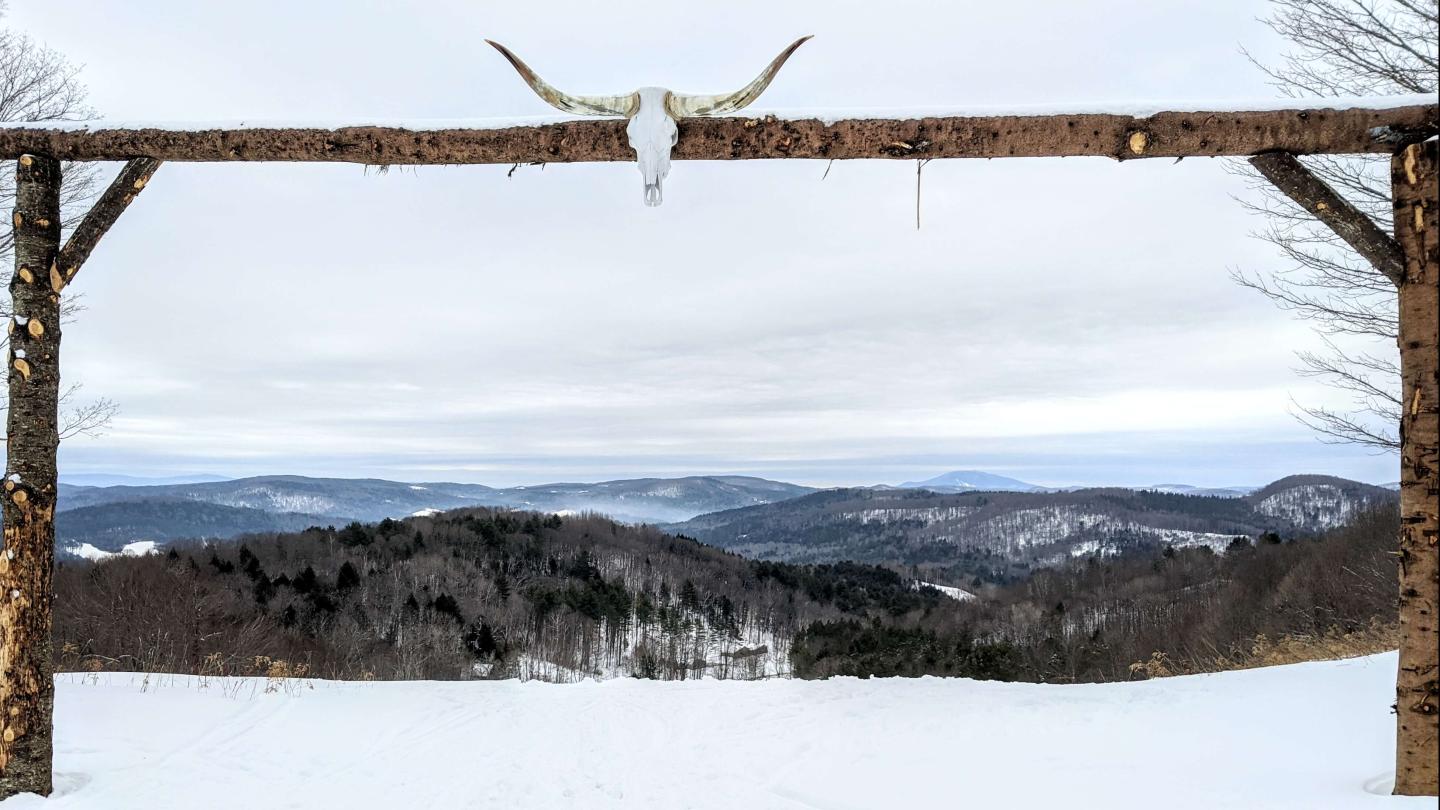 Advanced (black diamonds): Feel at home ripping through trees or down the face of a mountain? Then the Quad Chair has your name on it, with a direct route to black diamond runs like Showoff and the Face (leading to Crystal). Or for a slower start to your ride, hit Skyline (blue) for access to Pomfret Plunge or a quick zip down Jug Handle and Back Scratcher (double black diamond).
Itching for some tree action? Bunny's Boulevard (blue) is your gateway to double black diamond masterpieces Porcupine and The Glade. Because there's nothing like zipping down a pine-fresh trail with nothing between you and the trees but your snowboard or skis and fresh, fluffy powder.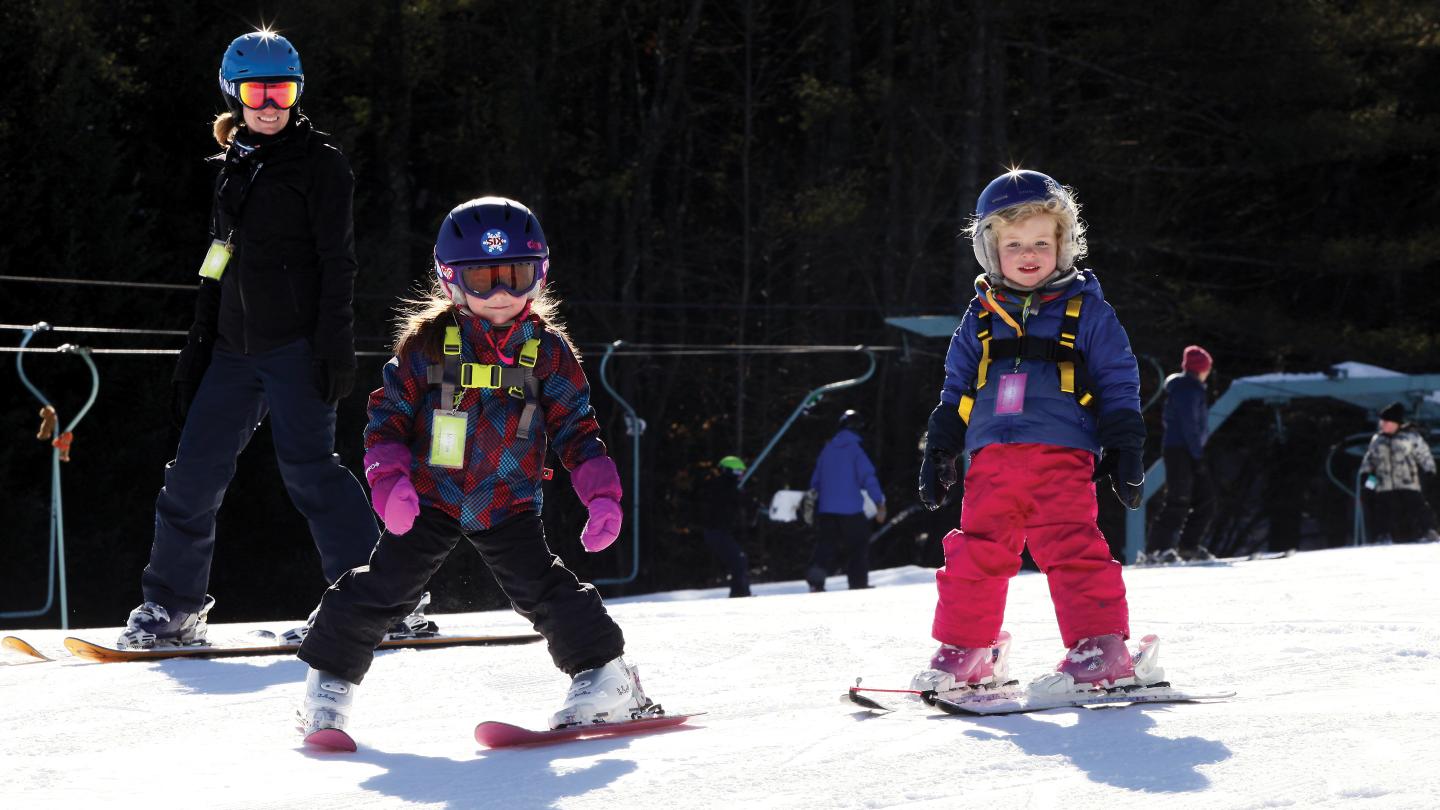 Lessons: With a Ski & Ride School this good, lessons aren't just for beginners! Gain essential knowledge for beginner ski or snowboarding success or hone your existing skills on every bit of terrain Suicide Six has to offer via private (one-on-one lessons) and semi-private instruction (group lessons), both offered daily for 1, 2, and 3-hour increments or a full-day of snow school. For even more specialized learning with a like-minded bunch, check out:
Group lessons the DIY way. Create your own group lessons so you can band together with friends (3 to 5 people) for a half or full day of learning.
Women Only Workshops offer a challenging, collaborative environment for beginner to intermediate female skiers and riders.
Kid Ski. The littlest members of your crew can learn a thing or two during Kid Ski, a six-week program of one-hour private lessons for three and four-year-olds ready to hit the slopes.
The lodge
The definition of après ski coziness. When you're not whipping through powder, the crackling fire and tasty refreshments of the lodge beckon.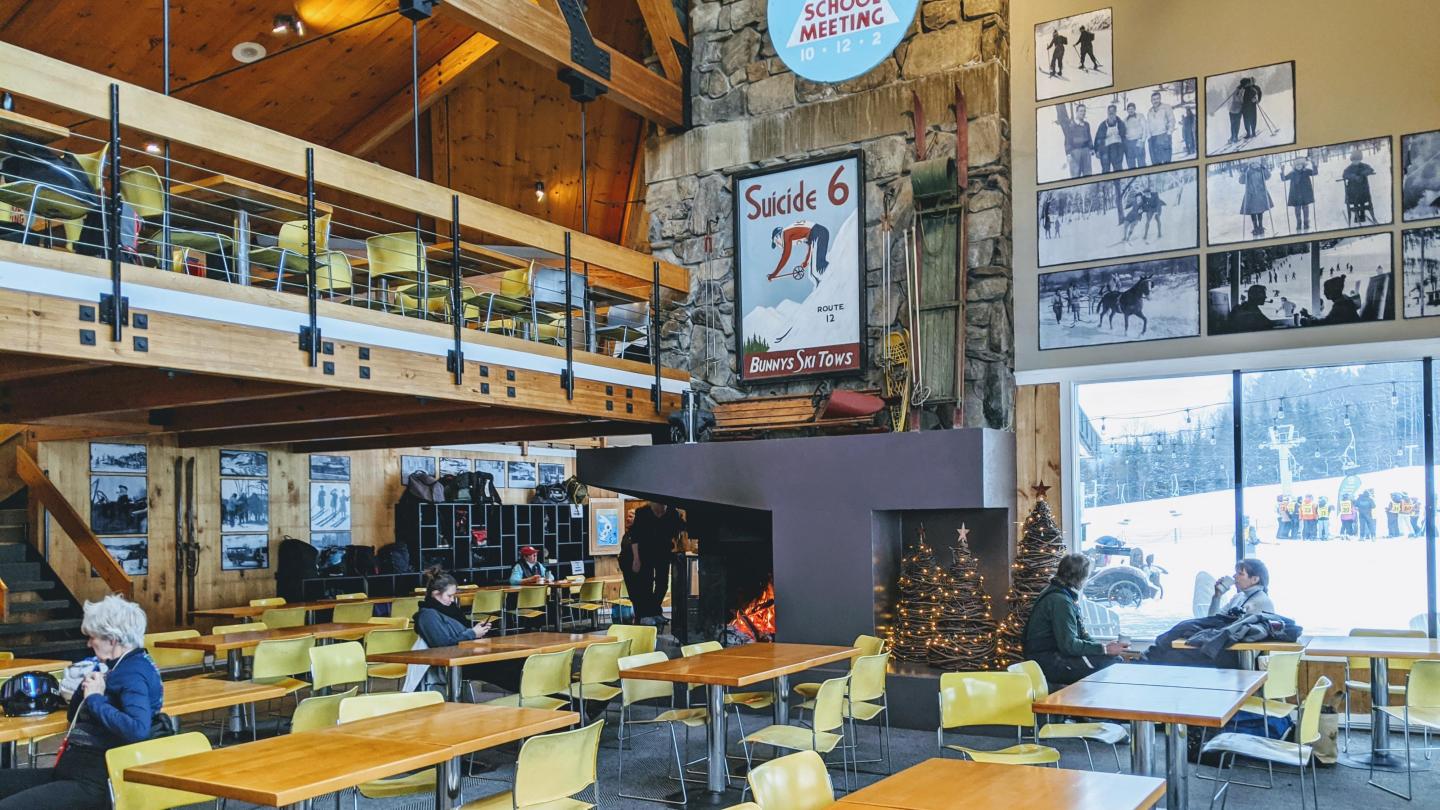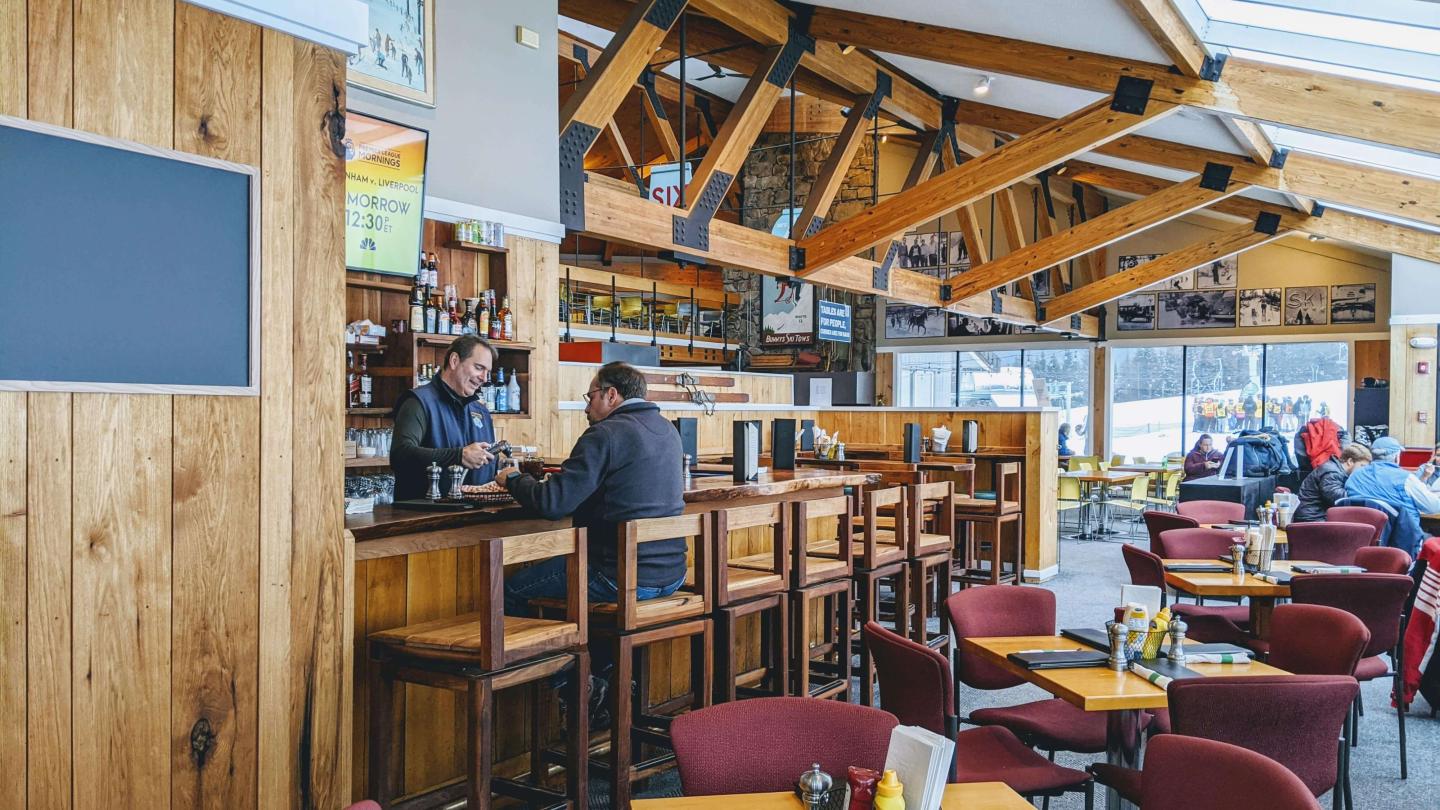 You're in for a treat.
Open Wednesday through Sunday from 11:30 AM to 3 PM, Perley's Pourhouse takes ski dining to the next level with unexpected dishes like duck confit tacos, a mushroom burger, clam chowder as delicious as any seaside café's offering, and more – plus staples like wings, poutine, and local brews.
We know the eatery's namesake, original lodge keeper Perley Wheeler, would approve! To check out the full menu, click here.
SASKADENA Six at a glance
Address: 247 Stage Rd, South Pomfret, Vermont, 05067
Phone: (888) 338-2745
In-season hours: 9 AM – 4 PM Tuesday - Sunday
Vertical rise: 650 ft
Terrain: 24 trails and slopes
Slope difficulty: 30% beginner, 40% intermediate, 30% advanced
Average annual snowfall: 110 inches
Snowmaking: 60%
Lifts: 1 quad, 1 double chair, 1 j-bar
Lift tickets: Day tickets and passes (child, young adult, adult, senior, super senior, veteran, and IT school) available here
Rentals: Skis, boots, and poles or snowboard and boots, helmet-only rentals available – fittings begin at 8:30 AM daily