Fall Foliage: A Grand Display
The fall foliage in Woodstock is legendary and for a good reason. Take a leisurely drive through the winding roads, where every turn presents a painting come to life. Our world-famous covered bridges, draped in fall colors, offer perfect photo opportunities and a fun adventure. And if you're up for a bit of adventure, the trails of Mount Tom and Mount Peg provide panoramic views of the foliage from vantage points high above the village
Set out to explore the surrounding landscape on two wheels under a canopy of color this fall. Woodstock is home to hundreds of miles of

mountain bike trails

to fit all levels of skill. From Saskadena 6 to Mt. Peg and the Aqueduct trail networks, there's plenty of terrain for an hour or an entire day in the saddle. You'll find endless flow and singletrack to enjoy right at your fingertips.

What's the best part about hiking (besides the view)? Snacks!

Trek to the top

of Mount Tom to meet local Park Rangers for treats and other goodies on the first Saturday of October. Find more information on hiking trails

here

or visit the Carriage Barn Visitor Center to pick up a map! 

Join us for an easy/moderate

Art and Meditation Hike

through the forest guided by Artist-in-residence, Amy Hook-Therrien and resident yoga teacher, Ranger Jen Jackson. Connect with your mind, body, and spirit through journaling, meditation, and painting. 
Harvest Season Festivities
October is a time of transition and celebration. The trees dance in spectacular color signaling the harvest season is upon us. As Halloween approaches, and dusk sets in, our small historic village transforms into a hauntingly beautiful scene for the entire family to enjoy.
The October Harvest Celebration has activities for the whole family. Join us at Billings Farm & Museum for traditional harvest fun with barn dancing, pumpkin bowling, cider donuts, and more.  After all, it is the season for gathering crops, and what better way to honor the harvest than with food, crafts, games, and live music?

Join us for the

Annual Woodstock Apples and Crafts Fair and Food Truck Festival

and seek out the sweetest treats, warm cider, and pumpkin bread. Gather with more than 100 juried craftspeople and vendors to experience an authentic autumnal outing.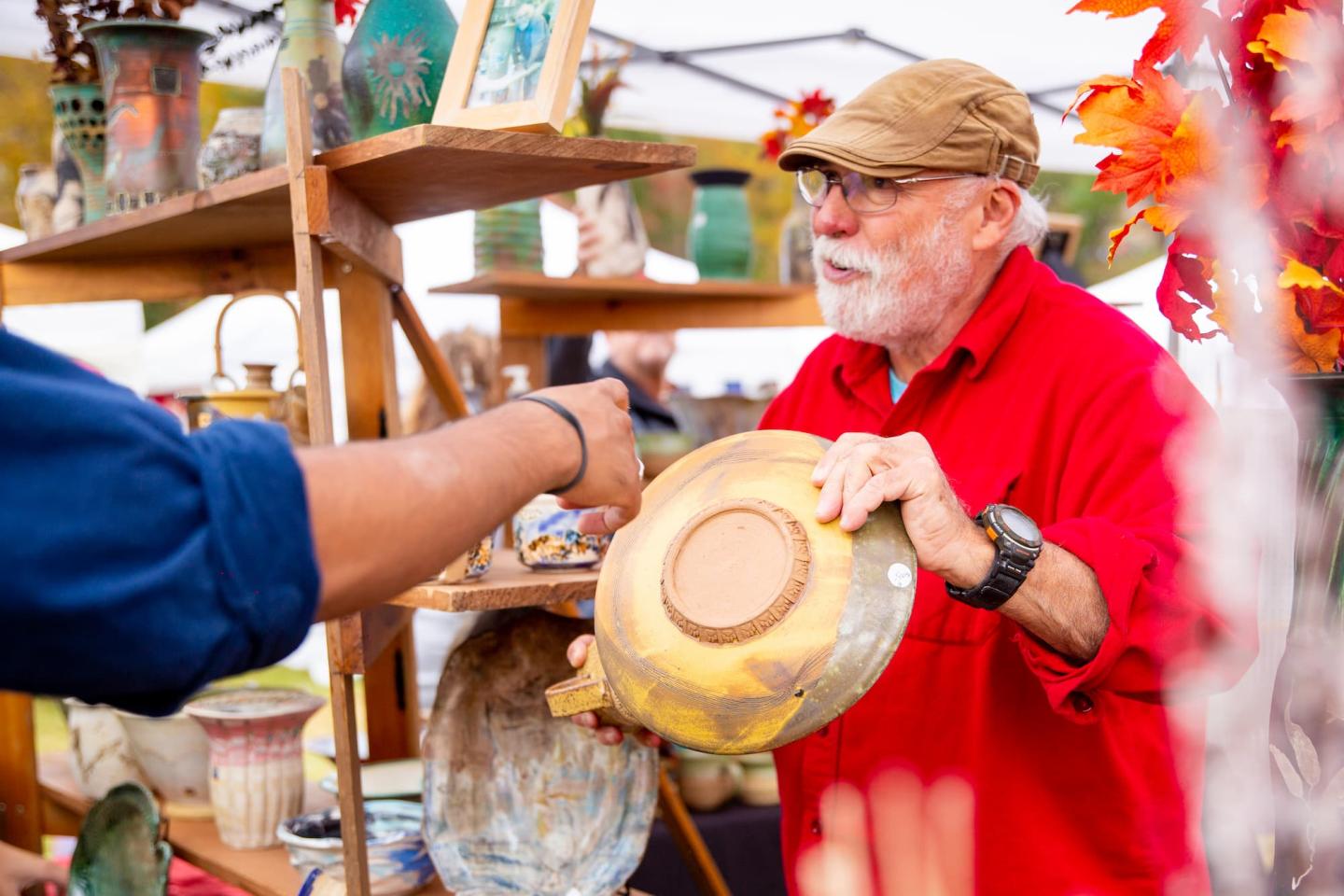 Local Fall Flavors
The flavors of fall are rich, warm, and comforting. Local cafes and restaurants update their menus to reflect the season's bounty. Warm pumpkin soup, apple cider, roasted butternut squash, and of course, the classic pumpkin pie are just a few of the delicacies that one must indulge in. As the nights get cooler, many cafes and restaurants in Woodstock offer outdoor fire pits. Perfect for enjoying a warm drink under the starry sky.
There's nothing quite like that first sip of coffee on a crisp fall morning. Head over to

Mon Vert Cafe

for a delicious latte to warm the soul. Pair your favorite morning beverage with their homemade baked goods and you'll find yourself contently in reprieve from all of life's distractions.

The Woodstock Farmers' Market

is a haven for those who seek fresh produce and artisanal goods. From fresh apples and homemade jams and preserves to grab-and-go specialty sandwiches, you'll find exactly what you need for a quintessential fall picnic. 

Apres-afternoon drinks at

Au Comptoir

are the perfect way to start (or finish) your romantic evening in Woodstock. Throughout the fall, stretch out next to a firepit or enjoy a warm cocktail indoors in one of our favorite indoor spaces. 
Halloween in Woodstock
The month culminates in anticipation of the spookiest day of the year. Children and adults alike dress up in costumes, and the streets of Woodstock echo with laughter, music, and the spirit of Halloween. The festival that follows is a treat for all, with hayrides, family costume gatherings, pumpkin carving displays, and games for all.
October in Woodstock is a blend of natural wonders, seasonal festivities, and delightful aromas floating in the breeze. It's a time to slow down, soak in the beauty, and make memories that will be cherished for years to come. So pack your bags, bring along your camera, and let yourself be enchanted by what many call the most beautiful time of the year.