Settled in a rolling, flower-laden valley straight out of Little House on the Prairie, perched a few feet above the flow of Pomfret Brook, is Teago General Store. Two roads wind their way around the old structure, making it feel like the center of something. And it is. Not just because it's only a few paces from ArtisTree Community Arts Center, or that you can see the trails of Saskadena Ski Area from the front porch, or that it's a popular pit-stop for those traveling the AT.
Teago is the heart of South Pomfret; a meetinghouse where locals can catch up while they shop for milk, eggs, and sandwiches hot off the grill. They come as much for household essentials – from cleaning supplies to brownie mixes – as the conversation. Step inside the threshold and you're greeted with a smile. As the door slams shut, you'll hear calls of welcome and inquiries about the day's events. Everyone knows everyone and you're not so much a customer as a friend. So when the property was sold in 2017 – changing hands for the first time in 30 years – some locals were concerned. But the new owner, Kathleen Dolan, the Founder and Executive Director of ArtisTree, has honored the store's critical role in the community and left it mostly unchanged. While the prepared food offerings are expanding, physically, the store is much the same. And the locals like it that way. It's their last link to the history of small, rural town living – and one that they've relied on for years.
When you visit Teago, you'll feel that history as look up at the old tin ceilings and cross the wide, creaking plank boards that have been there since the early 29th century. That alone is worth a visit – the ridiculously delicious sandwiches are just a bonus.
Location: 2035 Pomfret Rd, South Pomfret, VT 05067
Nearby Attractions:
Offerings:
Hot sandwiches, hot dogs, and other prepared meals
Deli meats
Baked goods
Fresh produce
Eggs, milk, cheese
Wine
Snacks and candy
Dry and canned goods
Small souvenirs
Like Teago, the Barnard General Store is a lifeline for locals. And it shows. If it hadn't been for the devotion of its small-town residents at the start of the twenty-tens, the Barnard General Store wouldn't exist today. Established in 1832, the store weathered the Civil War, the boom and bust of 1920s and 30s – and beyond. But when Hurricane Irene and a snowless winter hit, the Barnard General Store couldn't recover. Fortunately, the community-backed effort to "restore the store" brought it from the brink of permanent closure, ensuring the epicenter of downtown Barnard continues to thrive.
It's no wonder this building is so important to so many. The sleepy downtown consists of the school, the town clerk, a few churches and inns, and the general store. With bay windows facing west to catch the sunset and a wraparound porch overlooking Silver Lake, it's a piece of unspoiled Vermont beauty—one that provides the hot meals, grocery essentials, newspapers, and meeting place for locals who can't make the long drive to a grocery store. And as much as the world around it has changed, locals and tourists alike appreciate that the Barnard General Store has stayed the same. Where else can you find worn wooden floors that whisper under your feet or aged newspaper clippings featuring a photo of the store that looks the same as it does today? They're hallmarks of general stores throughout the state, a dwindling number in a dying breed that's well worth preserving.
Location: 6231 VT-12, Barnard, VT 05031
Nearby Attractions:
Offerings:
Hot and cold sandwiches, salads, hot dogs
Ice cream and milkshake bar
Baked goods
Eggs, milk, cheese
Snacks and candy
Wine
Dry and canned goods
Small souvenirs
When you cross under the forest-green awning and take your first step into F.H. Gillingham & Sons General Store, you'll be struck as much by the old-world feel as its impressive lineup of penny candy and hand-picked grocery items. But there's much more to this store than meets the eye.
That is, until you move to the end of an aisle and realize there's another room, then another, then another. After you've navigated the maze– including a freezer-lined hall of artisan pizzas and local ice creams, and rooms full of souvenirs, toys, clothes, and even hunting gear, you'll just begin to appreciate everything this unique country store has to offer. Because it is unique. In fact, Gillingham's differs from its peers in two striking ways:
Tucked between Clover Gift Shop and The Village Butcher on Woodstock's bustling Elm Street, this store is more town than country
Its ventured into the realm of digital retail with a catalog of products available for online purchase – an act nearly unheard of in the brick and mortar world of country stores – with Vermont maple syrup, Billings Farm Cheese, branded mugs, cookie and candy collections, and more
But there's no question this wildcard earned its place on our list with its nearly 150-year history, trademark-worthy creaky wooden floors, and its role as a lifeline to the town's past. Owned by the same family, at the same address, with the same ambience since 1886, this country store has small-town charm and character in spades, making it a must-see destination for tourists and locals alike.
Location: 16 Elm St, Woodstock, VT 05091
Nearby Attractions:
Downtown Woodstock, within easy walking distance of all restaurants and shops
Middle Covered Bridge
Offerings:
Comprehensive grocery options
Baked goods
Fresh produce
Eggs, milk, cheese
Wine and beer
Candy
Handcrafted souvenirs
Clothes and shoes
Toys and games
Outdoor gear
Furniture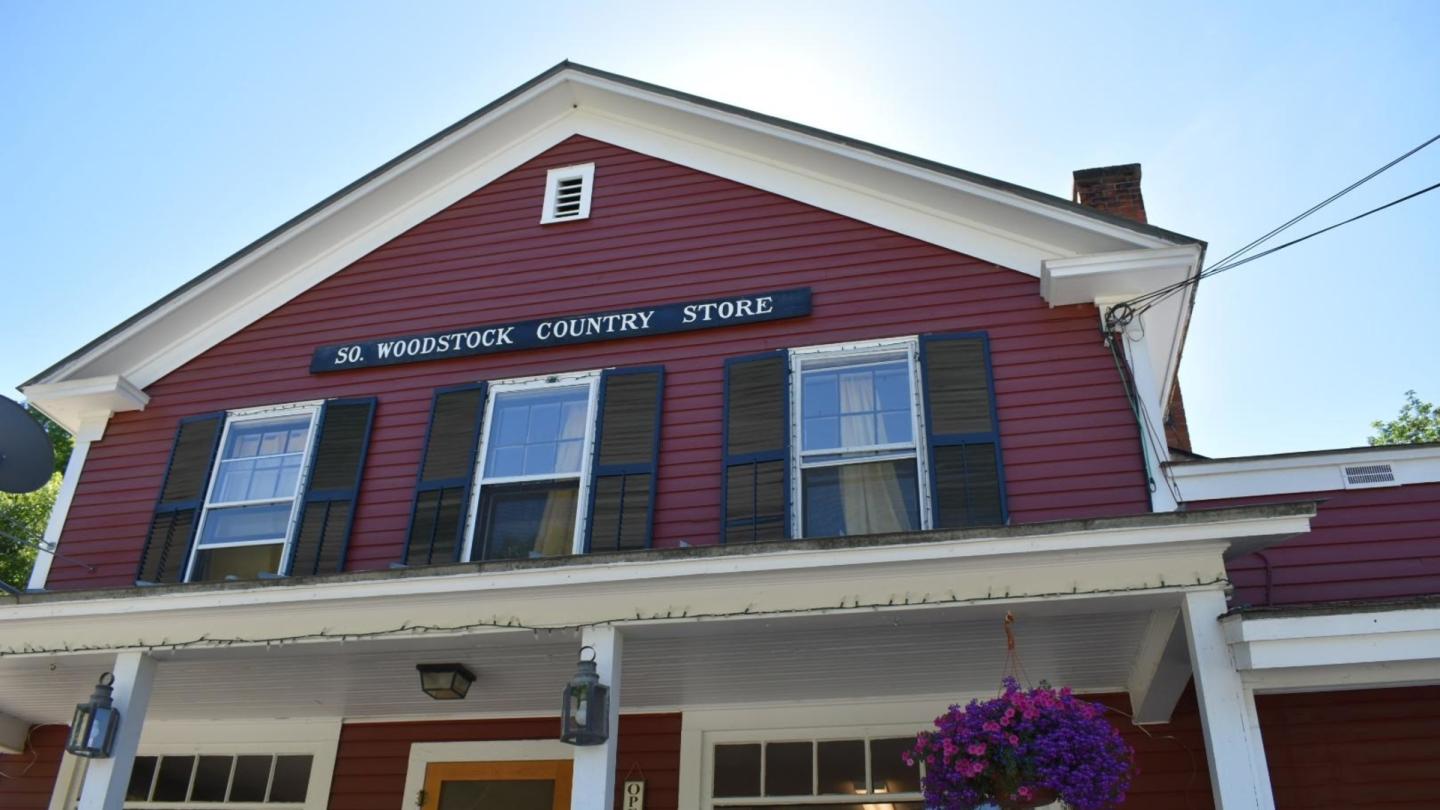 If you take South Street from Woodstock's village center, following the serpentine path of Kedron Brook over gradually sloping hills and through a thicket of trees and historic homes, you can't miss the South Woodstock Country Store. When the brook takes a sharp left turn, the road follows, but what lies dead ahead is the stately brick façade of the Kedron Valley Inn – and to its left, is the South Woodstock Country Store. Both properties were purchased by the same family in 2017, in addition to Kedron Valley Farm and the former Grange Hall, and it's easy to see why. The spot is a piece of paradise: one that the current owners have loved all their lives.
You can feel that love and respect for the properties' nearly 200-year history as you walk across the store's threshold. It's pure Vermont… with modern touches younger residents and outsiders appreciate. The space is rustic, with hand-hewn beams running its length and the creaky plank floors that are basically a general store requirement. The built-in cabinets feature picture-perfect snacks and souvenirs against their antique beadboard backs. But customers are just as likely to come for the treats as they are the free WiFi, a benefit few peers can boast. Food and drink offerings are vast – and make sure to include the allergen-free options necessary for the younger set.
In essence, this country store strikes an impressive balance of old and new. And yet, it's more than that. The kitchen is wide open– inviting customers to sink into an armchair and watch as their hot meals are prepped. An impressive display of stainless-steel coffee dispensers and baked goods on pristine ceramic trays belies the dedication and attention-to-detail that keep the South Woodstock Country Store running. It's a welcoming place that feels like a better version of home – and it's no wonder both residence and tourists are drawn to this slice of idyllic Vermont life.
Location: 4800 S Rd, South Woodstock, VT 05071
Nearby Attractions:
Offerings:
Free high-speed WiFi access
Salads, hot sandwiches, and other prepared meals
Baked goods
Fresh produce
Eggs, milk, cheese
Wine
Snacks and candy
Jarred goods
Small souvenirs