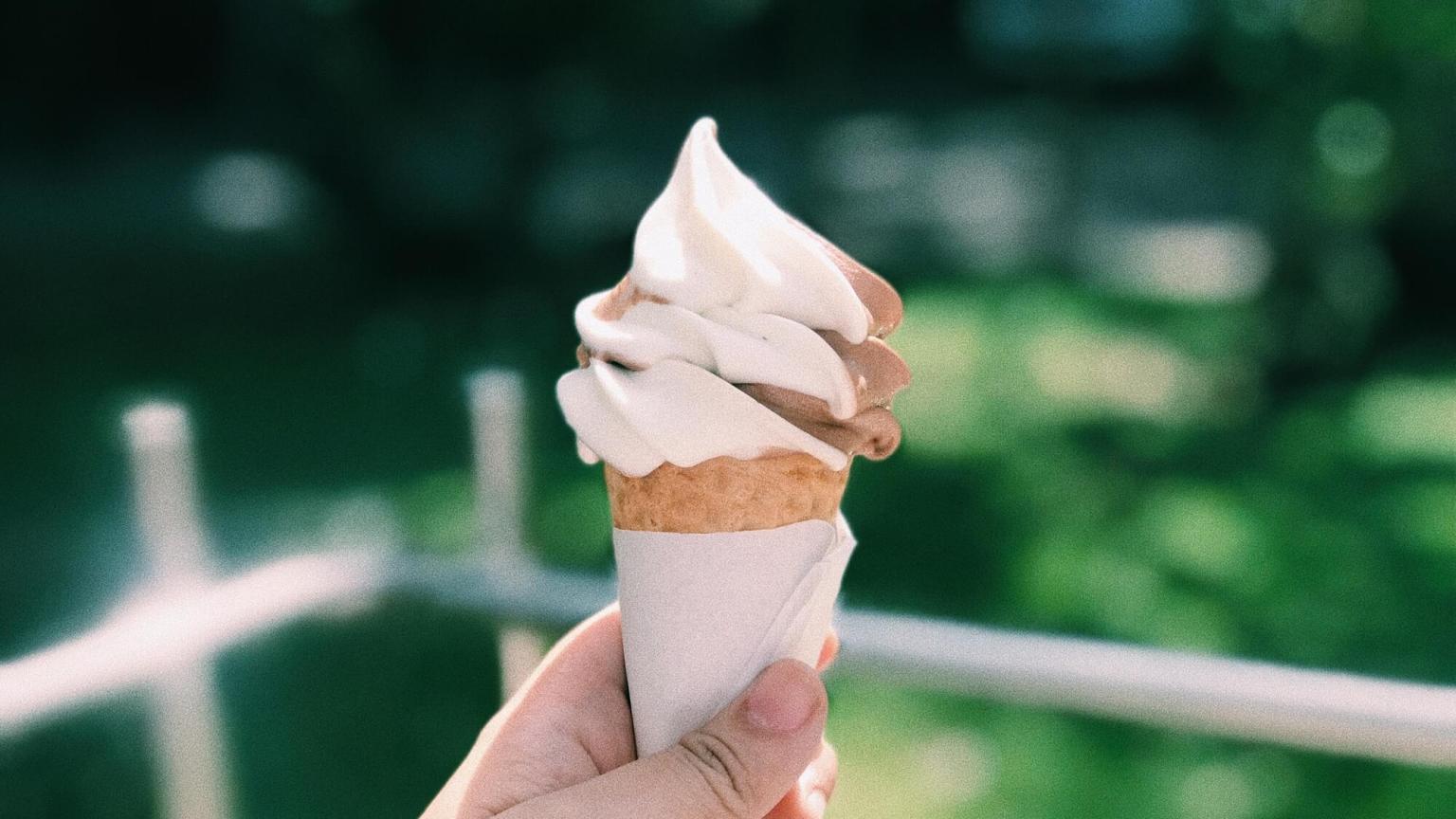 Life is short, eat dessert first
In the heart of Woodstock village stands Mountain Creamery, a diner beloved by locals since 1987. Beneath the swinging sign promising homemade ice cream, step upstairs for the diner and downstairs for – you guessed it – the refreshing treat you've been waiting for.
With locally sourced ingredients from the milk to the waffle cones to the Vermont maple syrup used in many resident's favorite flavor, Vermont Maple Walnut, this ice cream is as fresh and creamy as it gets. Other flavors like Toffee Crunch, Pistachio, Brownie a la Mode, and the classics chocolate and vanilla make it hard to choose – but with mix-and-max options for your cones, you don't have to.  Just be sure to come prepared – this sweet shop is cash only.
Rave reviews:
"some of the best ice cream around… whatever you do, don't leave without having some homemade ice cream. I promise you that you will not be disappointed." – Stu, TripAdvisor.com
"The ice cream was smooth and the waffle cones were so fresh, they must have been baked that morning! Take your cone down the street a bit and sit by the river." – Denise, TripAdvisor.com
"Be ready to eat your weight in ice cream" – Jennifer, Yelp.com
"Hands down the best ice cream I have had to date.  Perfectly balanced and so rich in flavor." – Diana, Yelp.com
Location: 33 Central Street, Woodstock, Vermont 05091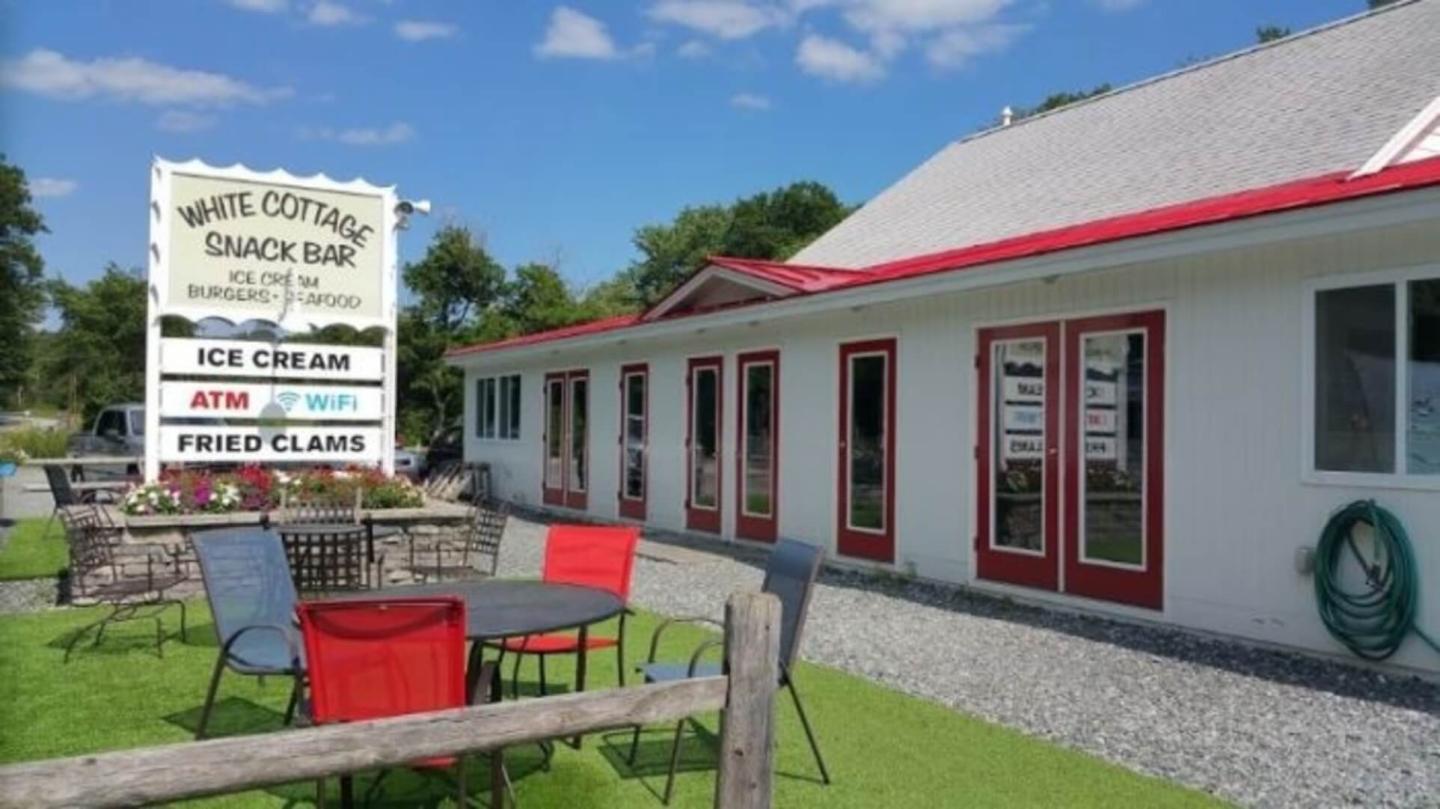 Google Images/Scott Lindsay
Want your ice cream served with a side of nostalgia? Then head to the White Cottage Snack Bar (established in 1957), a piece of Vintage New England ripped straight from the history books with roadside dining flair.
Nestled between a bend in the road and a shallow stretch of the Ottauquechee River, it's easy to see why this stop is a favorite of locals and visitors alike: charm plus classic fare enjoyed on a grassy riverbank equals summertime bliss.
Choose from a massive menu of Gifford's ice cream and soft serve, then grab a spot on the outdoor swings, tables, or standing ankle-deep in crystal clear water – and enjoy. But don't arrive unprepared! This seasonal gem is cash-only.
Rave reviews:
"It's not summer to us without a visit to this landmark in Woodstock." – MASOLA91, TripAdvisor.com
"Unbelievable ice cream flavors" – madtana97, TripAdvisor.com
"One of the best ice cream / burger stands in Vermont" – Gregory, Yelp.com
"Perfect for a summer evening. Tons of delicious ice cream choices. Take your ice cream outside and sit in one of the swings or dip your feet in the water. Old fashioned, perfect fun." – Lisa, TripAdvisor.com
Location: 863 W Woodstock Rd, Woodstock, VT 05091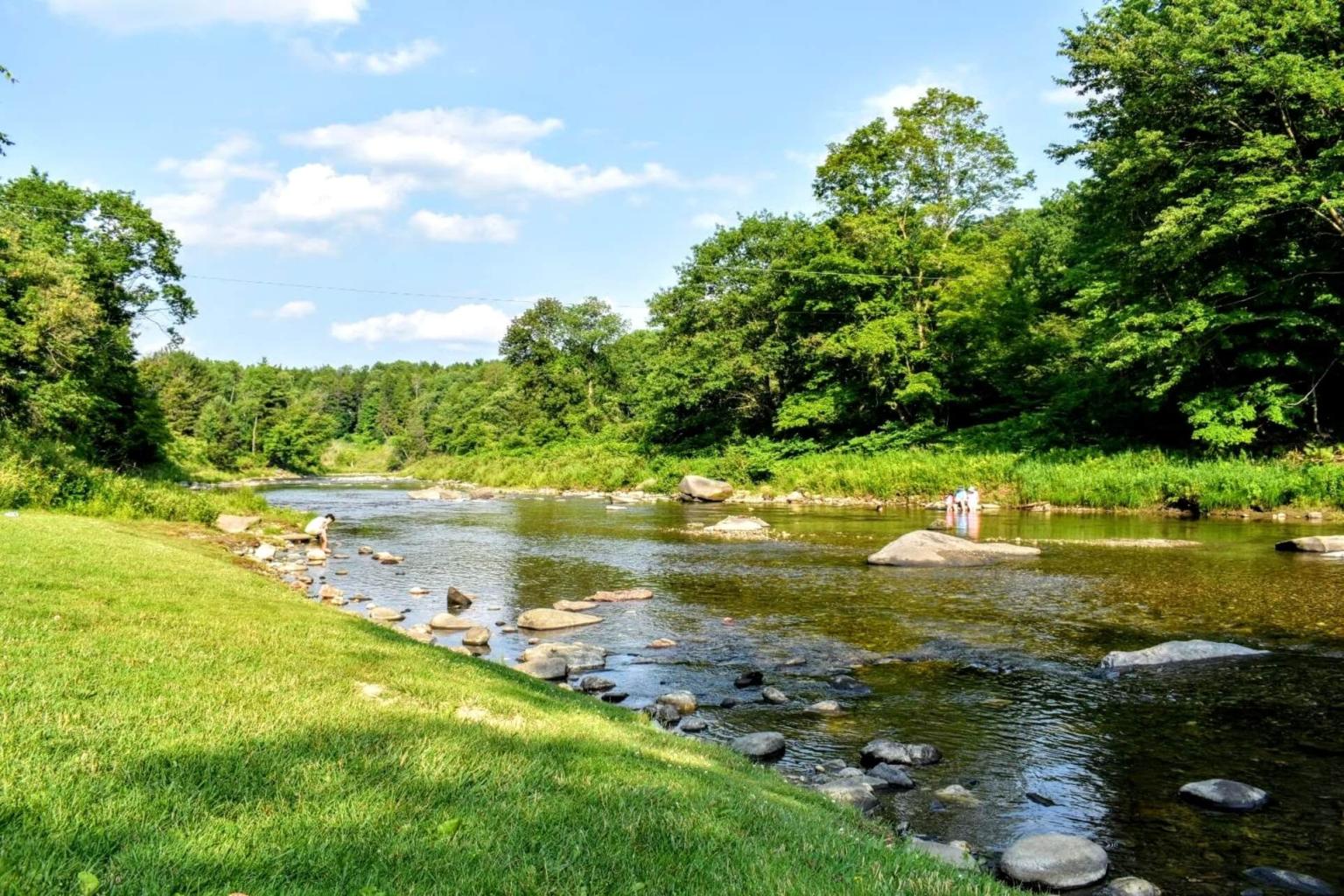 Want your ice cream fast, ready in your cup with the flip of a switch? The frozen snack gods have answered with Sweet & Salty! This cozy shop is set just off the beaten village path of Central Street, offering a mouthwatering range of self-serve frozen yogurts, sorbets, and soft-serve ice cream flavors like espresso and VT maple.
An extension of the locally-beloved Worthy Kitchen brand, Sweet & Salty is a convenient pit-stop for froyo on the go! Five steps stand between you and a tasty reward: grab it, fill it, top it, weigh it, and pay it.
Rave reviews
"I go here after school every day with my 2 best friends!! we never leave with sad faces!!" – Eryn, Google Reviews
"Great new addition to an already wonderful town. Coffee was awesome and ice cream was even better" – Space cadet Y, Google Reviews
Location: 4 Mechanic St, Woodstock, VT 05091
At Billings, the promise of ice cream only sweetens the deal – as you'll get behind-the-scenes access to the fields and barns of this working farm filled with friendly cows, sheep, goats, horses, and more!
Between up-and-close intros – and even some selfies – with resident animals, check out the Dairy Bar on the ground floor of the 1890 Farm House. There, you'll find creamy, delicious Vermont-made Wilcox ice cream that demands your taste buds' attention! Insider tip: During special events, you can even make and sample your own hand-churned ice cream!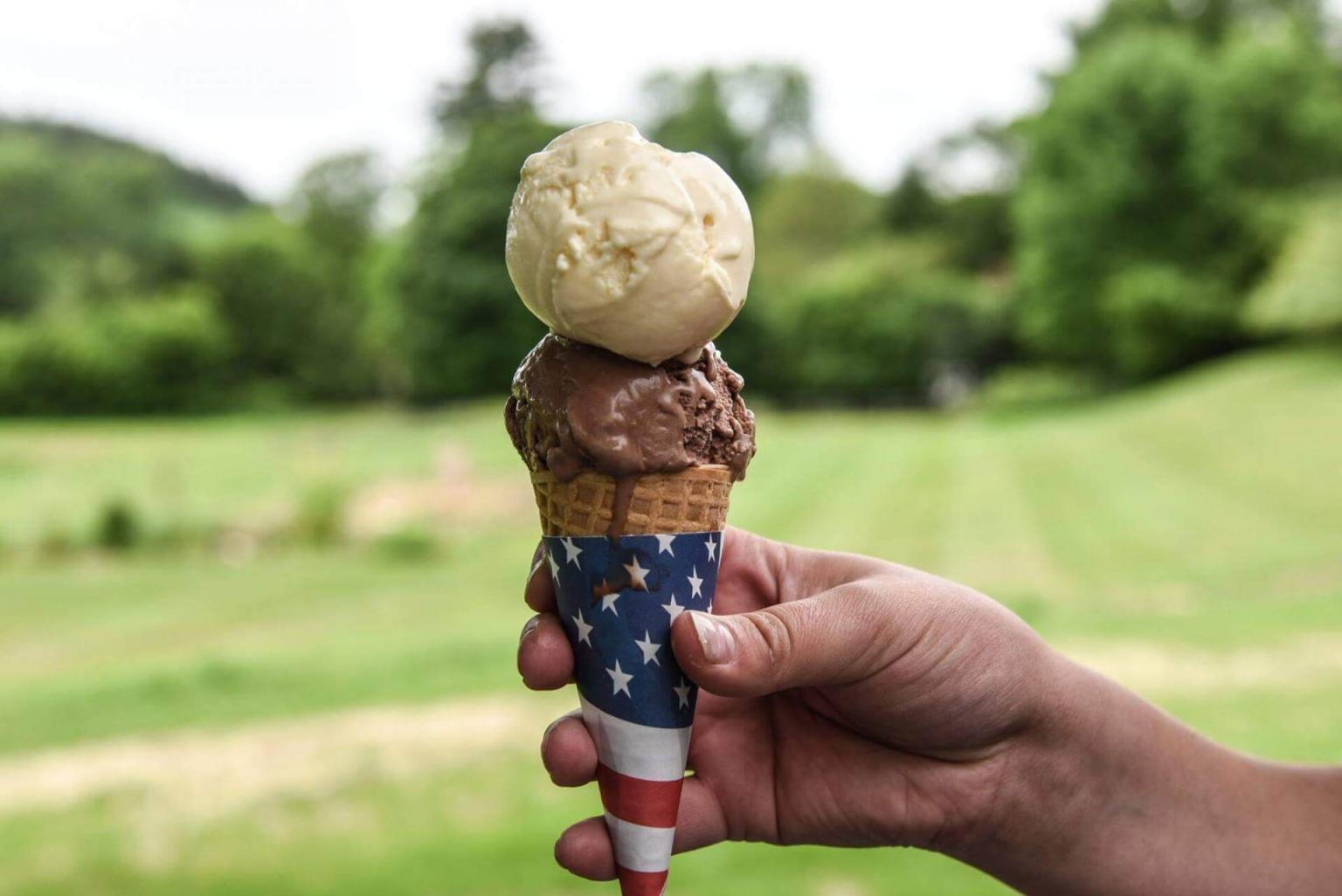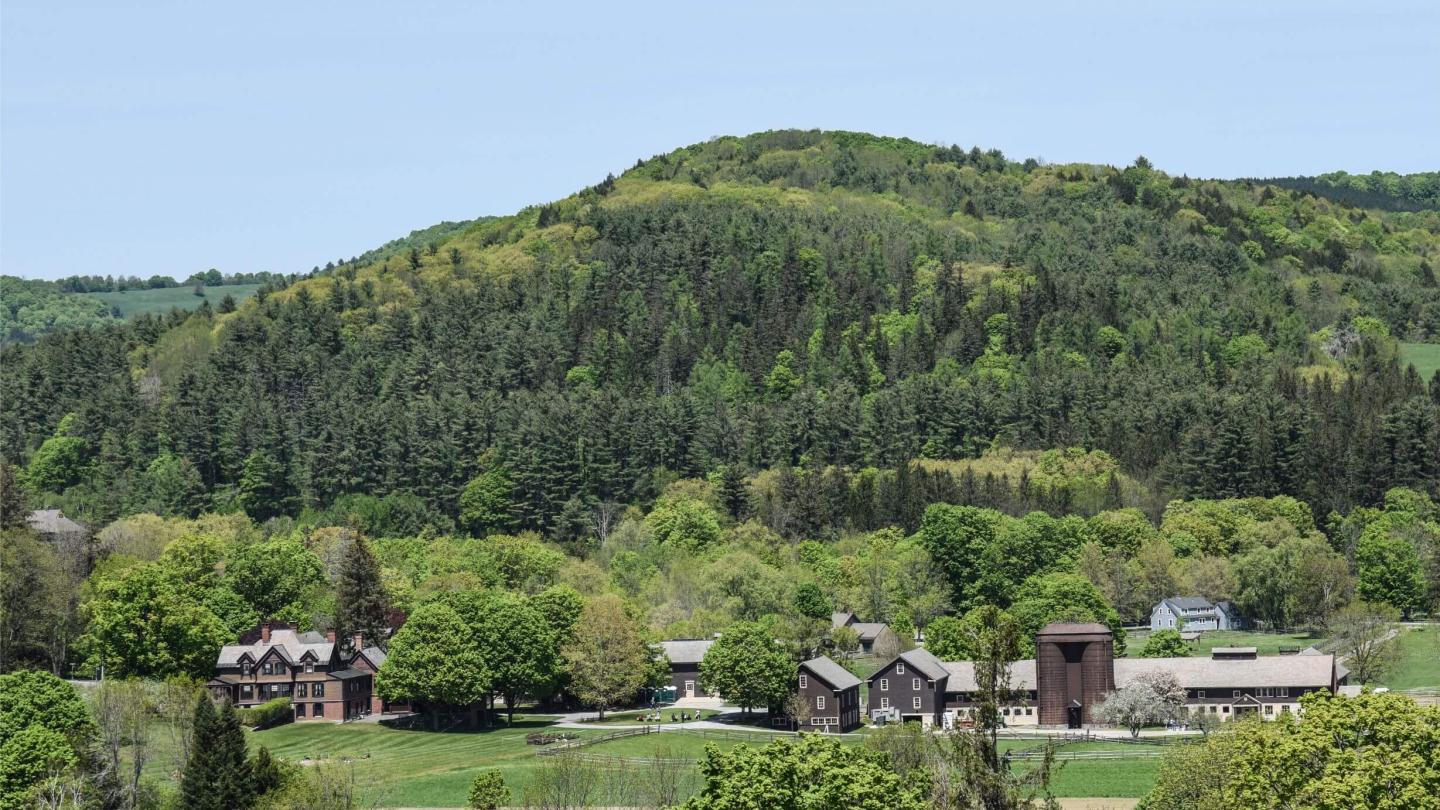 Rave reviews
"Baby goats, fresh ice cream and lots of history. What's not to love?" – Beverly, Google Reviews
 "I would highly recommend visiting the dairy bar which had amongst the best quality ice cream that I have ever had" – Ashley, Yelp.com
 "it was so fun to pet all of the animals, learn about their cheese production, and get some ice cream while looking around at Picturesque Woodstock, VT. It's a perfect activity for families or couples!" – Lindsey, Yelp.com
Location: 69 Old River Rd, Woodstock, VT 05091
As you traverse the Woodstock village green in summer, transformed into a teeming bazaar of colorful wares and smiling faces during Wednesdays' Market on the Green, you may notice Kiss the Cow Farm's booth. You might be drawn in by their chalkboard sign boasting fun, funky flavors like Dirt with Worms, Blueberry Lavender, Holy Cow, Balsamic Strawberry, Egyptian Licorice – plus classic favorites including Cookies & Cream and Dark Chocolate Daydream. Don't resist.
This farmstead super-premium ice cream is made in small batches on their farm using their own grass-grown organic cream and milk, as well as eggs from their very own hens. In essence, ice cream doesn't get any better than this. Cash only at the seasonal Market on the Green.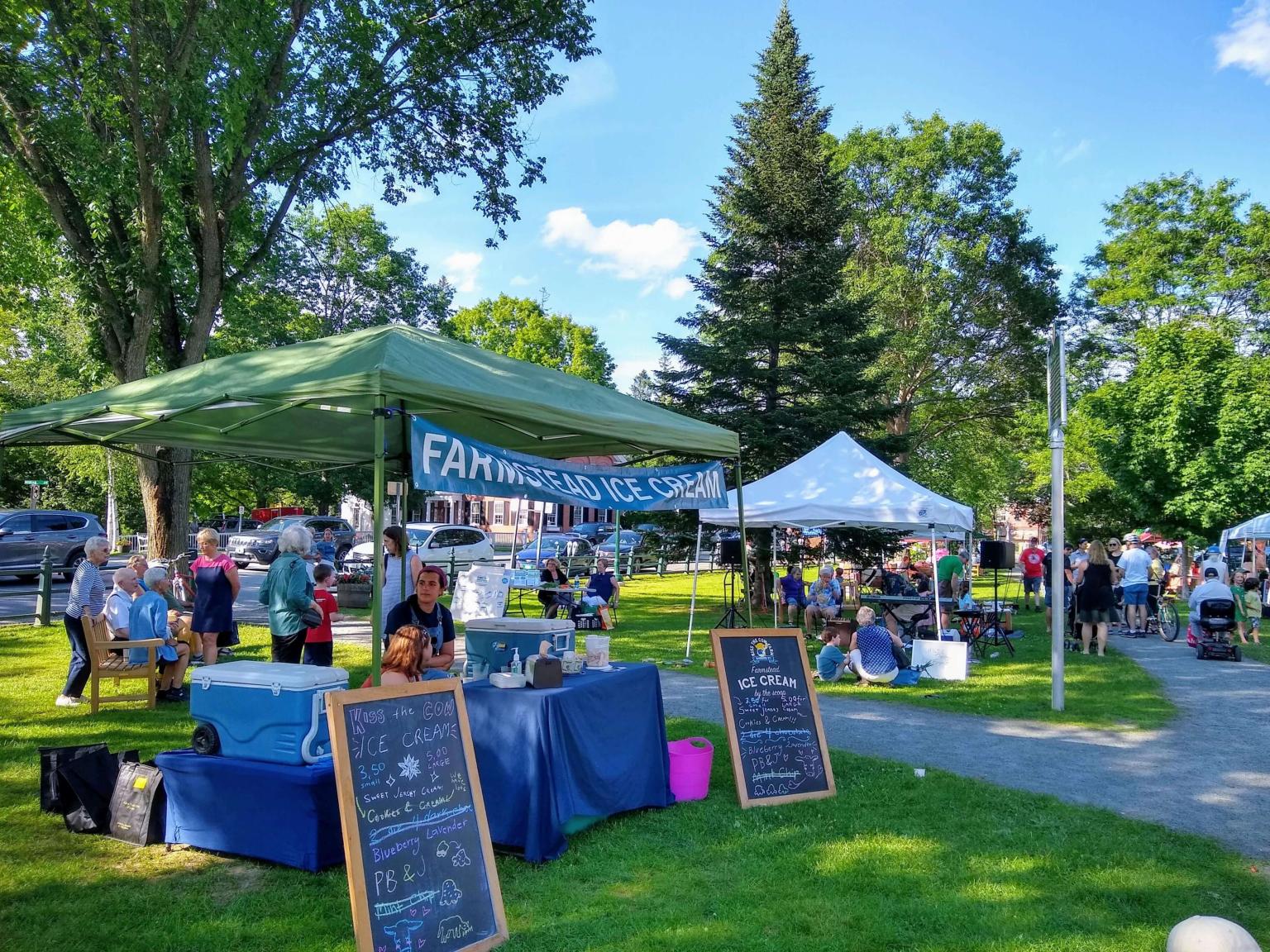 Rave reviews
"Kiss The Cow's concoctions and medleys of flavor are extremely extraordinary" – All Points Delicious, DailyUV.com
"Best homemade ice cream!" – Brian, Google Reviews
Location: Woodstock's Market on the Green, Woodstock, VT 05091 (Wednesdays June through October only)
You can also purchase their ice cream at Kiss the Cow Farm, 2248 Royalton Turnpike, Barnard, VT 05031
TO ACCESS MORE GREAT CONTENT ON OUR BLOG...