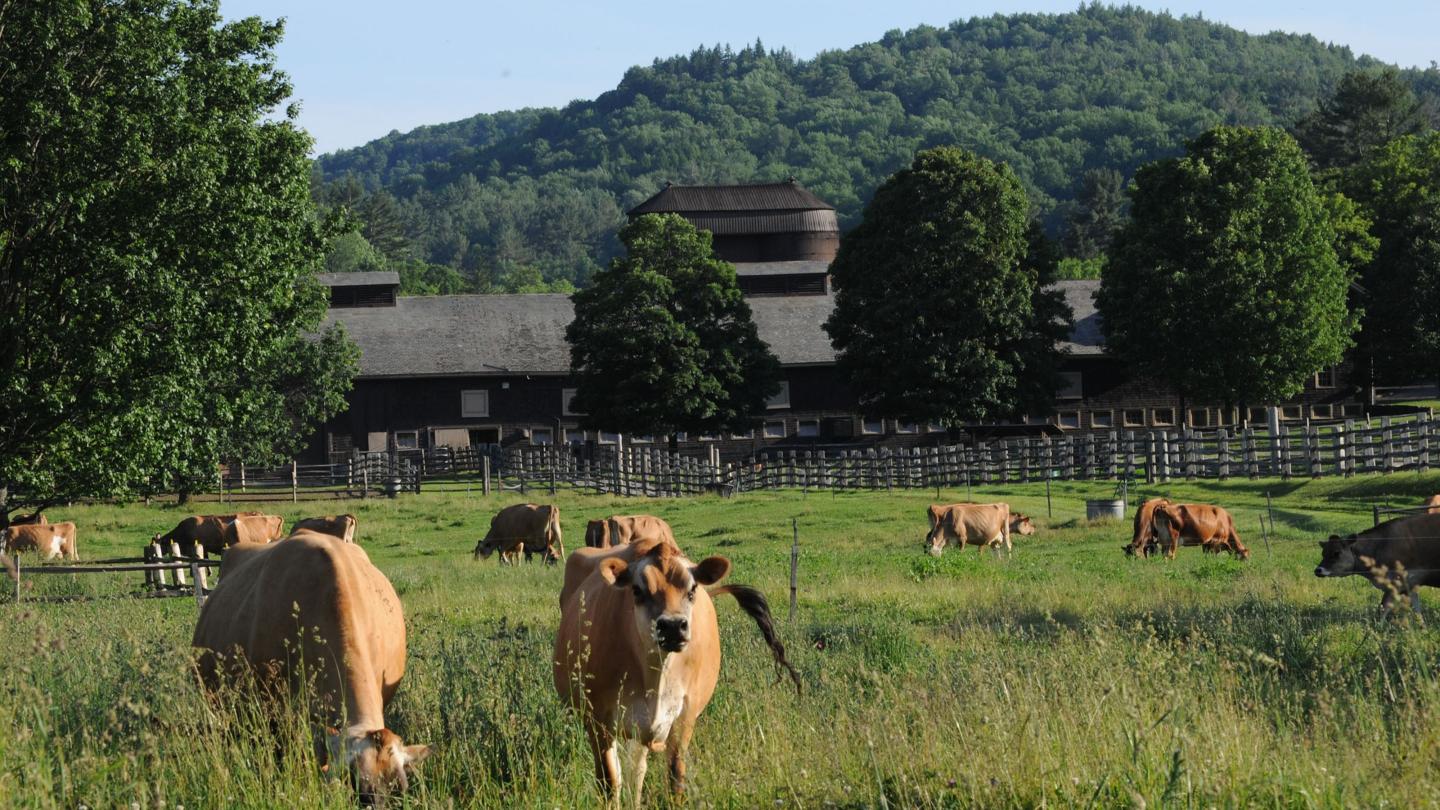 © TM and2006 Twentieth Century Fox. All rights reserved.
THURSDAY, APRIL 4…
9:30 – 11 AM: Let the rhythm take control during a Morning Jam session at Artistree – where you can bring your instrument, a song or two, and some friends to contribute to this casual, collaborative musical gathering. This event is free, but donations are welcome.
7 – 9 PM: Trivia buffs, now's your chance to show your stuff! Compete to win fun prizes while partaking in tasty food and drink specials during Trivia Night at the Public House in Quechee.
7:30 PM: Come face-to-face with high fashion, low cunning – and the boss from hell with a showing of the film, The Devil Wears Prada. See Oscar-winner Meryl Streep channel fashion editing elite with expert precision at Pentangle Arts' Woodstock Town Hall Theatre as part of the Thank You Thursday free film series.
FRIDAY, APRIL 5…
5:30 PM: Embrace the season with the Mud Exhibit Opening Reception at Artistree! At this free event, observe the work of local artists inspired by mud via a variety of works: some anticipating the warmth and color to come; others reflecting on the familiar, spare landscape of recent memory; but especially those works in the here and now.
6:30 - 8 PM: Then, middle schoolers are invited to get creative, too – this time with cardboard! At the Montshire Makers: Cardboard Construction event, kids grades 6 through 9 can build a world of their own out of that durable, recyclable material at the science museum in Norwich.
7 – 10 PM: Get your dose of live music and gorge-ous views when Kind Bud plays at Public House Pub – located near the Quechee Gorge.
SATURDAY, APRIL 6…
9 AM: As the temps heat up, so is the competition at Nor'Beaster: Bud Light Bear Mountain Mogul Challenge at Killington Resort. Skiers, preregister to guarantee your spot in this manic mogul event – or bring a chair, grab a brew, and enjoy the show.
10 AM – 12 PM: Mothers, fathers, sisters, and brothers are invited to experiment, create, and get messy at Artistree with a round of Family Clay in the Ceramics Studio! For this special hand-building session, you decide what to create in a fun, family-focused environment. See link for details and pricing – drop ins welcome!
11 AM – 2 PM: Get in the spirit of spring with a Yard Party at Woodstock Ace Home & Hardware – complete with demos, giveaways, and hot dogs!
11 AM – 3 PM: Play architect and engineer during the Cardboard City event at the Montshire Museum of Science. You'll work with other planners and builders to create a city from scratch, from design to construction of a model city bursting with buildings, parks, bridges, boats, busses, and more. See link for pricing and details.  
1 – 4 PM: The season of new blooms is upon us – do you have somewhere uniquely beautiful to display them? If not, you're in luck – because the Ceramics Workshop: Hand Building Vases is coming to Artistree. Turn a simple, one-slab form into art with an exploration of patterns, seaming, and darting. No previous clay experience required. See link for pricing and registration.
3 – 5 PM: Visit Collective: The Art of Craft to welcome the newest artists to the fold! You'll find the arresting handblown sculptural glass works of guest artist Alissa Faber, clay forms of new member Andrea Tszarkos – as well as Breeze Verdant's jewelry and fiber art from Jennifer Johnson! Peruse these handcrafted creations over conversation and refreshments.
3 & 5:30 PM: Watch as an inventive orchestra turns trash into music around the globe with a showing of the film, Landfill Harmonic, presented by the Woodstock Vermont Film Series at Billings Farm & Museum.
4 – 5:30 PM: Join award-winning pianist hailed by the New York Times as "excellent," Matthew Odell, as he plays Prokofiev's War Sonatas at Artistree. The Carnegie Hall alumnus will fill the Hay Loft performance hall with the spellbinding sound of Prokofiev's 6th, 7th and 8th sonatas, which serve as protests to the horrors of World War II and a dictatorial regime. An event not to be missed. See link for pricing and tickets.
By reservation: Maple lovers, this one's for you! Reserve your table at Cloudland Farm for a Maple Dinner to remember, today only.
7 – 10 PM: Then, keep the music pumping with Mokoomba at Suicide Six Ski Area! With help from GlobalLocal – deliver world-class international music to unique settings – one of Africa's hottest bands is back in Vermont. Join in as they share music, dancing, and fun.
SUNDAY, APRIL 7…
10 AM: If you missed the concert at Suicide Six, don't fret! You can meet one of Africa's top bands, Mokoomba, at the North Chapel for a performance (during service), followed by lunch and a workshop/talkback at 11:30.
11 AM – 2 PM: Make it a Sunday funday with Marys, music, and a brunch! At Richardson's Tavern, live music by the Michael Zsoldos Duo will keep the mud season blues away as you drink and dine.  
1 – 3 PM: Want to help local wildlife? Attend the Volunteer Transporter Training at the Vermont Institute of Natural Science to learn how you can play a role in rehabilitating injured birds (application must be submitted before attending, RSVP required).
Then… catch a flick, visit the farm, take a cooking class, or stroll around town for a round of shopping!
TO ACCESS MORE GREAT CONTENT ON OUR BLOG...