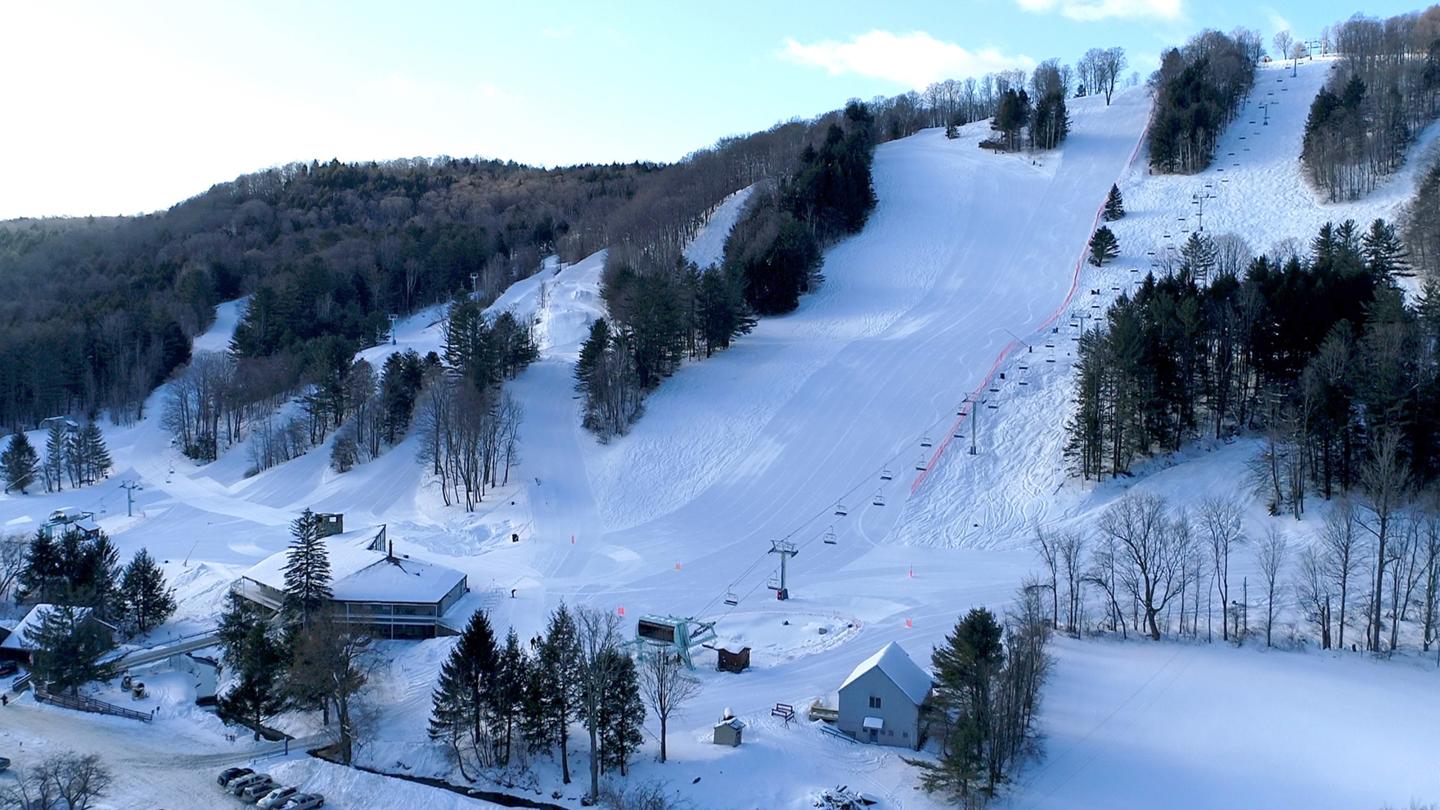 Woodstock Inn & Resort Saskadena Six Ski area, formerly known as Suicide Six, opened to the public in 1936 with its first rope tow on Hill No. 6. Installed by Wallace "Bunny" Bertram, a former ski instructor at Dartmouth College.
Pure. Joy.
At Saskadena Six, we've defined the unadulterated exhilaration of skiing and riding for 86 years, and continue to refine what a pure experience means to you and your family. To us, it's about the pristine environment, the welcoming and friendly staff, the quality of snow, the excellence of the grooming. It's about the attention to small details that get lost in the ever-quickening pace of the mega-resort. It's about the connections we make, the friends that return year after year, and the generations of visitors that consider us an integral part of their families. Experiencing something so pure has a way of changing you, and we welcome you to find out how.
Joy? We've got that covered too. From the first time Wallace "Bunny" Bertram braved skiing down the face of Hill No. 6 in 1936, we've been driven by the notion that people need to have fun. There's lots of ways to do it, so let us help you find yours. All you need is the will to try!
Ski and Ride Programs
Why is ours the oldest continually operated school in the nation?  We'd love to share all of the reasons why. We invite you to discover the joy with our diverse team of coaches, in a private or semi-private format. 
Reservations are recommended.
Perley's Pourhouse
Perley Wheeler was the original lodge keeper. His bushy white beard punctuated by a hand carved wooden pipe was the familiar sight that greeted guests both on and off the hill. As an homage to Perley, our seated restaurant and lounge offers a variety of selections chosen by our Master Chef to keep your fire stoked, and our newly installed six-tap system will feature local brews to help you get to the heart of après ski. If you're in more of a grab and-go kind of mood, there's an awesome cafeteria with great food and fresh options for any taste or diet.
Saskadena Six Ski Shop 
A retail and rental shop true to the roots of the sport. Where you can speak to an expert in an intimate and friendly environment, yet with state of the art testing and tuning equipment, and some really unique swag you can't get anywhere else.
Mountain Statistics
Summit Elevation: 1,200 ft
Base: 550 ft
Vertical Rise: 650 ft
Terrain: 24 Trails and Slopes
Longest Run: 5,280 ft
Slope Difficulty: 30% Beginner
40% Intermediate, 30% Advanced
Uphill Capacity: 3,000 pph
Annual Snowfall: 110  inches
Snowmaking: 60% covers 50 acres
Lifts: 1 Quad, 1 Double Chair, 1 Conveyor
Opening Hours
Hours
During the Ski & Ride Season, our lifts spin:
9am to 4pm Wednesday - Sunday 
Holiday Weeks Open Daily 
Open Christmas Day from 11:30am to 4pm. 
Half-day passes go on sale at 12:30pm. 
Contact
247 Stage Road
Pomfret, VT 05067
United States