Q: Each piece from
ShackletonThomas

, from bud vases featuring hand-painted penguins to the Tree of Life bed, is handcrafted by one artisan from start to finish. What are your favorite parts of that process?

A: My favorite part is coming up with an idea and digging into the creative barrel inside one's head. You have ideas but you're not sure where they came from – tipped off from seeing something similar or something from nature – then you have to figure out how to turn that into a material object.

The really exciting part is when you finally make the piece. You never get it right the first time because the 3D imaging in your head isn't perfect, at least not when you're awake. So you make adjustments. You make prototypes that you give to friends which you slowly refine till you've got it right. It's like having a baby that becomes a teenager then flies away when you sell it to fund the next project.
Creativity is what feeds the human soul, whether it's making a strawberry rhubarb pie or working in the garden. It's so important for humans but it's getting lost.
Q: Creating both furniture and pottery has an element of repetitious methodology – watching the calm, intentional motions of a potter at the wheel or a furniture maker carving wood is often a soothing experience! How do
ShackletonThomas'

craftspeople elevate the product of a process into a work of art?

A: Miranda and I are creative types. I don't think we're ADD, but we move fast. We get bored quickly; that's part of the creative process. We both do the repetitious work, but our main drive is coming up with new ideas because we love to do it and the business needs it.

We employ craftspeople who love the feeling of coming into work in the morning and getting into the zone: working the handplane, throwing the pots, getting involved in the process. That's a very Zen thing. But it takes a lot of time to have the skill to get into the groove.
It's a craft, and the word craft comes from the word energy. It's power over material. Some people say it takes 7 years or 10,000 hours to get there, otherwise there's a lot of chance or frustration till you get to a point where it really flows. Sometimes you finish a job and you hate it the minute it's done. But then you look at it a year later and you think it's amazing. It's deeply connected to how the human mind and soul operate. It's not a purely mechanical thing and the product isn't either. The careers people have today are increasingly mechanical. There's not a lot of room for creativity. Creativity is what feeds the human soul, whether it's making a strawberry rhubarb pie or working in the garden. It's so important for humans but it's getting lost.
That's why we think our company is important philosophically. College kids are told to get a job while on the other hand, they're trying to find something that feeds their soul. We have the best of both worlds. But it's taken us over 30 years to build this company so it flows. Running a company is a skill unto itself and not one you learn at school. I enjoy all of the pieces – you have to in order to grow a business.
Q: A company built in the Green Mountain State! After attending art school in England, then training with international masters, what brought you to our corner of the world?
A: I came to this country with Simon Pearce. I worked with him in glass blowing because I wanted an unusual craft that involved making a pure, plain, functional product. Two years later, when he was looking to add pottery to the business, Miranda came to visit me and ended up setting up pottery for him.
Q: That's got us wondering – at ShackletonThomas, both you and Miranda seem to have clear-cut roles, but have you each tried your hands at your spouse's craft? If so, what was the experience like?
A: I love making pots. It feels like magic. In 1979, Miranda and I met in our school's ceramics department where I was first learning to throw pots and she was much more accomplished. She's an incredible decorator, which I am not. Brushwork, designing, and drawing – that I would be terrible at.
She hasn't done much furniture making; she's terrible at measuring and dangerous with machine tools. But she's full of ideas all the time! Sometimes she decorates tiles, paints coffee tables.
We're always talking about work. Our synchronicity comes from our belief that these hand skills feed the soul. We want to show people that there is a way of life that you can make if you're careful. We're a little bit like an educational establishment. We take on apprentices and young people, teaching them about teamwork and how to make things efficiently with enough handwork so its clear someone made them.
Q: An educational experience that your son went through as well! We heard he's currently designing and building tables for the new Mangalitsa space – where else might someone find the influence or work of
ShackletonThomas throughout Woodstock?
A: My son now has his own business where he does custom work for people and is good friends with Matt Lombard [co-owner of Mangalitsa]. ShackletonThomas has a specific line of furniture that's in many private homes throughout Woodstock, but we also do a lot of custom work, which you can see at Twin Farms and the Woodstock Inn & Resort. We've made benches for the elementary school and we have a garden bench on the grassy triangle in front of Middle Covered Bridge. Right now, we're making a bench for VINS out of locust wood grown in Vermont. We like to use local when possible to verify it's sustainable and to remain connected with the land.
Q: Speaking of local…
ShackletonThomas

is very much a Vermont business in that it places immense value in nature. Can you talk a little bit about the company's respect and interaction with the earth?

A: The thing about Vermont is that it's a very rural, beautiful, close-knit community. There are lots of trees and the people are close to the land – as keen gardeners, we want to know more about that connection. It's a huge source of inspiration.
We love Vermont, we love doing things that connect us with people. Our products enable that for us. In the transaction, customers get excited about what we do, we bond with them via the material objects that we've made.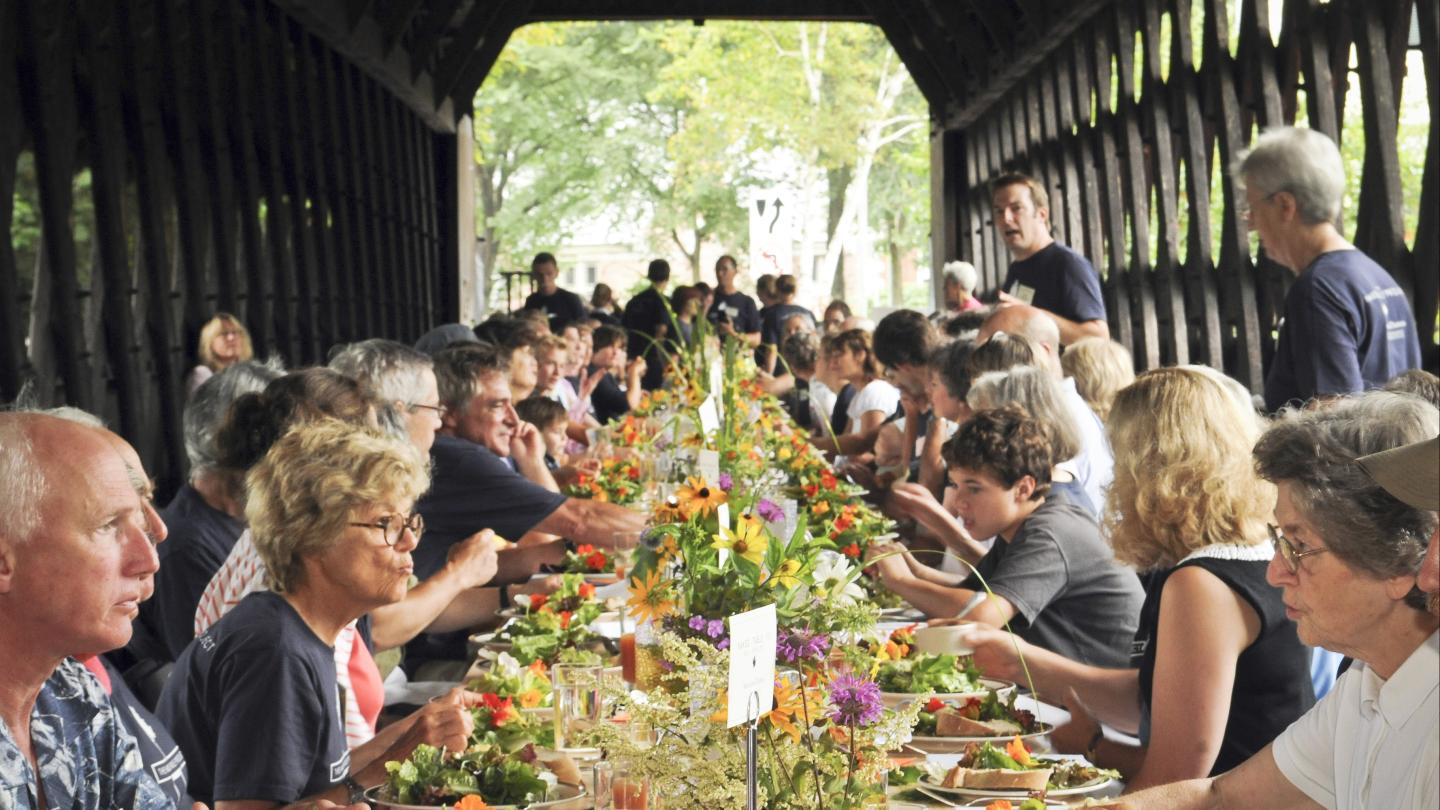 It's why I started the Naked Table Project 12 years ago, where we harvest maple trees from the Marsh-Billings-Rockefeller National Historical Park, make them into tables that people can bring home, and celebrate with a meal on Middle Covered Bridge. It's an iconic piece that connects people directly with the land that's also functional and brings families together.
This year with COVID, we decided it's not a good idea to bring 100 people together for the event, but the Naked Table Project will be back in some form or other in 2021.
We love Vermont, we love doing things that connect us with people. Our products enable that for us. In the transaction, customers get excited about what we do, we bond with them via the material objects that we've made.
Community is enlarged family
Q: You've weathered a recession, Hurricane Irene, and now a pandemic. How has COVID-19 affected the business and how can those who love
ShackletonThomas

help?

A: What we do is really hard and stressful, and we've thrown our whole lives into it. We've been in business 32 years, but we've both been doing our crafts for 50 years – since we were kids. We don't know how to do anything else, we love what we're doing, and we know there will be hard times.
For us, a lot of hard times happen when we're just dealing with day to day stuff. So when a broader crisis comes along and everyone else we bump into is freaked out, we're like, yup, this is what we do every day.
There's a lot of empathy for what we're going through right now. There are financial resources for companies like us that are very helpful. When you're part of a community, you get a lot of moral support.
Community is enlarged family. It's a great source of inspiration. Yes, we want sales and want people to buy things, but that support from people who don't need what we're making but tell us, "congratulations, you're doing something amazing" is really important as well.