Ottauquechee River spots in Woodstock Village
Season: swimmer's discretion
Dog friendly: Yes 
This fresh, often-cool river snakes through the town proper, offering drop-in spots that are easily walkable from the center of the village. Depending on what experience you're looking for, take your pick from these access points: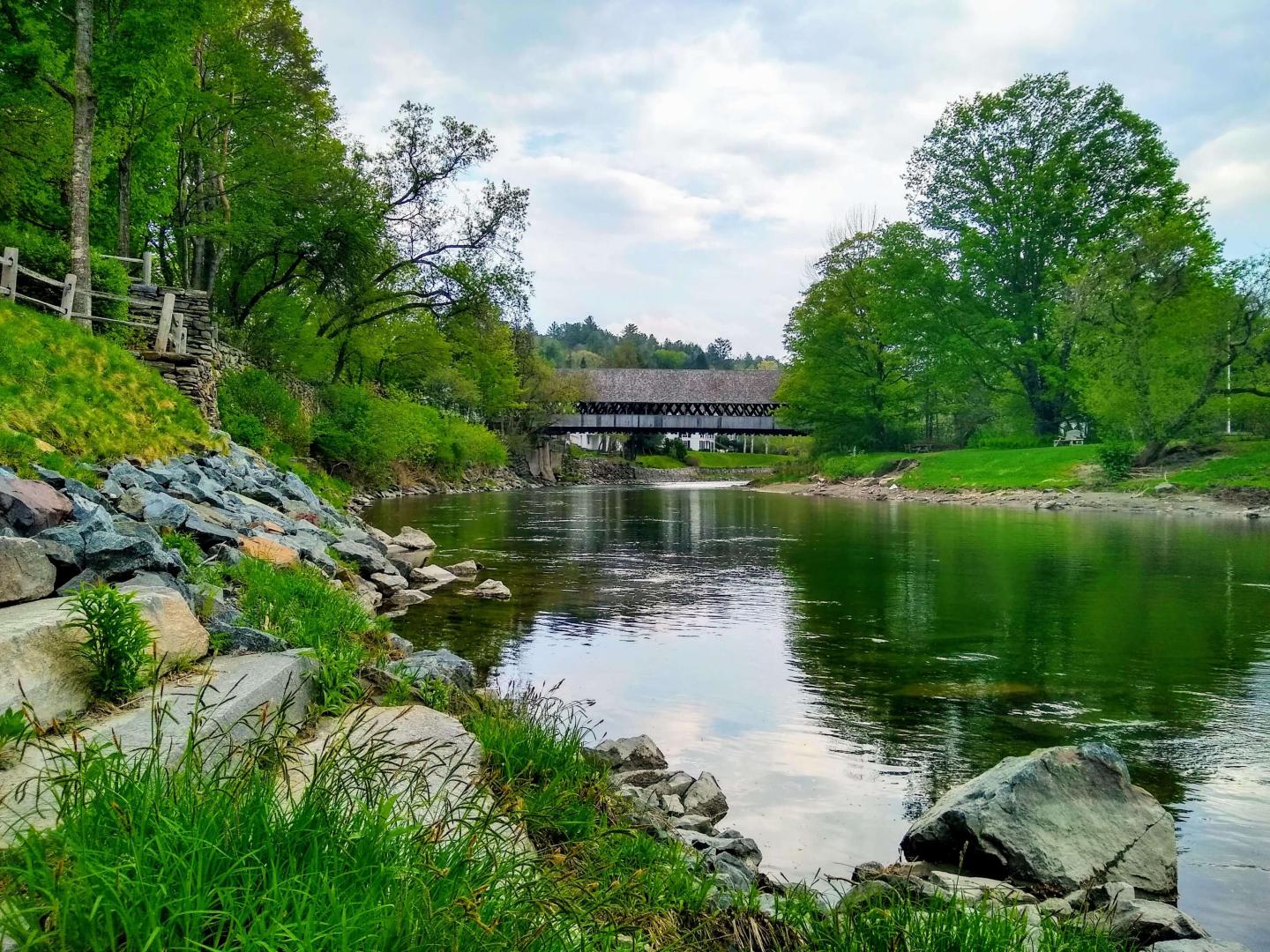 Lawn of the Woodstock History Center: A rocky entrance to a shallow portion of the river, best for wading – with fabulous views of Middle Covered Bridge!
Elm Street Bridge: Walking across the wrought-iron bridge toward Billings Farm & Museum, you'll notice the breathtaking views of the river below – and if you're looking closely enough, a path down! Hint: it's on the right, just past the bridge. This entrance is steep, but a trip down to the water affords a refreshing and picturesque spot to splash around, with more privacy than some other in-town swimming holes, as this part of the river is mostly lined by private residences. Here, it's deep enough to swim freely and a large boulder is a great for jumping in!
Between the Woodstock Recreation Center and the Little Theater: Great for family, with a sandy beach and waist-deep water (please note the deeper portions are rocky). There are also small rapids that are fun to navigate on inner tubes.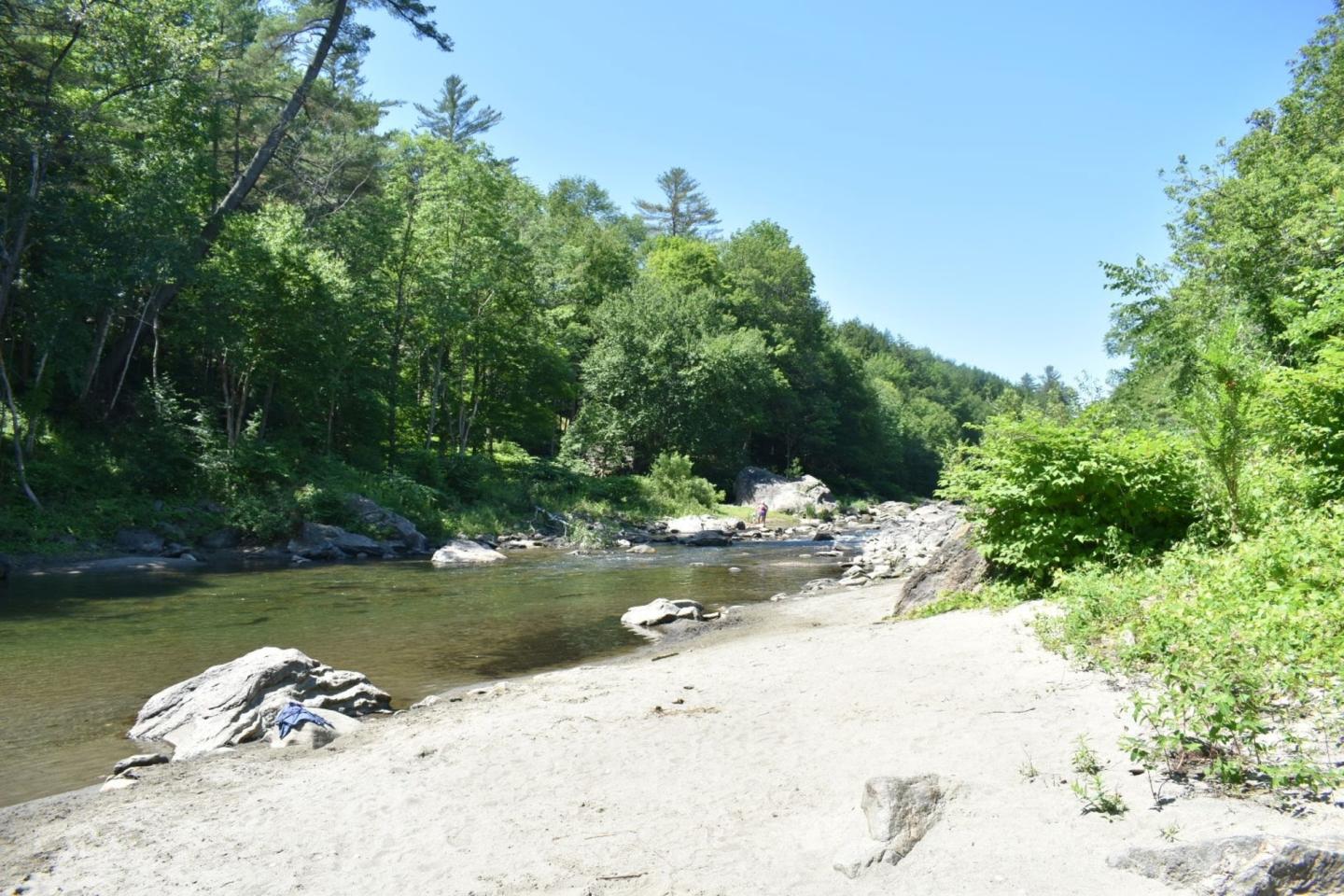 Ottauquechee River spot In Taftsville, 3.6 miles from Woodstock's Center
Season: swimmer's discretion
Dog friendly: Yes
Not far from the historic Taftsville Covered Bridge, adventures looking for a more thrilling splash will find a rope swing on Old River Road. Swing from the long, knotted rope or step down a rocky slope to reach the wide, calm channel of water. As a caution, swimmers should test the depth of the water before jumping from the swing.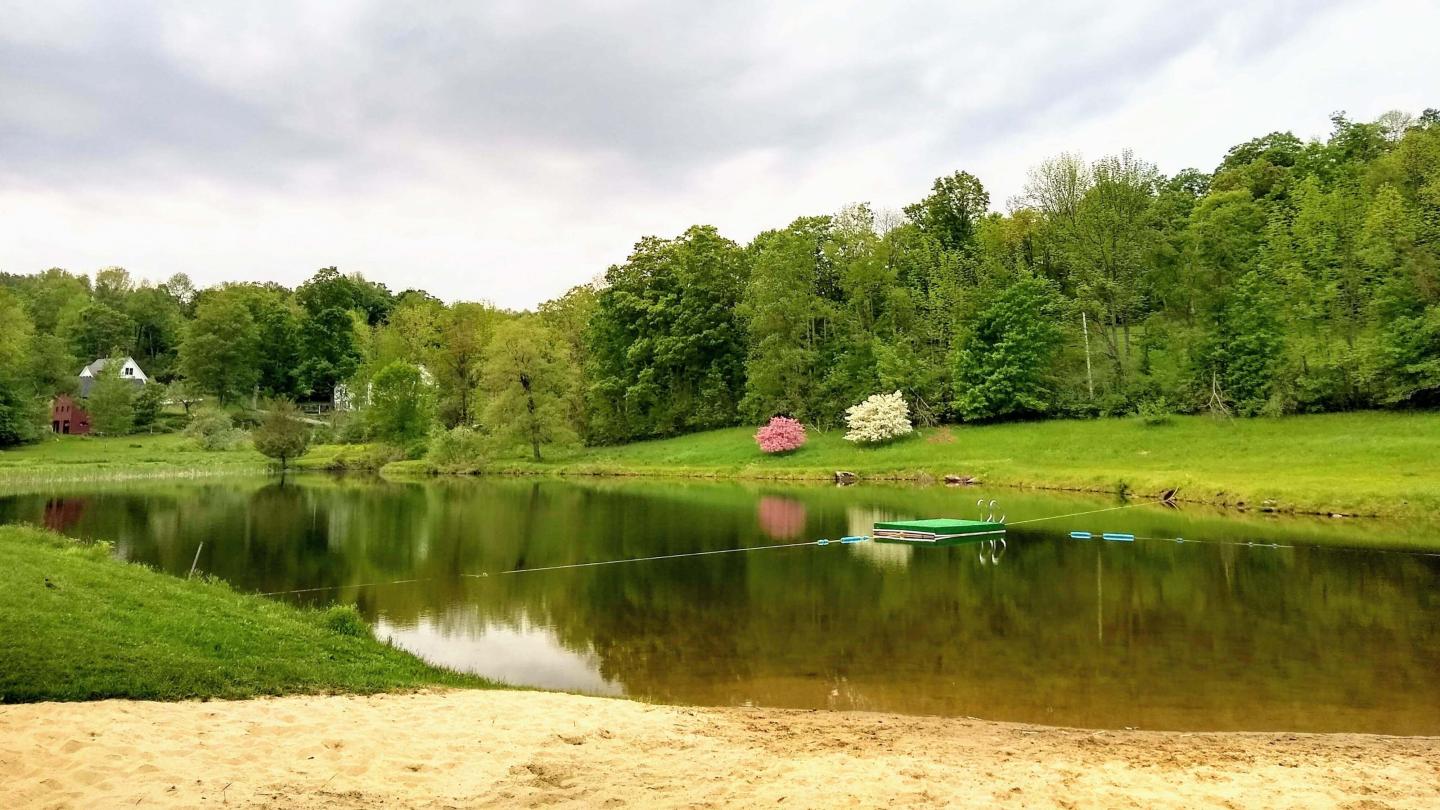 Kedron Valley Inn Pond, 4.7 miles from Woodstock's Center
Season: June through September from 11:30 AM to 5:30 PM
Pricing: Waived for 2020 (previously $4 for adults, $3 for children over 12, kids under 2 are free)
Dog friendly: Pets are permitted to stay at the Inn, but cannot use the pond
Surrounded by a soft, grassy lawn, this two-acre pond is spring-fed and well worth a visit! For a small fee, bring your family to this private oasis with a sandy beach, water-side loungers, and a sunning float at the pond's center. Located at 4778 South Road, South Woodstock, VT 05071.
Quechee Gorge, 9 miles from Woodstock's Center
Season: swimmer's discretion
Dog friendly: Yes
Hike down a well-trodden path off the Quechee Gorge Bridge for the next swimming spot on our list! Depending on the day, you likely won't be the only swimmer in this popular tourist area, but the fast-moving, cool water, rocky outcroppings, and gorgeous view of the bridge from below guarantee a unique experience that's well worth your time. The water is often deep and fast-moving so use caution.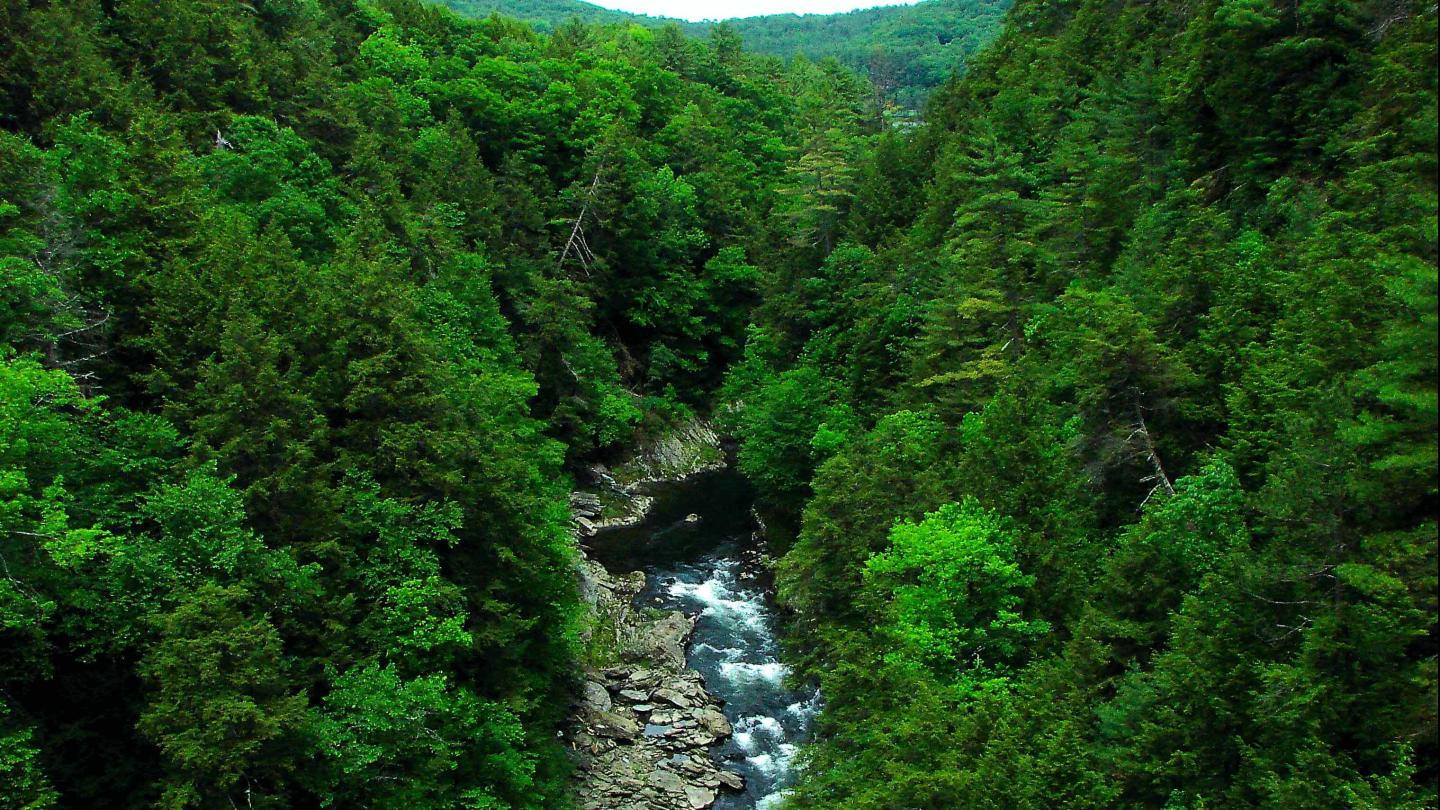 "Quechee Gorge" by SnapsterMax is licensed under CC BY-SA 2.0
Silver Lake State Park, 10.8 mi. from Woodstock's Center
Season: For 2020, parks opening June 26 (standard season is Memorial Day weekend through Labor Day weekend, 10 AM to sunset)
Pricing: $4 for adults (14+), $2 for children (4-13), kids 3 and under are free
Dog friendly: Not on the beach, but dogs are permitted elsewhere in the park
Just beyond Barnard's center, this gem is nestled in the trees and offers a pristine lake beach experience. The lake itself is 84-acres and closed to motor boats, guaranteeing a peaceful experience. For a small parking fee, you'll have access to a sandy beach perfect for small children, snack bar, bathroom facilities, picnic tables, and a playground. Located at 20 State Park Beach Rd, Barnard, VT 05031.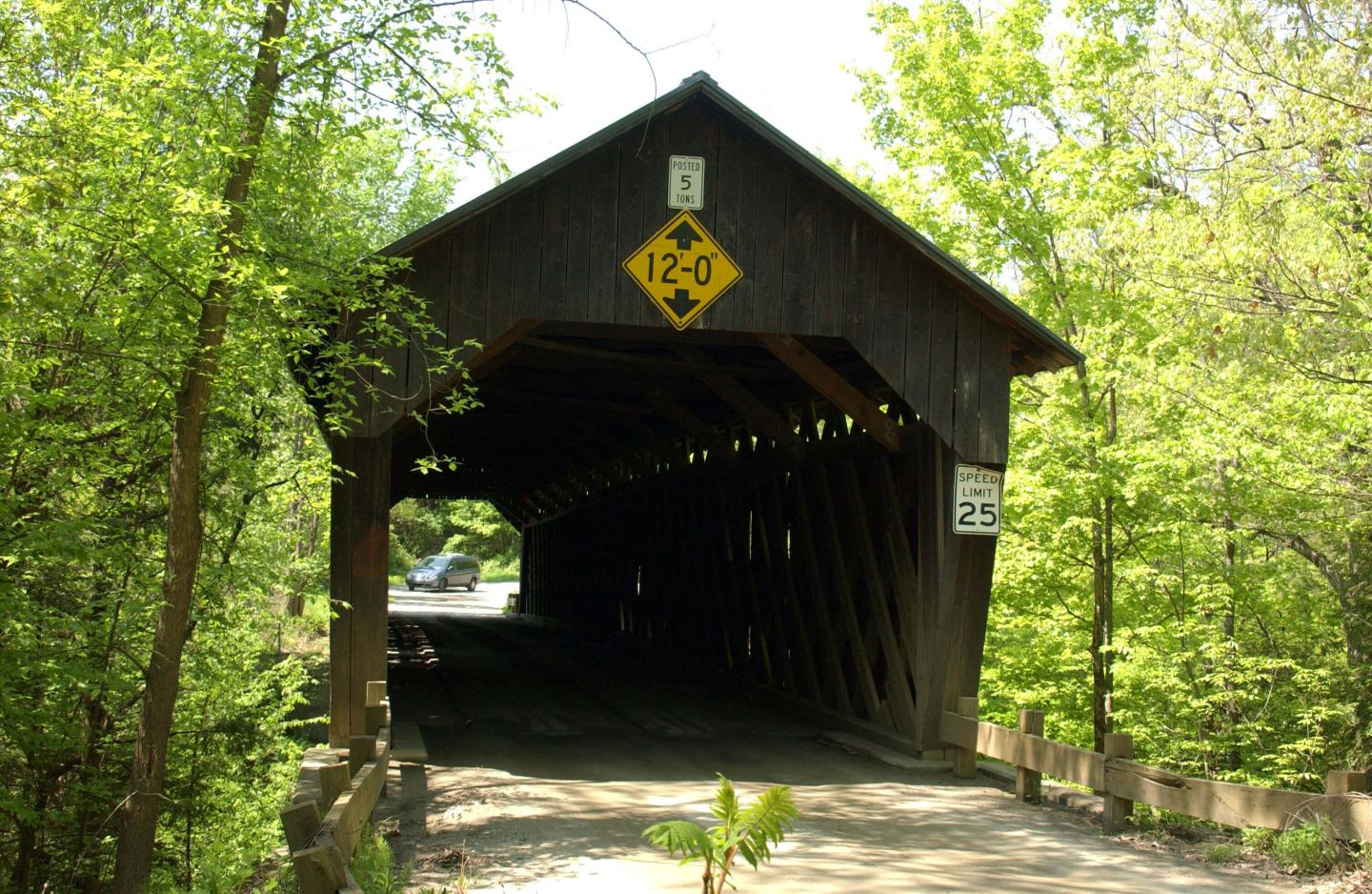 "Martins Mill Covered Bridge" by JERRYE & ROY KLOTZ MD is licensed under CC BY-SA 3.0
Martins Mill Covered Bridge, 10.9 miles from Woodstock's Center
Season: swimmer's discretion
Dog friendly: Yes
spanning Lull's Brook on Martinsville Road in Hartland, the 19th century covered bridge is your landmark for locating our next swimming hole! Out of sight of those traveling the dirt road, this fresh-water oasis is only for the sure-footed who don't mind a steep walk and a bit of rock scrambling. Pass over an old foundation and you're there: a sure-to-be peaceful spot that you'll likely have all to yourself. The bottom of the pool is mostly sandy with some larger rocks, surrounded by small waterfalls that'll make you feel miles away from civilization.