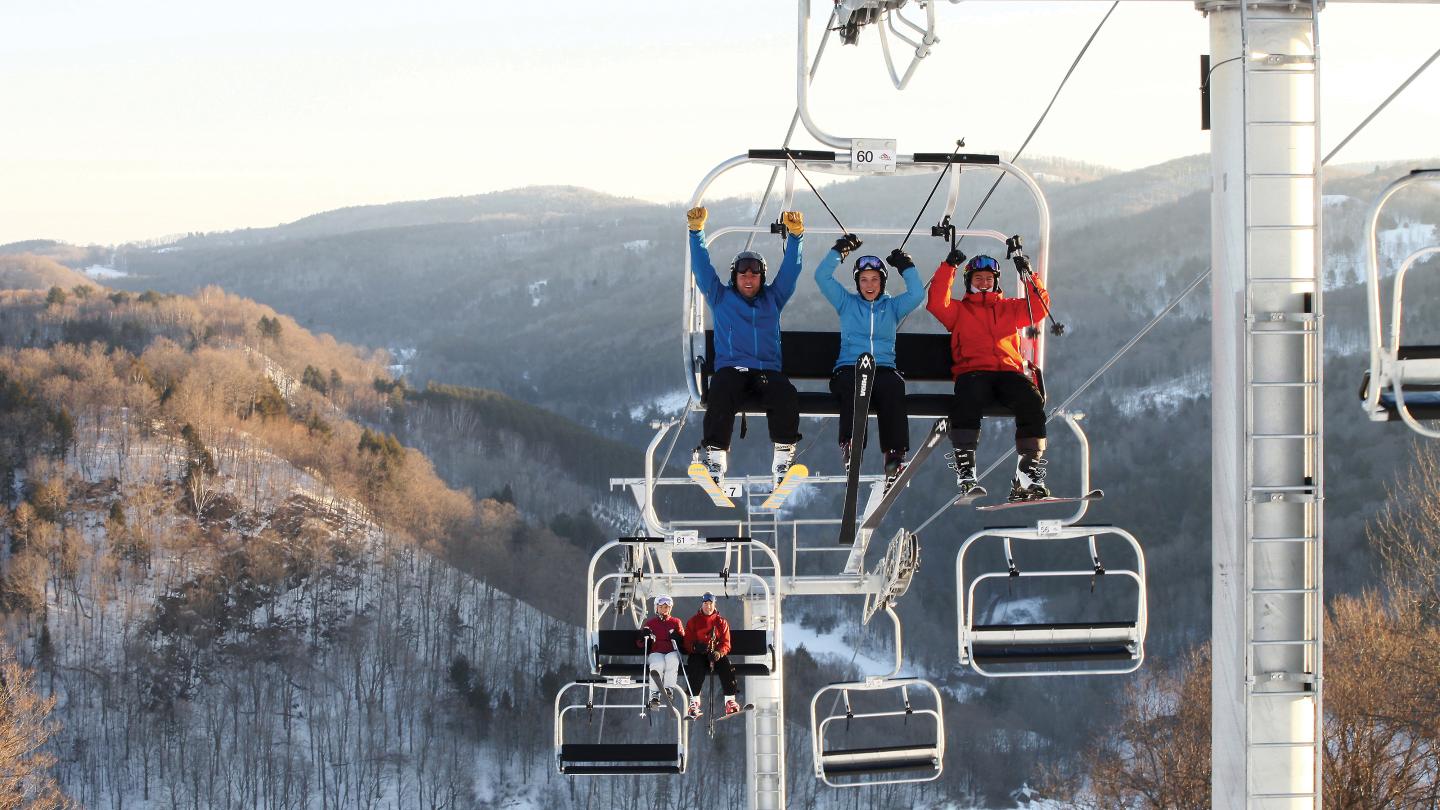 1. Downhill skiing/snowboarding
Suicide Six Downhill Ski Area: A mere 10 minutes' drive from Woodstock's town green, there isn't a resort more accessible than Suicide Six. Deadly name aside, it's also family-friendly! 30% of the trails are rated as beginner terrain, 40% as intermediate and 30% as advanced ー with the longest run spanning 5,280 feet. And as the site of America's first tow rope – powered by Ford Model T engine, no less – it offers not just 3 lifts and 24 trails for snowy joyriding, but also a slice of history.
Season: December 23, 2020 (conditions permitting) - early spring 2021
COVID-19 operations plan: Click here
Hours of operation: 9 AM – 4 PM Wednesday through Sunday (safe, respectful uphill travel permitted on non-operating days)
Rentals available: Yes
Lessons: Yes
Killington Mountain Resort and Pico Mountain: The Big K. The Beast of the East. K-Mart. No matter the nickname, Killington is revered as the largest ski mountain on the east coast bosting the longest season by far. Here, under 30 minutes from Woodstock, 212 trails weave their way down the second highest peak in the state (at 4,241 feet) – with bunny slopes, terrain parks, and double black diamonds alike. Nearby Pico Mountain, like Killington's little sibling, offers 57 trails with a summit elevation of 3,967 feet.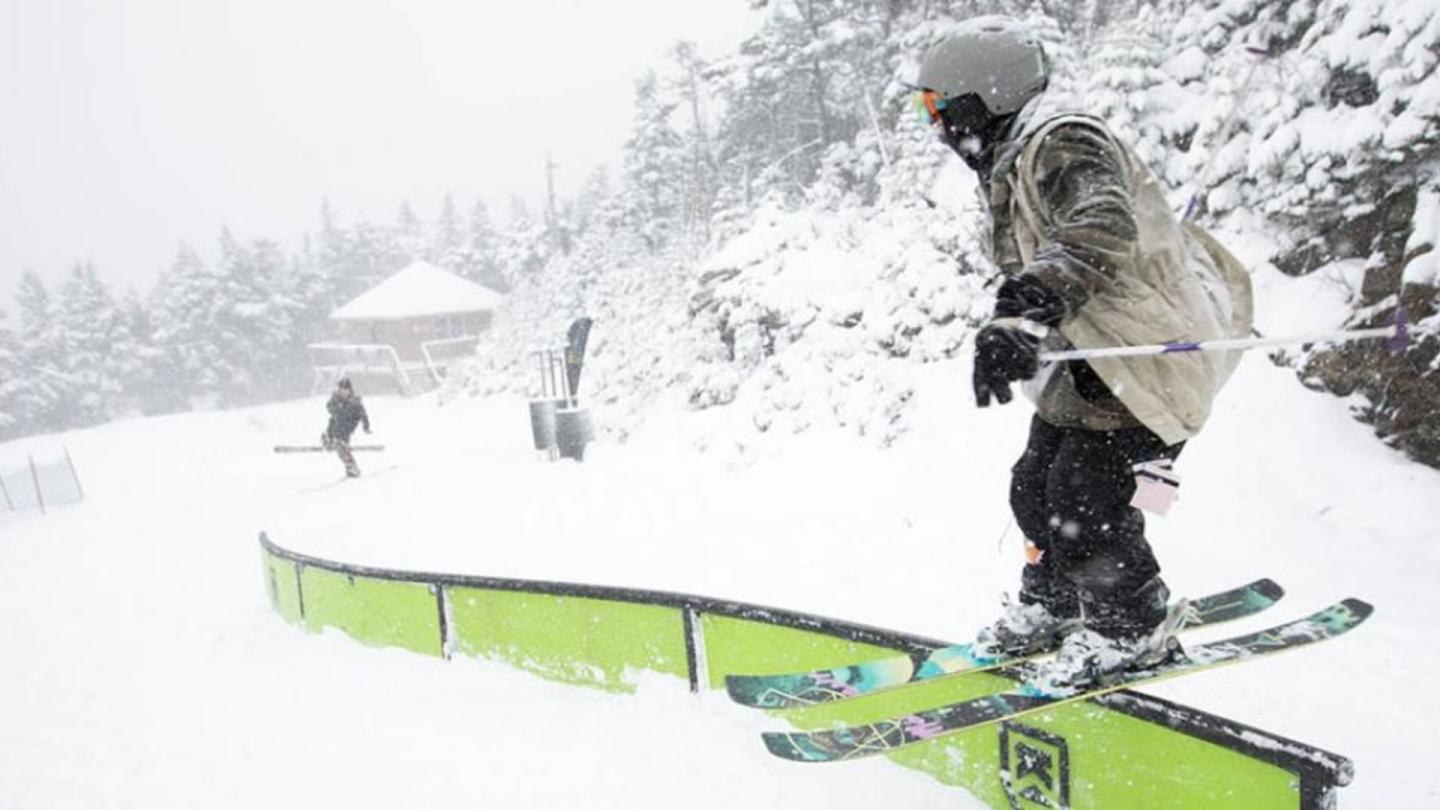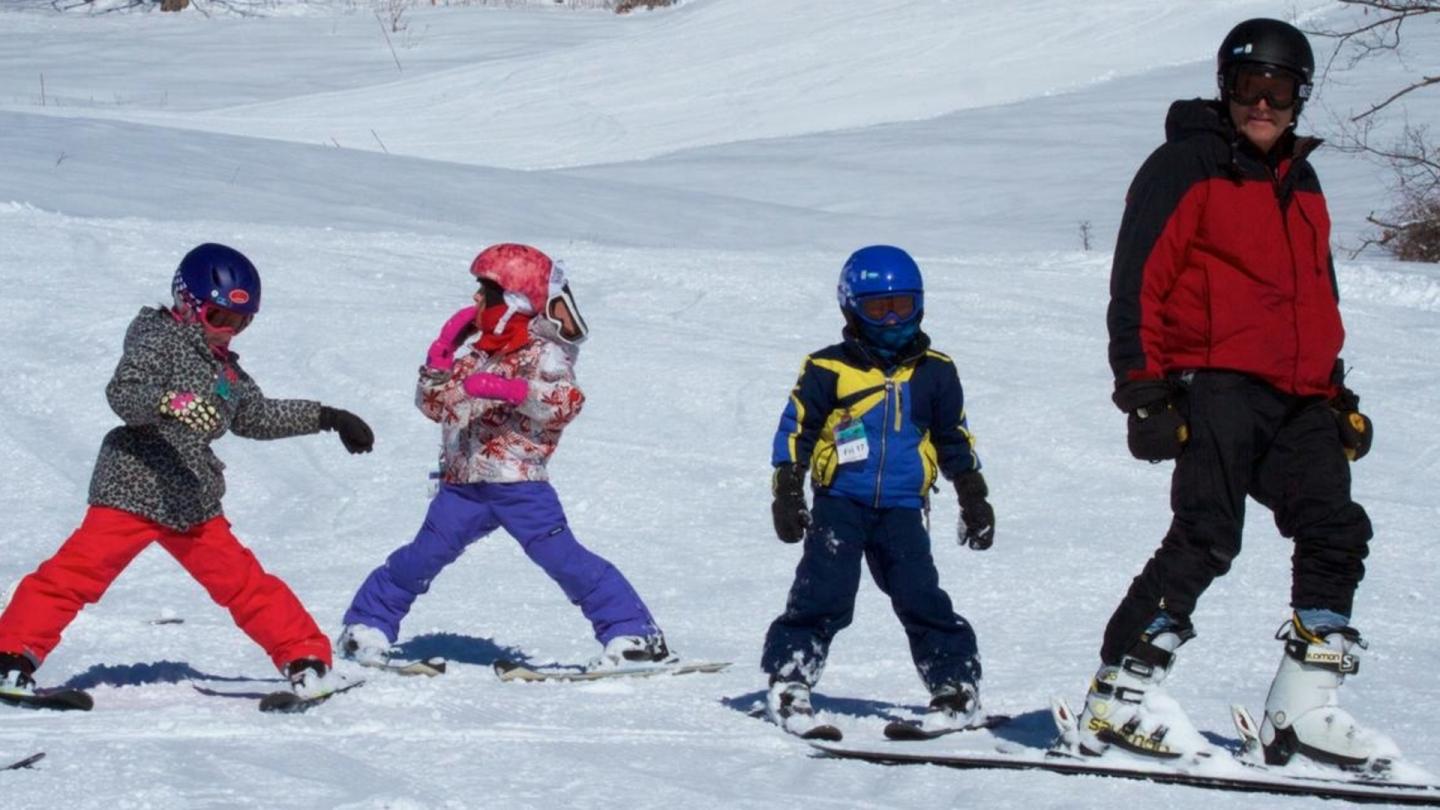 Ski Quechee: For children and those new to skiing, the Quechee Ski Hill is a bit of downhill perfection! Here, 15 short minutes from Woodstock, you'll find three chairlifts, 13 trails, a terrain park, glades – and a horse-drawn sleigh to tote little ones and their gear from lodge to chairlift. What's more quintessentially Vermont than that?
Additional Ski/Snowboard Areas: If you're willing to drive a little further, Okemo Mountain is another option for a bit of alpine fun. A little closer in proximity is Mt Ascutney, which reintroduced t-bar lift-service in the 2018/2019 ski season thanks to Ascutney Outdoors.
2. Nordic Skiing and Snowshoeing
The Woodstock Inn & Resort Nordic Center: For access to a serene winter wonderland with stunning vistas – all within Woodstock's village, secure a pass at the Nordic Center in the Woodstock Country Club (Click here for COVID-19 safety guidelines, season updates, pass pricing, equipment rentals, and more). The pass affords 40 km of maintained wooded trails across Mt Peg and Mt Tom. A picturesque cabin in the woods of Marsh-Billings-Rockefeller National Historical Park is the cherry on top, supplying the perfect spot for a mid-trek break. The remaining 23 km of trails on Mt Tom are left in their natural state for backcountry skiing and snowshoeing, and are free for general use.
It gets better. For the first time, you can take a snowshoe trek around the fields at Billings Farm & Museum during Christmas at the Farm (December 5, 2020 - January 3, 2021)! Just be sure to bring your own snowshoes or rent from the Nordic Center at the Woodstock Inn & Resort.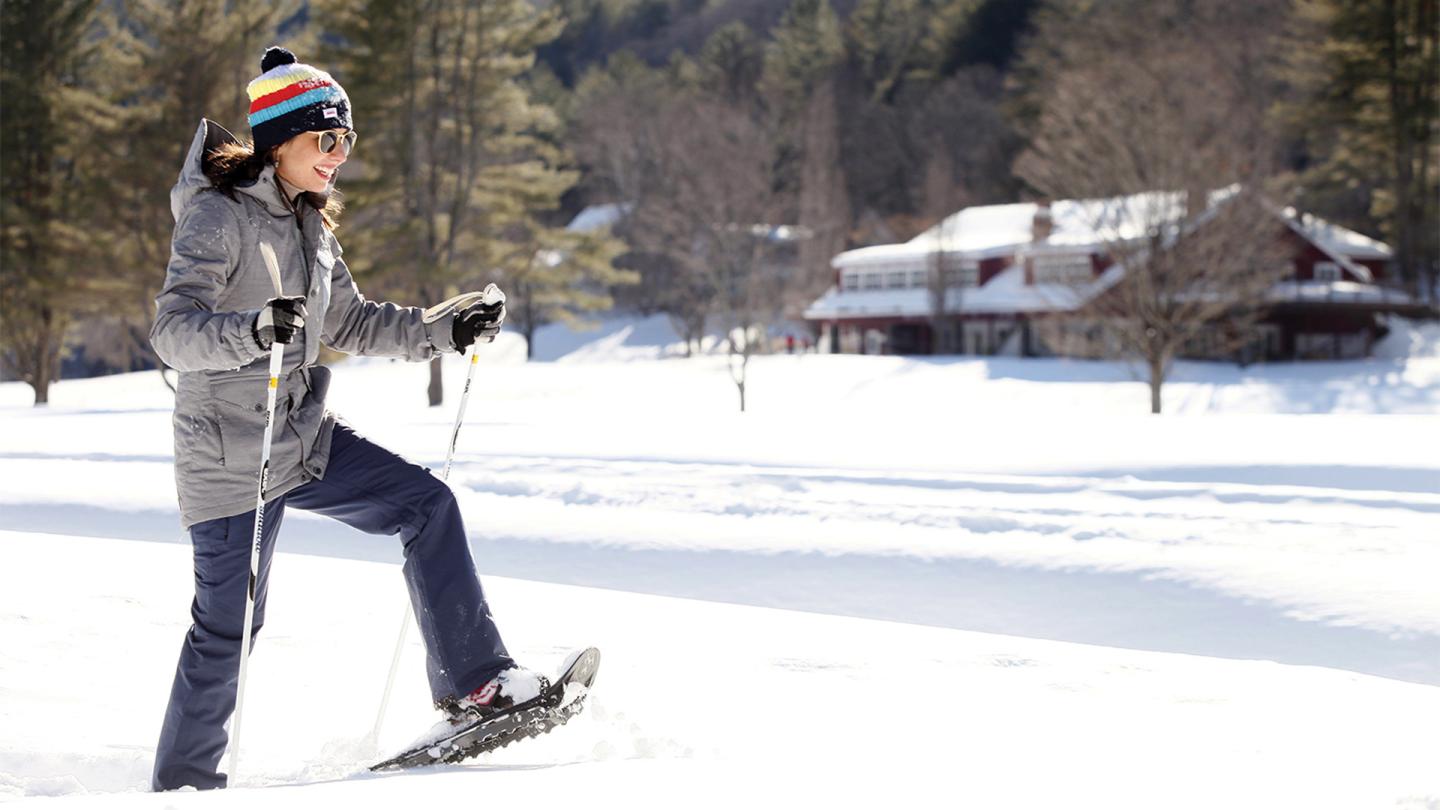 The Quechee Club: For members and guests, cross country trails are maintained across the club's renowned golf courses and the Section 5 trail system, which offers a more secluded, wooded experience. Those same trails can be used for snowshoeing, but hikers must stay outside the groomed tracks. Maps are available at the Quechee Club's Membership Services desk or The Base Lodge. Click here for updates on a COVID-19 operations plan, opening day, maps, and the cross-country reciprocal program!
Additional XC and Snowshoeing Spots: Although Silver Lake Park is closed in the off-season, trails are still accessible for XC skiing and snowshoeing. The Ascutney Trails Association is working to provide plenty of winter trail adventure, whether you're traveling by snowshoe or ski! Click here for details. But wait, there's more! Great River Outfitters in Windsor has over 4 miles of groomed trails, available for self-guided hikes from 12 – 5 PM. Trail usage fee is $5, rentals are available.
3. Fat tire biking
When the snow gets deep and heavy, fat tire biking is a boon for those who can't wait to get out on two wheels! The Woodstock Inn & Resort Nordic Center's network of village-adjacent trails mentioned above is available for this high-impact sport (bike rentals available). Just outside of Woodstock's village, you'll find another bounty of options fit for snow-loving bikers, such as the Aqueduct Trails maintained by WAMBA and Ascutney Trails maintained by the Ascutney Trails Association.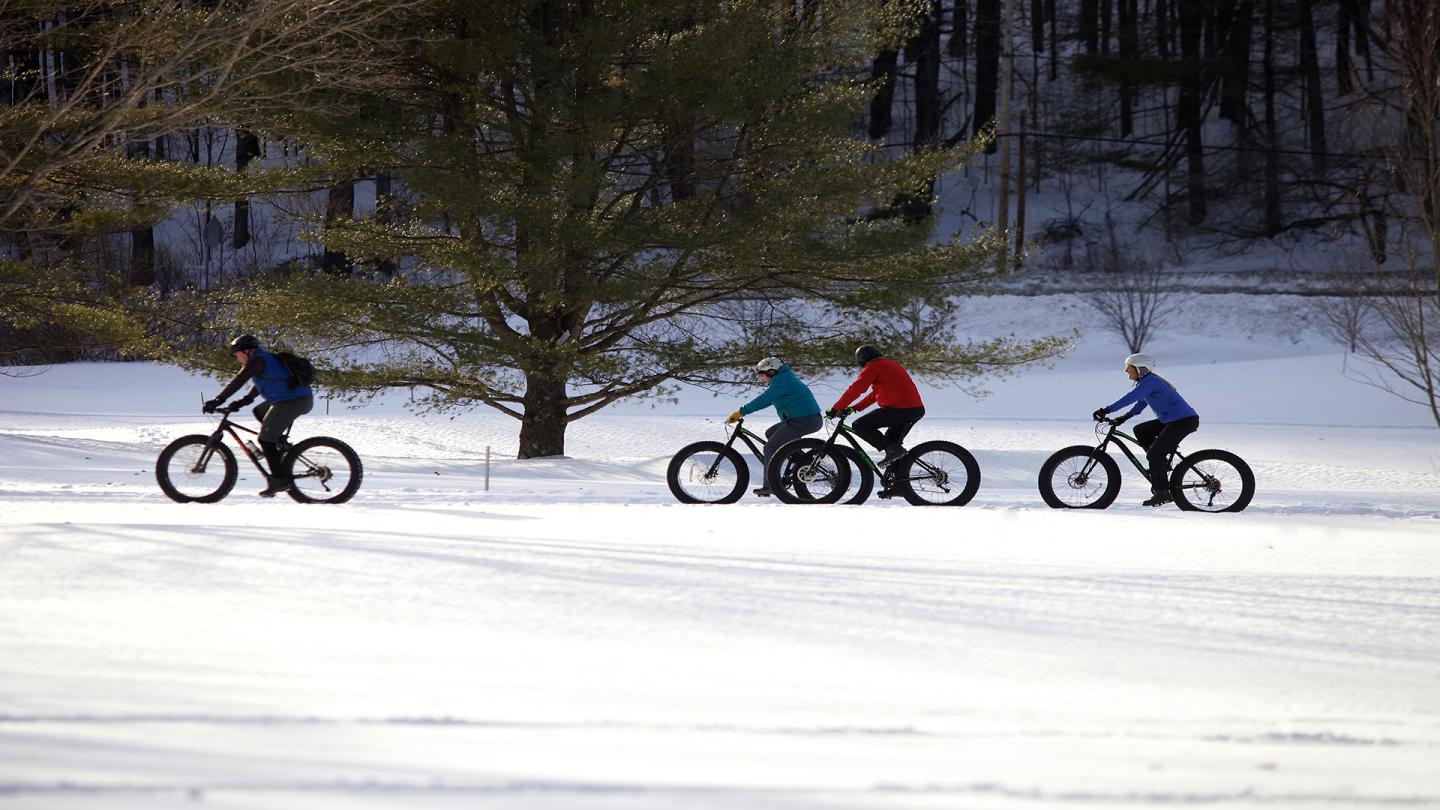 4. Sledding and Tubing
Killington Tubing Park: Slide solo to the bottom or race your friends to the bottom of this multi-lane park, complete lift service for easy trips up and down. See website for rates and dates.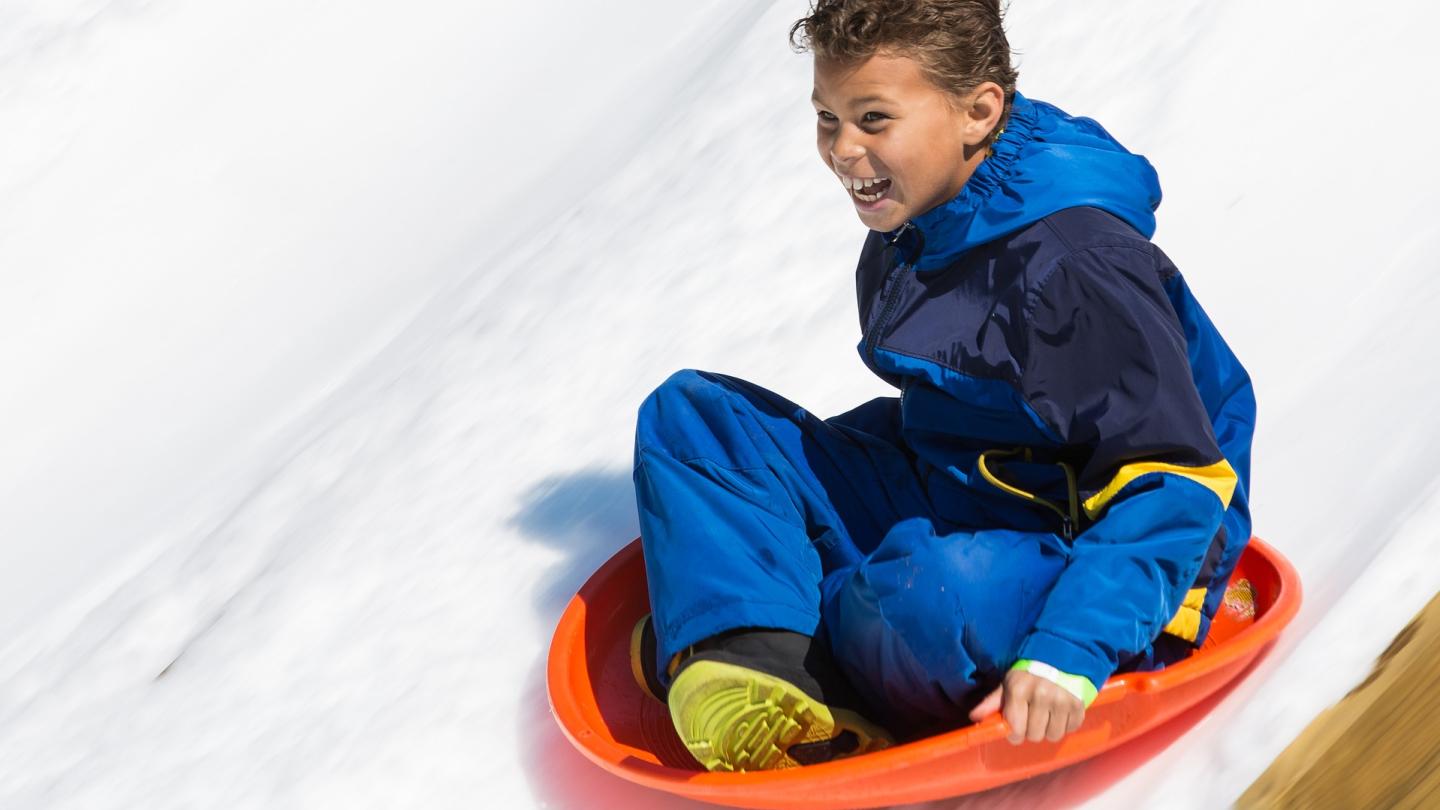 5. Sleigh riding
When the snow is falling and friends are calling "yoo hoo," come on, it's lovely weather for a sleigh ride together with you! From the center of Woodstock's village to the open fields of Windsor, you'll hear those sleigh bells ringing once the ground is blanketed in snow. To charter a ride, look to Kedron Valley Stables in South Woodstock.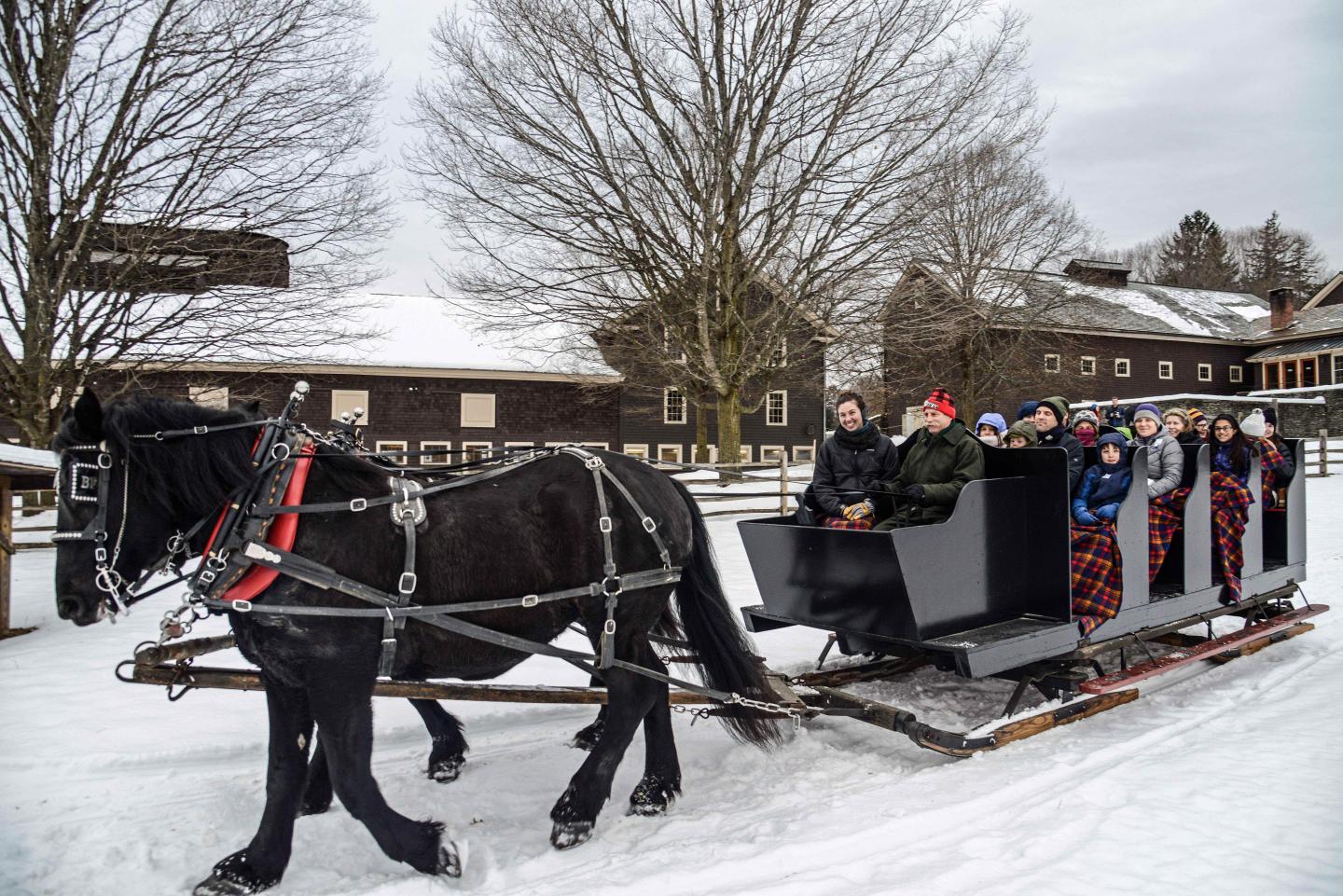 Billings Farm staff photo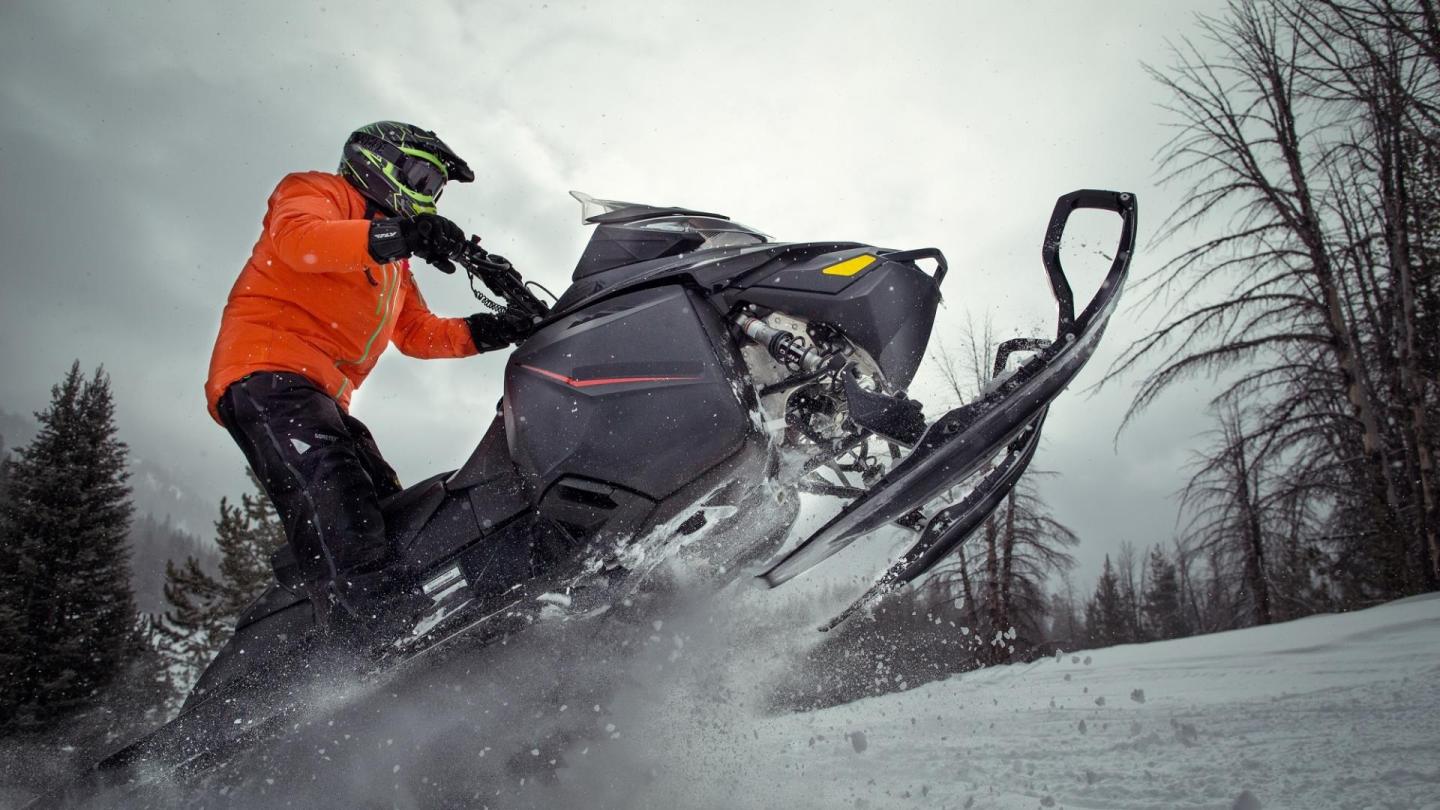 6. Snowmobiling
With the wind on your face, you'll whip through trees stooped with snow on a thrilling snowmobile ride through Vermont's backcountry.
December through April, secure a guided one-hour, two-hour, or kid-friendly tour of Killington through SnowmobileVermont.com or go solo after joining VAST, an organization responsible for maintaining and grooming over 4,700 miles of trails in Vermont.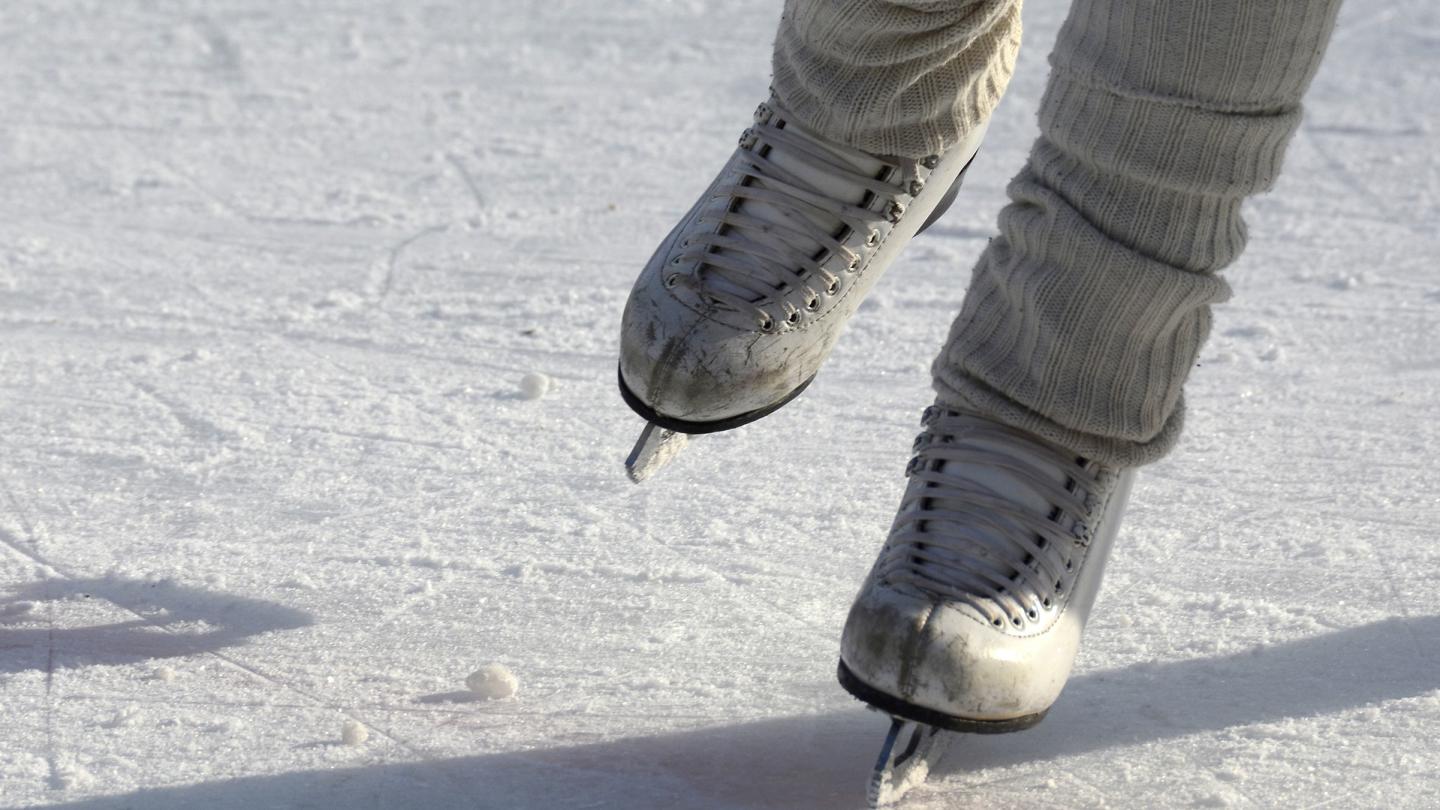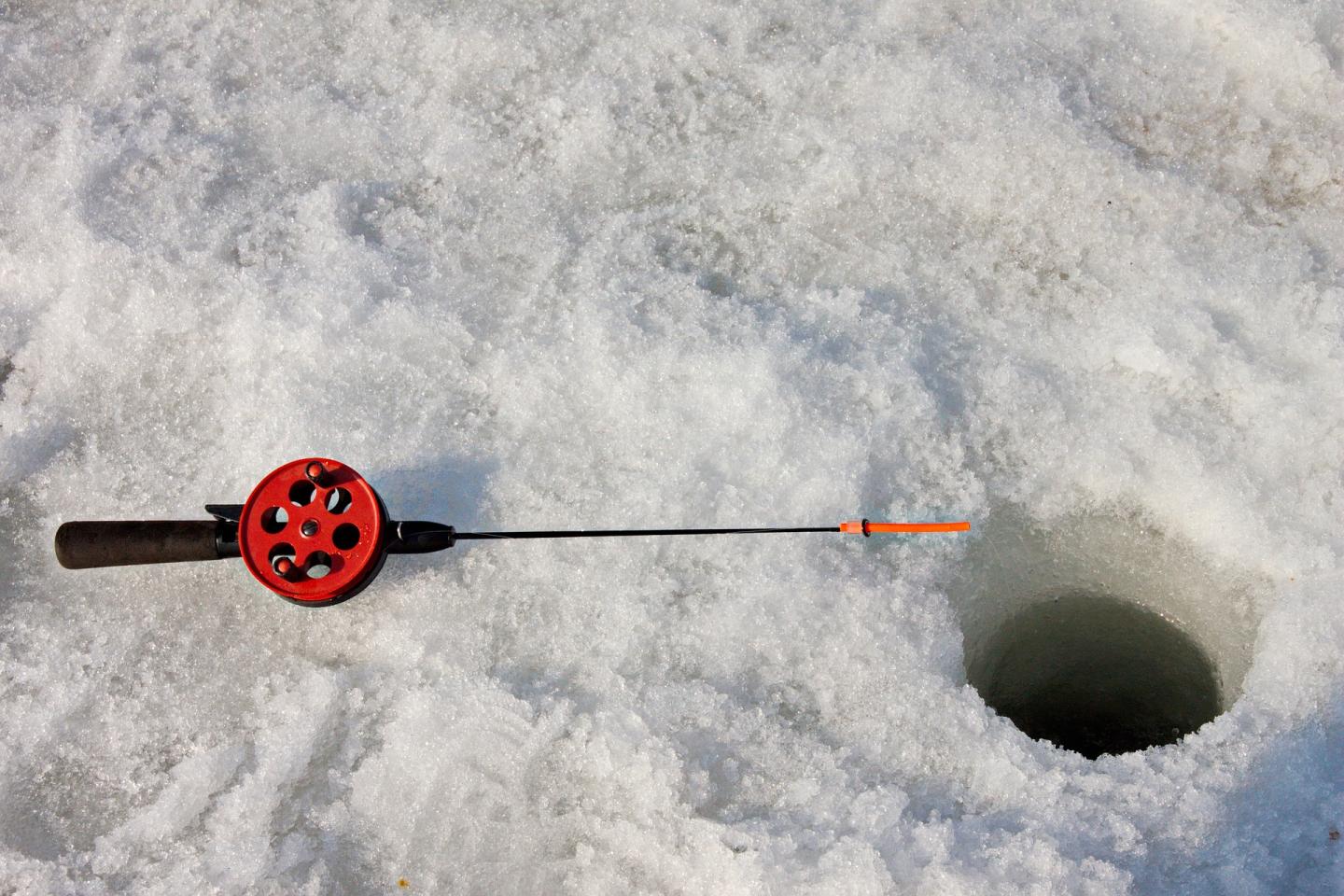 8. Ice fishing
Ice anglers, take note: Silver Lake is back on the list, this time as our top spot for local ice fishing!
After the temperatures drop and a +6-inch crust of ice forms over the water, you can venture out onto the 84-acre Silver Lake to catch trophies fit for your wall or the dinner table. But be sure to purchase your fishing license in advance.
9. Ice climbing
Ever dreamed of ascending a frozen waterfall? Sink your pick into this: there's no better place than Vermont to find sheer vertical walls of ice ripe for climbing! Through Vermont Adventure Tours in Rutland, expert certified climbing guides provide a safe, educational environment for introductory to advanced ice climbing programs. Go it alone or join a group to learn the ropes, then take a stab at lead and mixed climbing, and even self-rescue. Visit this link for tour rates and rental pricing.
Honorable mention: Dog Sledding
CLOSED FOR THE 2020/2021 SEASON: Mush! Hike, straight ahead! Get your pack ready for a 30 or 90-minute dog sled excursion led by a team of Siberian Huskies, rushing through the trees as fast as 20 miles per hour. Excursions are available through Braeburn Siberians in Windsor, VT.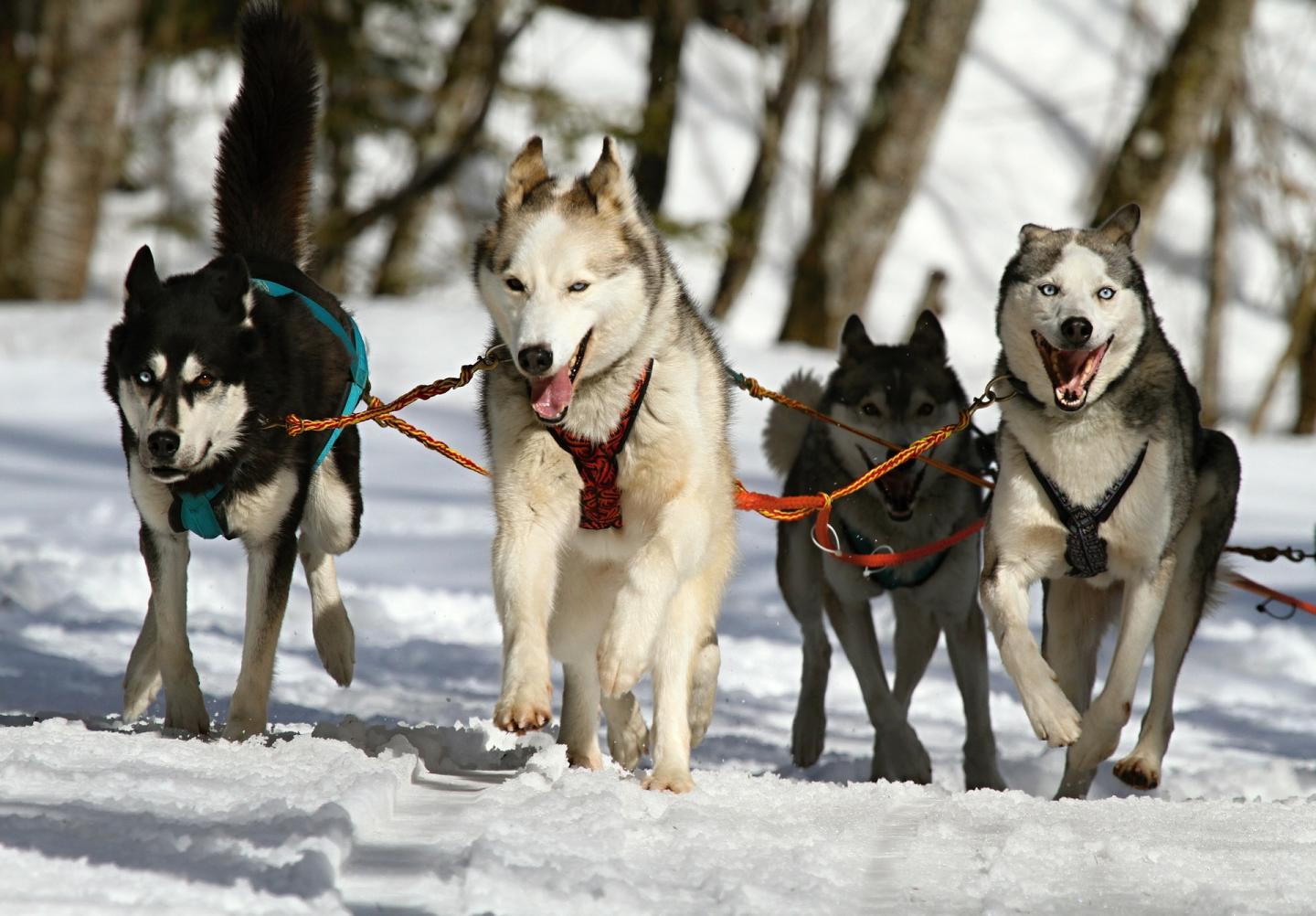 When traveling outdoors in winter, be sure to pack supplies, check conditions, and use caution.
TO ACCESS MORE GREAT CONTENT ON OUR BLOG...