Tips for your Wassail Weekend
Dress Warm: Vermont winters are picturesque but chilly. Layer up to enjoy the outdoor events comfortably.

Reserve Your Spots: For fee-based events, booking in advance ensures you won't miss out.

Travel Smart: Use the complimentary shuttle service on Saturday for easy access to all venues.

Capture the Magic: Keep your camera handy for the Wassail Parade and other picture-perfect moments. Share with our hashtag to be featured! #WoodstockVT
Friday, December 8th: Kick off your Weekend
Friday is the official start of the 37th Annual Wassail Weekend. The town will be abuzz with the final preparations for the parade - only one sleep away!  Get to to town early! Wassail is far more than the parade that it is famous for - Wassail Weekend is supported by tons of activities and opportunities around town. Get a head start on your Scavenger Hunt by stopping by the "Town Smiler" to learn more - the scavenger hunt lasts all weekend long, so you'll get a good head start. 
Wassail Scavenger Hunt – The 12 Days of Christmas (All Day, Town Crier on Elm St.): Start your festive quest with details posted to the Town

Crier

Smiler in the center of the village!

Christmas at Billings Farm & Museum (10am–4pm): Discover old-time traditions at a Victorian-themed celebration. Tickets are $10-$17 at

Billings Farm

.

Rare & Vintage Book Sale (10am–4pm, Norman Williams Public Library): A bibliophile's dream at no cost. Dive into rare finds with more information at

Norman Williams Public Library

.

Carriage Rides through Woodstock Village (1–3pm): Revel in the holiday scenery of our community for a suggested $10 donation. 

Children's Stories for December Holidays (4pm, Norman Williams Public Library): A cozy, festive, and free story hour. Check

Norman Williams

for more.

Building History, Tour, & Organ Concert (4:30pm, First Congregational Church of Woodstock): Engage in the architectural and musical grace at

fccw.net

Prydein at Woodstock Town Hall Theatre (7:30pm): End your day with rousing music. Purchase your tickets at

Pentangle Arts

.
Saturday, December 9th: The Heart of Celebration
Over the years from its humble beginnings; the Wassail Weekend parade on Saturday has become the core of our Wassail Celebration. Each year the town hosts events and activities that all center around the town green, where the parade circles twice. Saturday starts at 9:30AM with the Artisan and Food Market that pops up on The Village Green! Later in the day; the green will play host to the Wassail bar, and then as the sun sets; the luminary and tree lighting, as well as a bonfire and Christmas Caroling. 
Free Shuttle Service (9:30am–5pm): Park at Woodstock Union High School and hop on the shuttle to ease your travels.

Woodstock Wassail Artisan & Food Market (9:30am–3:30pm, On the Green): Encounter local craftsmanship and festive food in the lively market.

Holiday Ornament Making (10am–12pm, Artistree Community Arts Center): Craft your own ornament. Pricing: $10 adults, $5 kids under 18 at

Artistree

.

Wassail Holiday Craft Fair (10am–4pm, Masonic Hall): Browse handcrafted goods at this seasonal fair.

The Wassail Parade and Townwide Activities(2PM-4PM): See Below

Ham Gillett presents Dylan Thomas (12pm & 1pm, Norman Williams Public Library): Delve into a lyrical portrayal of holidays past, detailed at

Norman Williams

.

BarnArts "Holiday Cabaret" (6pm, Little Theater): An elegant evening of dining and dance, reservations at

BarnArts

.

The Yale Alley Cats at Woodstock Town Hall Theatre (7:30–9:30pm): A night of harmonic bliss, tickets at

Pentangle Arts

.
The Parade and Townwide Activity Schedule: Coordinated by High Horses Center for Equine-Assisted Services and the Woodstock Area Chamber of Commerce 
2pm: Wassail Parade Watch Party – First Congregational Church of Woodstock front lawn 
3pm: Wrensong Presents "Songs of the Season" – at the Norman Williams Public Library 
3pm: 24th Annual Holiday Concert featuring The Ten Accapella Group, First Congregational Church
3pm: Yule log and Memory Tree Lighting – Carol Sing on the Green
3:30pm: Woodstock Rotary Community Rale Drawing – The Village Green
4pm: Lighting of the Luminaries – Woodstock Rotary 400 Luminaries onThe Village Green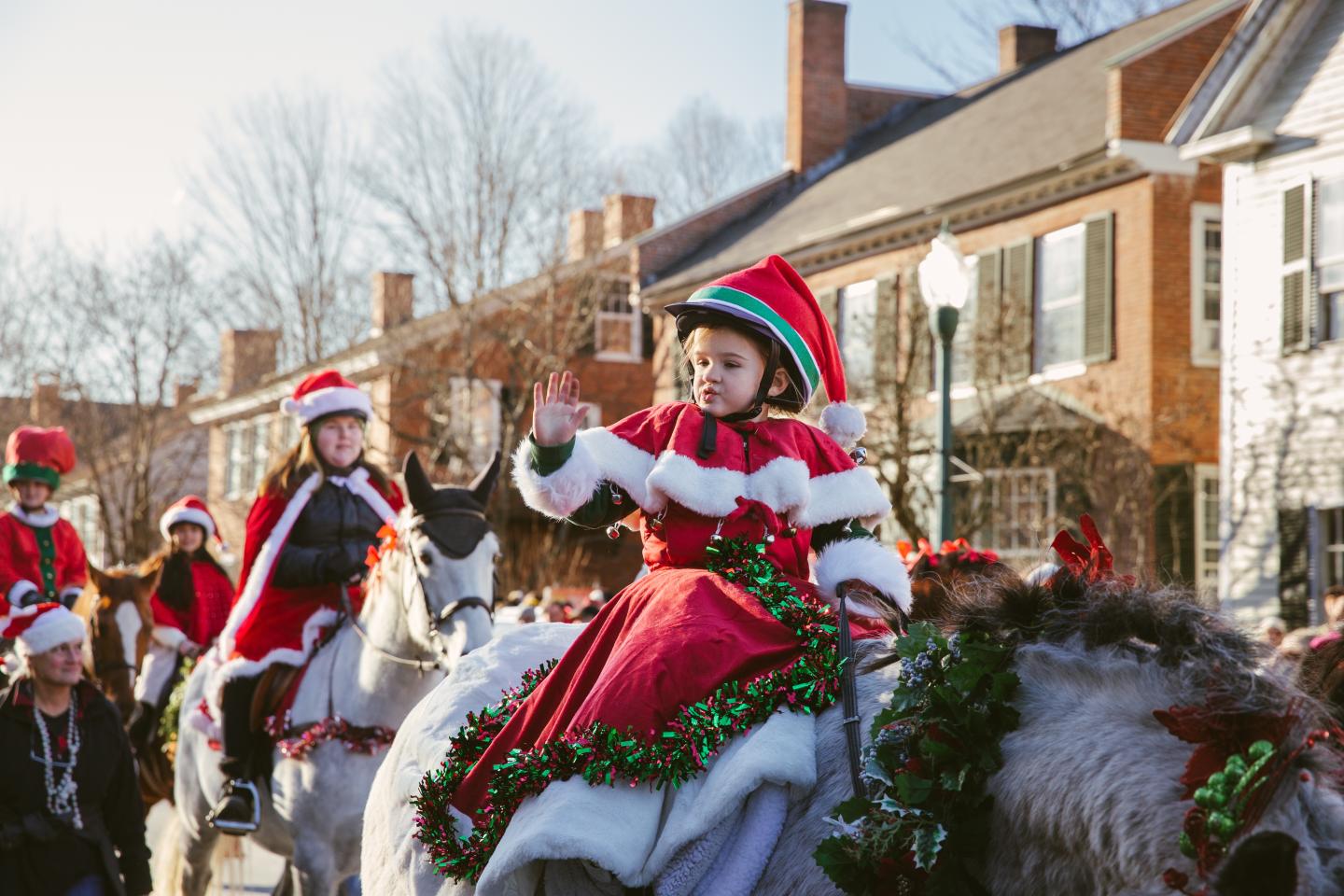 Sunday, December 10th: Looking forward to the Season Ahead
Sunday is rich with the enduring customs of a Victorian Christmas at the Billings Farm & Museum and the playful cheer of skating with Santa at Union Arena. As the weekend draws to a close, gather for the luminous delight of cookies with Santa and the enchanting puppetry of 'The Snow Maiden,' culminating with the resounding joy of the Messiah Sing. It's a reflective day that not only celebrates the weekend's festivities but also ignites the warm anticipation of the holiday season's joy yet to unfold.
Christmas at Billings Farm & Museum: (10am–4pm): Learn about Wassail & Victorian Traditions, Dip Candles, Take a Horse-Drawn Sleigh Ride at Billings Farm

Skate with Santa at Union Arena (10:40am–12:10pm): Join Santa on the ice at

Union Arena

.

Cookies with Santa at Town Hall Theatre (12:30pm): Enjoy a free sweet treat with Santa, courtesy of

Pentangle Arts

.

The Snow Maiden by No Strings Marionette (2pm, Town Hall Theatre): A puppet show enchantment fun for everyone! Adults at $10 and under 16 free. Tickets via

Pentangle Arts

.

Messiah Sing at Our Lady of the Snows (4pm): Raise your voice in song at this cherished, donation-based event.