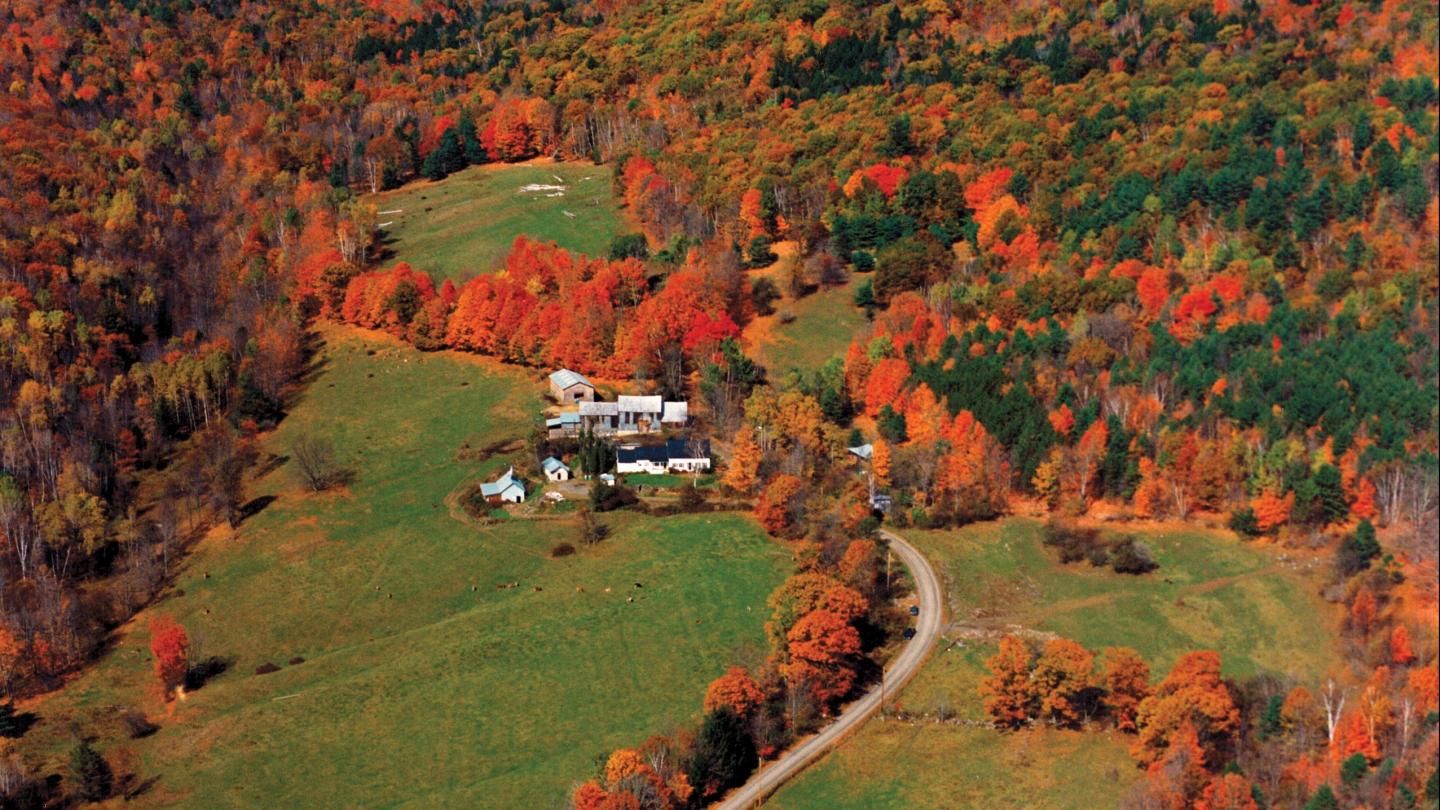 Location: 591 Sugarbush Farm Rd, Woodstock, Vermont
Visiting: Open daily, year-round from 9 AM – 5 PM
Contact: 800-281-1757
Where to buy: On-site, online, or order by phone
Ranked the "Best Cheese & Syrup Stop Attraction" by Yankee Magazine in 2016, the 500-acre Sugarbush Farm is an essential stop for cheese-lovers. Visit this three-generation family farm for maple syrup made on-site, friendly farm animals, a sweet chapel in the woods, and 14+ sampling cheeses made the old-fashioned way, including:
Original Naturally Smoked Cheese, smoked for three days with hickory and maple wood chips
Aged and Selected Sharp Cheddar Cheese, aged 18 months for great snacking flavor and texture
Extra Aged Sharp Cheddar Cheese, a natural, lactose-free white cheddar aged for three years
Super Extra Sharp Cheddar Cheese, aged a whopping six years, this cheese is full of Vermont flavor
Vermont Sage Cheese is the perfect option for a mellower, herb-infused flavor
Mellow Cheddar Cheese, a creamy option aged 6-10 months
Mountain Jack Cheese, Vermont's answer to Monterey Jack
Mild Vermont Light Cheese, a skim milk cheese with half the fat and cholesterol of cheddar
Smoked Cheese with Onion, the perfect addition to any burger
And more, such as Mtn Bleu Cheese, Aged Sharp Cheddar Cheese with Horseradish, Jalapeño and Cayenne Pepper Cheddar Cheese, Smoked Cheese with Bacon
Stick around to watch as each block of cheese is hand-cut, foil-wrapped, and thrice dipped in wax for peak flavor preservation.
Shop Location: 5573 Woodstock Rd, Quechee, Vermont
Visiting: Shop is open daily, 10:00 AM – 5:00 PM. Call to schedule a visit to Richardson Farm.
Contact:
Shop: 802-295-1180
Farm: 802-457-1225
Where to buy: In-store or online
You'll find samples for days at this cheese emporium! As the most well-known brand on our list, offering the "World's Best Cheddar," we're sure you've tasted Cabot cheese – but not like this. Stop by the store for free samples of 20+ cheeses, plus a veritable buffet of Cabot products available for purchase. Located in the Quechee Gorge Village, this store is adjacent to the popular Vermont Antique Mall and within walking distance of the gorge itself.
Or, if you'd like a behind-the-scenes look at a participating Cabot Farm, call to schedule a tour of Richardson Farm, a recognized Century Farm that has been in the family for 5 generations.
Location: 5302 River Rd, Woodstock, Vermont
Visiting: Cost of admission. May 1-Oct 31, 10 AM – 5 PM, weekends in Nov, Dec, Jan & Feb, 10 AM – 4 PM as well as select holiday weeks.
Contact: 802-457-2355
Where to buy: On-site, online, and at select retailers
A visit to Billings Farm & Museum delivers more than just cheese tastings and demonstrations – it's a rural adventure back in time. As one of the finest operating dairy farms in America, Billings is an essential stop on this cheese tour. Here, you can meet the farm's herd of over 40 purebred registered Jersey cows in the barn, watch the milking process, and catch cheese making demonstrations daily as you tour the grounds, museum, and historic 1890s farmhouse. In the gift shop, sample three cheeses made entirely from the farm's 100% raw dairy milk by the renowned Grafton Village Cheese Company:
Butter Cheddar: Also known as Butterkäse, this cheese is reminiscent of Muenster or Gouda cheeses with its delicate, creamy, slightly salty taste. Melts easily, making it great for nibbles or cooking!
Sweet Cheddar: With a firm, yet creamy texture, this sweet, savory cheese has versatility in spades – it's great for cheese platters and cooking recipes
Woodstock Reserve Cheddar: The newest addition is full-flavored with a hint of sharpness after aging a minimum of 15 months, making it the perfect cheddar for casual snacks and dinner parties alike
Location: 106 Messer Hill Rd, Plymouth, Vermont
Visiting: Open daily, 11:00 AM-4:00 PM
Contact: 802-672-3650
Where to buy: In-store, online, and in national stores
Passion is what compelled cheesemaker Jesse and his wife Sarit Werner to restore the antique Plymouth Artisan Cheese factory and its equipment, to use the original 1890 Coolidge-era granular curd recipe – and ultimately, to cultivate a line of hand-waxed, cave-aged, and blue cheeses that define the Plymouth brand. Here, you'll find samples of raw, whole cow's milk cheeses made in small batches by hand, including:
Hand waxed: Original Plymouth, Smoked, Hot Pepper, East Meadow, Garlic Peppercorn, Sage & Herbs, Hunter, Black Truffle, Sambal
Cave aged wheels: Red, White & Blue, Plymouth Big Blue, Rum Runner, Grace's Choice
Plymouth Tomme
Plymouth Reserve
Cheese curds
Drive up the bucolic country road to find the factory, the second oldest of its kind in the US. Opened in 1890 by President Calvin Coolidge's father, John Coolidge, the factory is ripe with history – and its current owners are glad to give you a tour inside. Self-guided walk-throughs, a cheese museum, and broad windows offer a peek into the traditional cheesemaking process.
Location: 734 Caper Hill Rd, Reading, Vermont
Visiting: Call to schedule a tour Monday through Friday, 9 AM – 3 PM
Contact: 802-484-1236
Where to buy: Cheese shops and gourmet retailers
Atop the rolling hills of Reading's countryside, you'll find Spring Brooks Farm, three flavorful cheeses, and a view worth admiring till the cows come home. With over 40 cows producing 600,000 lbs. of milk annually, this farm treats cheesemaking as both an art and a science. Glassed viewing areas within the Spring Brook Farm Cheese Company LLC offer a unique glimpse into the chemistry, microbiology, food preservation, economics, health, and nutrition that go into cheesemaking. Here, you'll observe the arduous process of turning raw milk into one of three cheeses via traditional methods originating in the French Alps and aged to perfection:
Tarentaise, a semi-hard washed rind cheese aged 9 months. Winner of Best in Show (Tarentaise Reserve), American Cheese Society 2017.
Reading, named for the town in which it was made, is a semi-soft washed rind cheese aged between 3 to 5 months. 1st in Category, American Cheese Society 2017.
Ashbrook is a semi-soft washed rind cheese inspired by French Morbier-style cheese, aged to a minimum of 10 weeks. Bronze Medal in Category – Big E Cheese Competition West Springfield, MA 2016
As a part of the Farm for City Kids Foundation, Inc., Spring Brooks Farm introduces children from metropolitan areas to a week-long farm-based curriculum, bringing education to life in a 1,000-acre classroom. Visit their website to learn more.
Location: 5 Linden Rd, Hartland, Vermont
Visiting: Not currently scheduling tours
Contact: 802-436-4360
Where to buy: On-site, online, select local shops, or the Norwich Farmer's Market
Like a hillside village all its own, the households of the Cobb Hill Cohousing Community huddle close to the Cedar Mountain farm's towering silos and classic red outbuildings. And here, their proximity is as beautiful as it is functional. Because the farm and community work hand-in-hand, residents supporting the self-sustaining farm via a commitment to land stewardship, resulting in fresh produce and three artisan cheeses from Cobb Hill Cheese. Every other day, batches of these cheeses are made from fresh milk from the community's Jersey cows:
Ascutney Mountain: With a sweet, nutty flavor, this 9-to-10-month aged award-winner was developed from a Swiss Appenzeller recipe, complete with an alpine-style natural rind. Similar to European Alpine cheeses like Gruyère, Appenzeller, or Raclette
Four Corners: Formulated from a Caerphilly-style cheddar recipe, this prize-winning cheese has a tangy, buttery flavor and a natural rind after its customary 6-moth aging process
Oh My Gouda:  This washed-curd cheese is aged between 3 and 4 months for a sweet and nutty flavor and natural rind made with raw cow milk
Locations:
Farm: 3786 Church Hill Rd, South Woodstock
Visiting: 
Farm tours must be scheduled in advance.
Contact:
Shop: 802-674-4260
Farm: 802-457-9992
Where to buy: At the store, online, or at one of many national retailers
What began as a community effort to protect an 18-acre dairy farm has matured into an award-winning institution of artisan Vermont cheese. Today, you can stop by the Vermont Farmstead Cheese store and packaging center at Artisan Park for a bit of fun (stores also include SILO Distillery, Harpoon Brewery, a Simon Pearce Glassblowing factory, and more), shopping, prepared foods, and tastings of their delicious cheeses. Or, for a behind-the-scenes experience, visit the farm in South Woodstock. There, you can tour the barn, meet-and-greet the pure-bred herd of Holsteins, Jerseys, Aryshires, and Brown Swiss that each produce 60 lbs. of milk per day, and snag a bird's eye glance at the cheesemaking process. Because happy cows – did we mention they have their own waterbeds? – make great cheese. It's no wonder Vermont Farmstead's cheeses are sold nationwide with accolades to match:
Lillé (Coulommiers-style), a soft-ripened cheese that's an ancestor to Brie – with subtle flavors of mushroom, nut, and butter. Took home 1st place in the Farmstead Cheeses category at the 2018 American Cheese Society Competition
Cloth-bound Windsordale – 2nd place winner in the Mature Cheddar category at the 2018 American Cheese Society Competition
Governor's Cheddar is Vermont Farmstead's sharpest cheddar, aged for 1+ year for subtle notes of honey, butter, and fruit to balance the bite. 3rd place winner in the Cheddars category at the 2018 American Cheese Society Competition
And more, including Alehouse Cheddar Cheese, Farmstead Cheddar, Sugarhouse Edam, Brickhaus Tilsit, Smoked Brickhaus Tilsit, Hot Pepper Brickhaus Tilsit, Windsordale, Windsordale Truckle, Blueberry Windsordale, Cranberry Windsordale, Cracked Pepper Windsordale, Vermont Maple Sriracha Windsordale, Hot Pepper Windsordale, Smoked Windsordale, Cheddy Topper, Sip of Sunshine Alehouse Cheddar, Small Batch Beer Cheese, Small Batch Coffee Cheese, Fresh Cheese Curd, Small Batch Hot Sauce Cheese, Octoberfest Alehouse Cheddar, Yeehaw Brewery Dunkel Beer Alehouse Cheddar, Maple Cheddar