We start our stroll at the eastern gateway to Woodstock Village, the historic Tribou Park!
There, the path and granite Civil War monument are bathed in a soft, golden glow from the lights strung overhead—and as we head west down Central Street, deeper into town, the lights grow brighter in front of First Impressions Salon, Soulfully Good Cafe (thanks to its collection of charming Christmas trees), and beyond.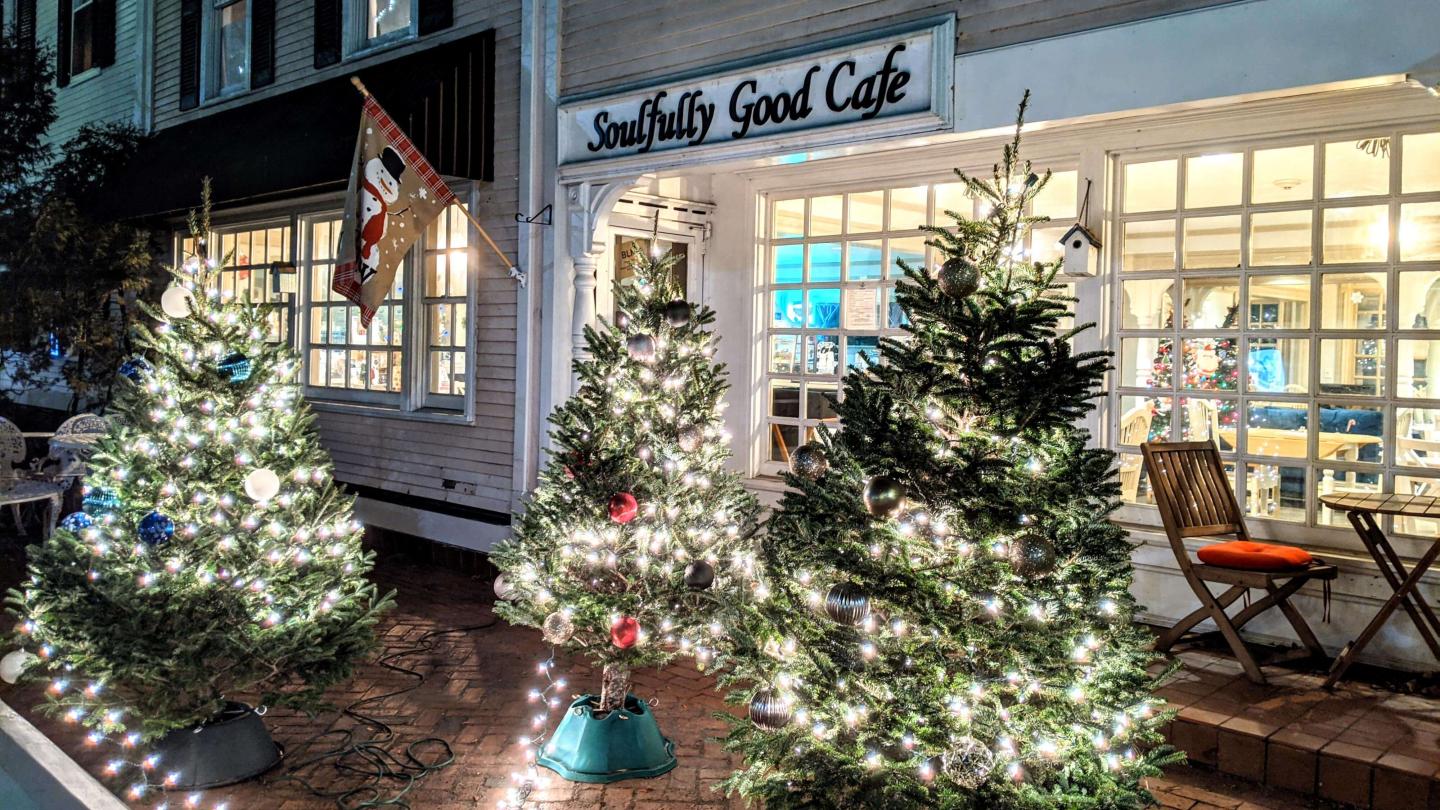 The night is dark as we amble further, but the bright, cheery window of Woodstock Sports lights the way toward Mon Vert Cafe's garland-wrapped columns and the soft glow from the heart of the village just a few steps ahead.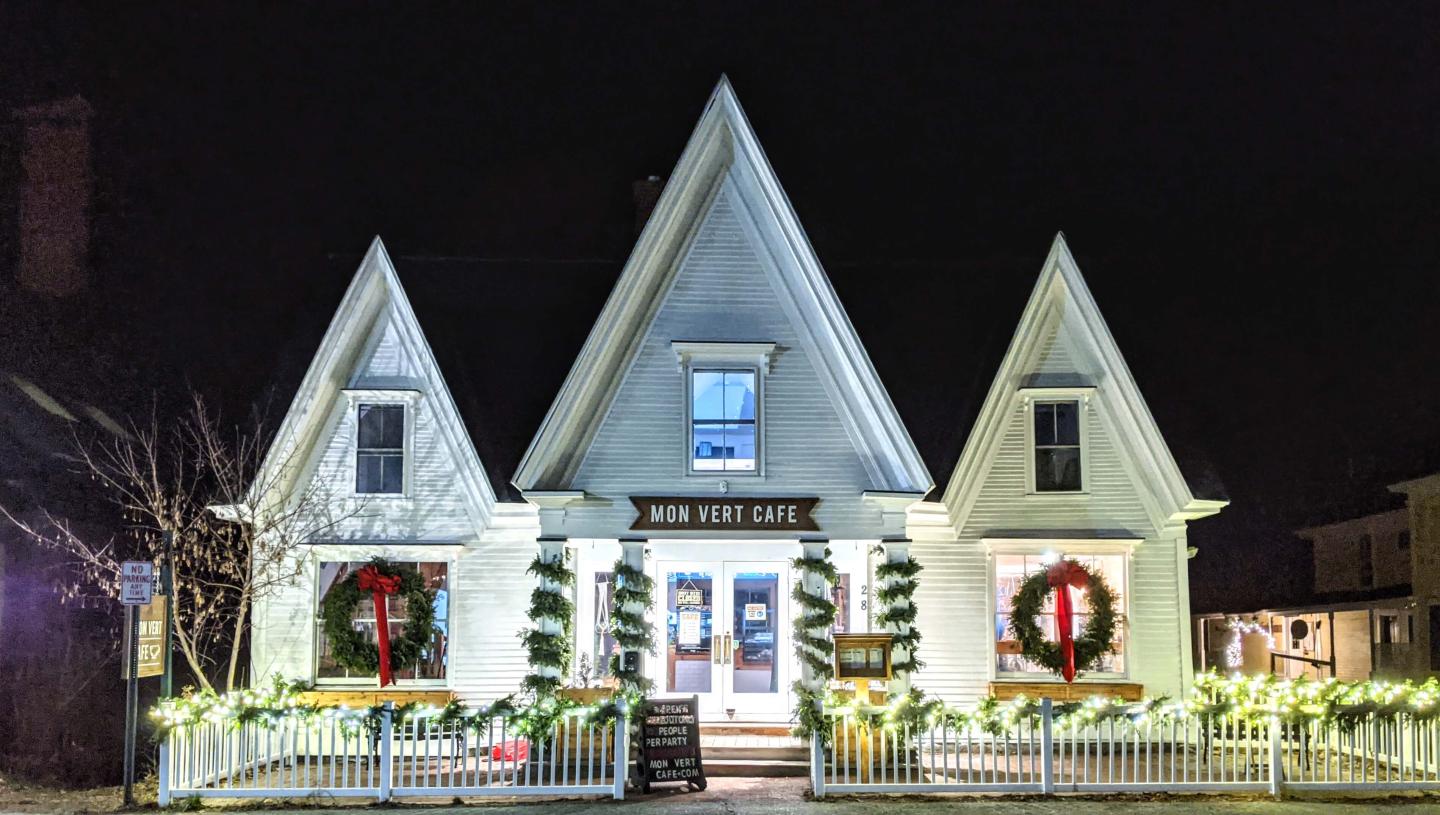 It's beginning to look a lot like Christmas
Ev'rywhere you go;
Take a look in the five-and-ten, glistening once again
With candy canes and silver lanes aglow.
Stars and lights cast their calming luminescence from above as we trek the silent streets over Kedron Brook and into the center of town.
There, mom-and-pop shops like Yankee Bookshop, 37 Central Clothiers, and Unicorn have decked their windows with garland, bows, and eye-catching items available within.
When we look a little closer, together we find enchanting holiday scenes like a Christmas tree already visited by Santa, with presents overflowing below at RT Home and a scene of Woodstock's stores and landmarks made miniature and cushioned with cottony snow.
Linger with us a moment, then continue on the twinkling path.
It's beginning to look a lot like Christmas,
Toys in ev'ry store,
But the prettiest sight to see is the holly that will be
On your own front door.
In corners and alcoves, Christmas trees declare their presence with gleaming shades of red, green, blue, and yellow while wreaths add a dash of tradition charm to nearly every other door!
With each new discovery, we find ourselves humming, "oh Christmas tree, oh Christmas tree!" But we must amble on.
From there, we send a longing glance down Central Street past the sparkling facade of Ferro Jewelers, Danforth Pewter, and one of our village's newest shops, Woody's Mercantile, before crossing the road to Elm Street.
Lights reach far and wide overhead, illuminating the road and our smiles as we're greeted by dangling ornaments and window displays crammed with curated goodies on Elm Street.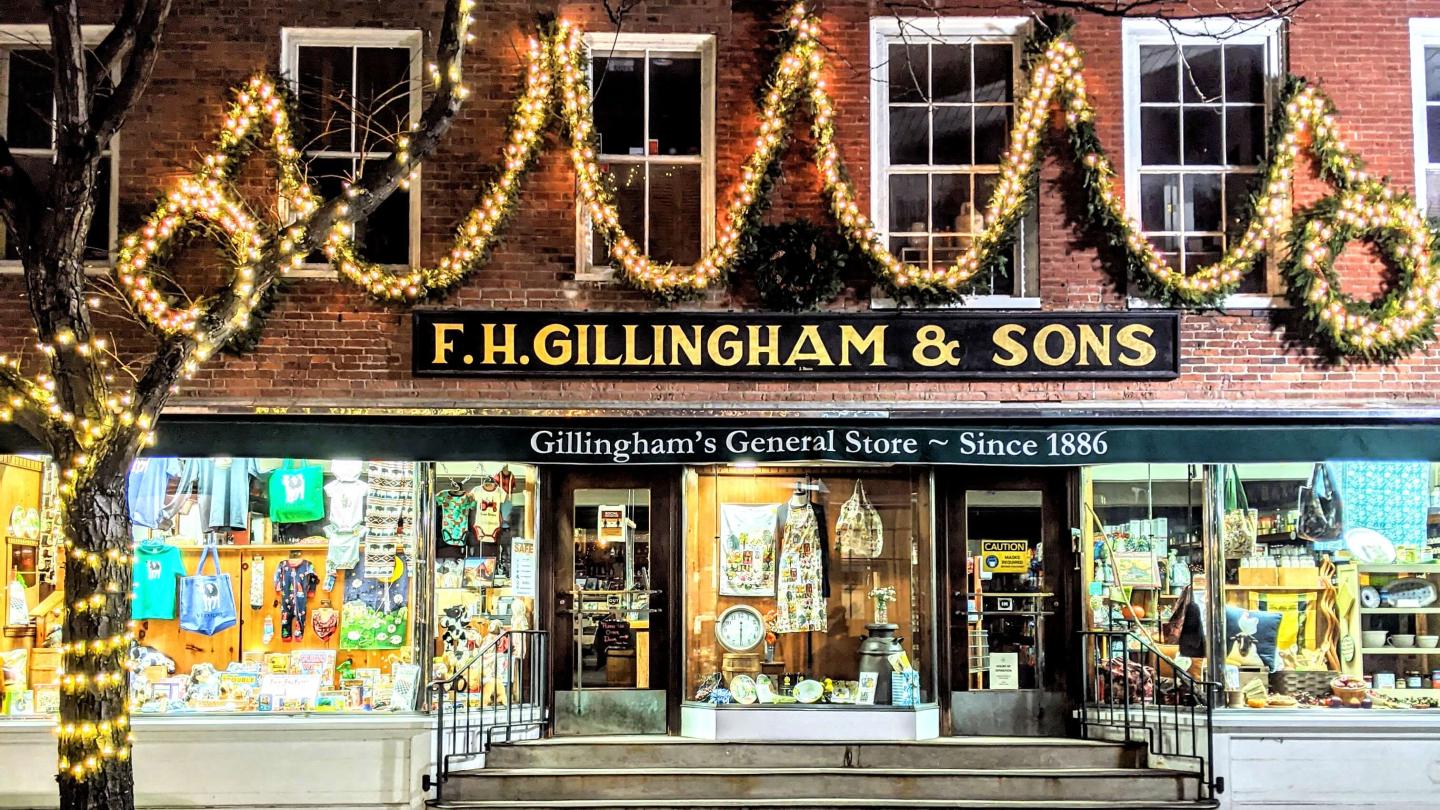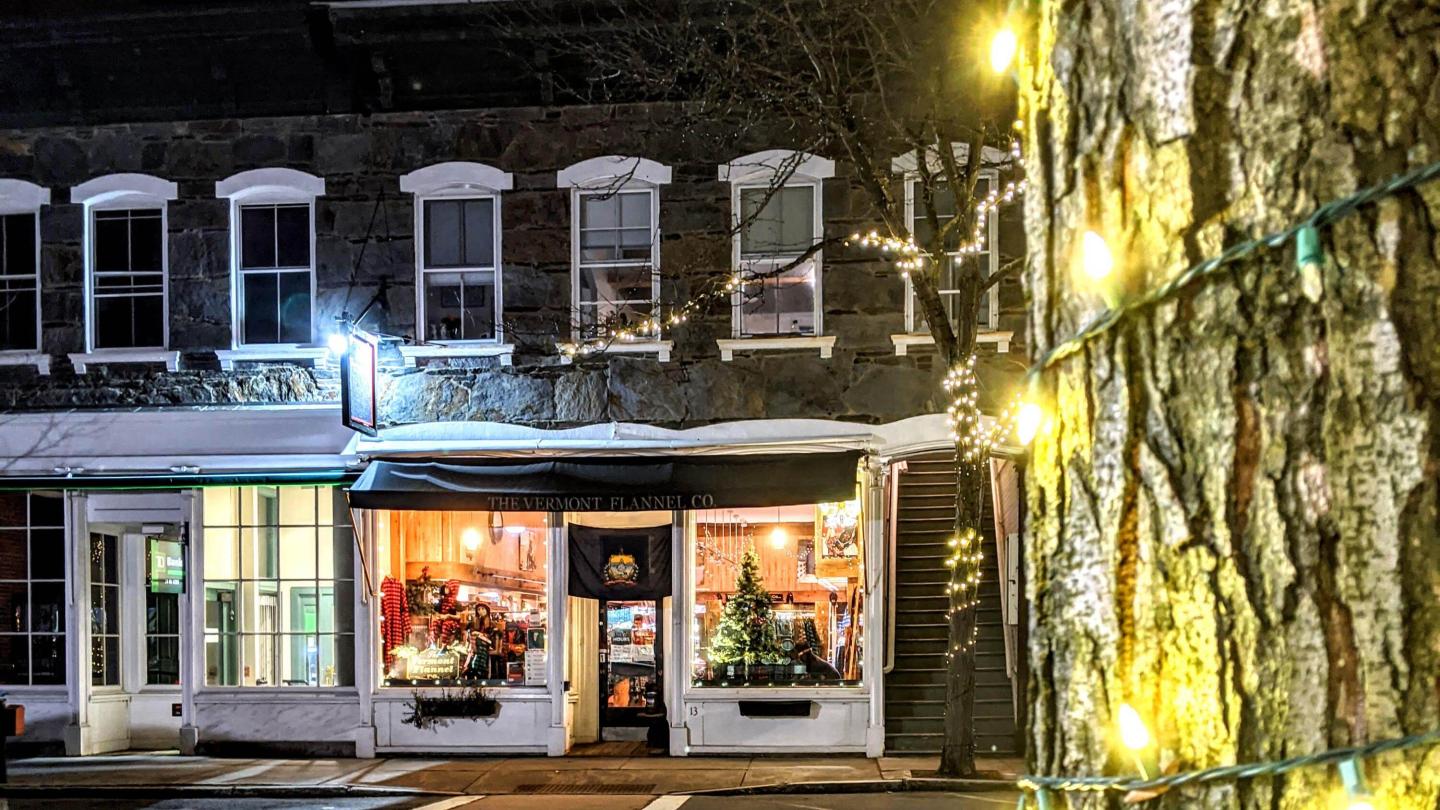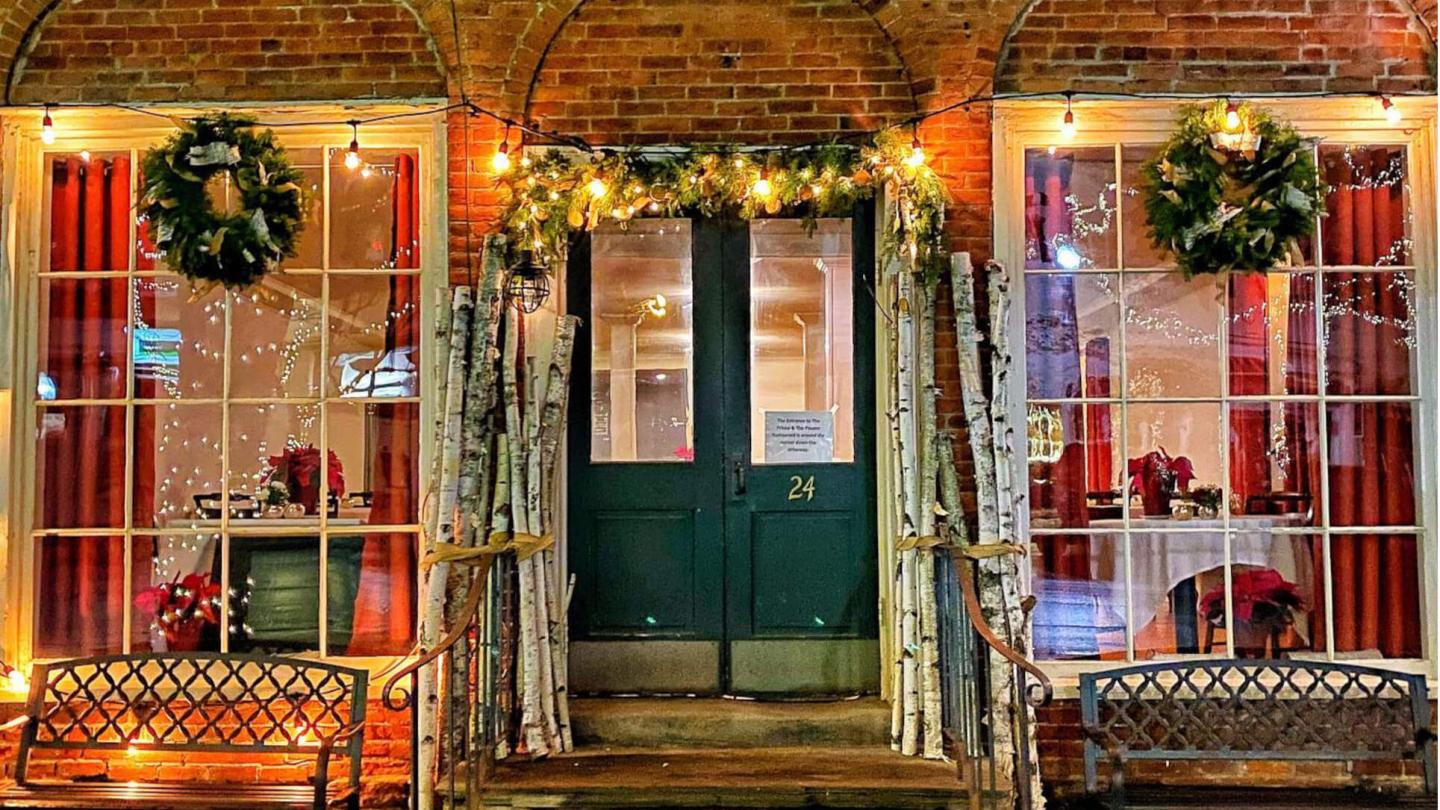 Now it's time to drift back around to Central Street and continue west.
We pass the Focus Vermont Gallery, its doors, walls, and fences festooned with all the trimmings that bring holiday joy to our hearts.
And when we meet the green, we can't help but glance back at the holly jolly scene we just passed through.
It's beginning to look a lot like Christmas
Everywhere you go
There's a tree in the Grand Hotel, one in the park as well
It's the sturdy kind that doesn't mind the snow
Now, our journey's nearly complete—and there's no question we have to end with a few of our favorite things (snowflakes that stay on our noses and eyelashes included!): The Woodstock Town Hall Theatre, Middle Covered Bridge sending good cheer to all while the Mt Tom Star twinkles from above, The Woodstock Inn & Resort, and last but never least, The Memory Tree, its towering light-draped branches reaching far above other trees in sight.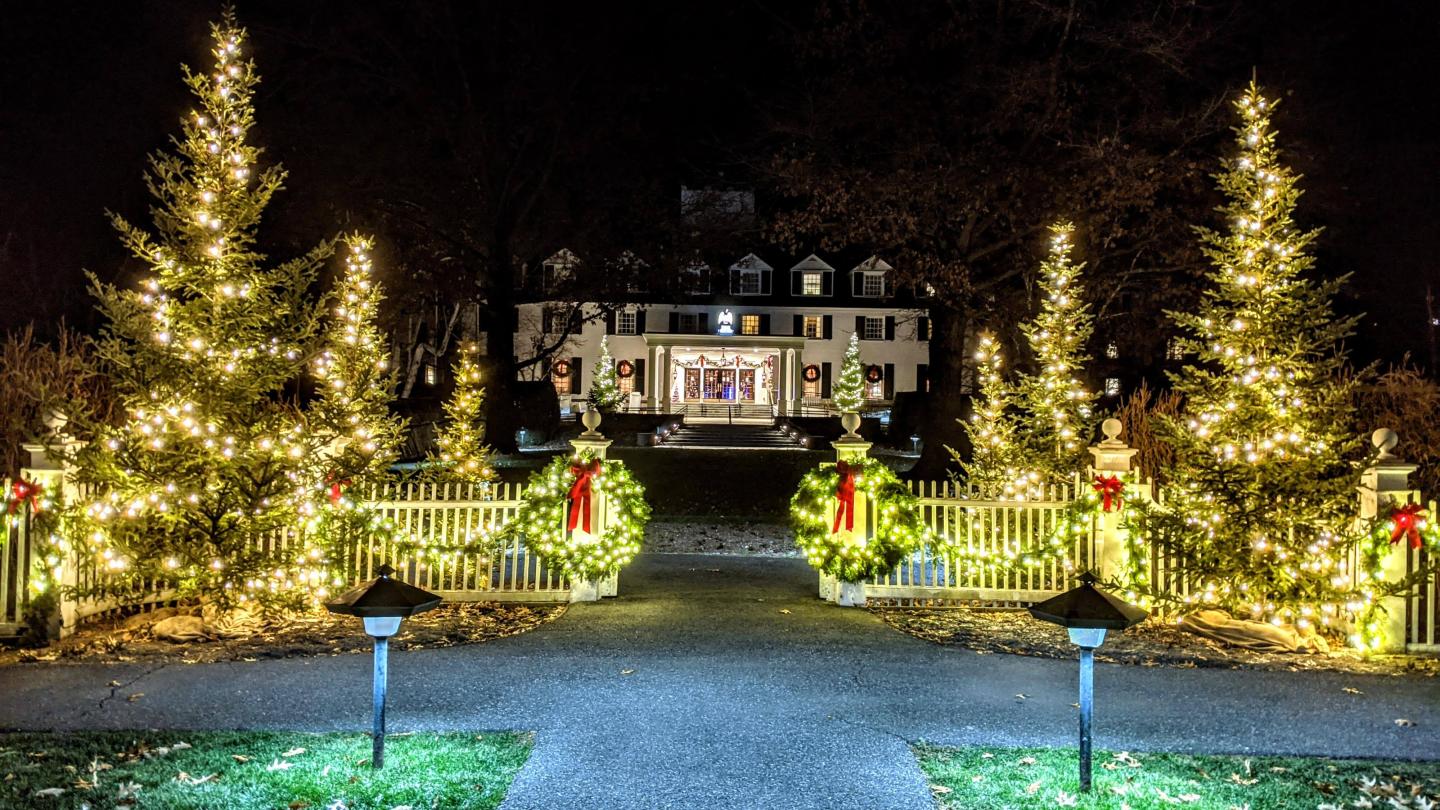 It's beginning to look a lot like Christmas
Soon the bells will start
And the thing that'll make 'em ring is the carol that you sing
Right within your heart