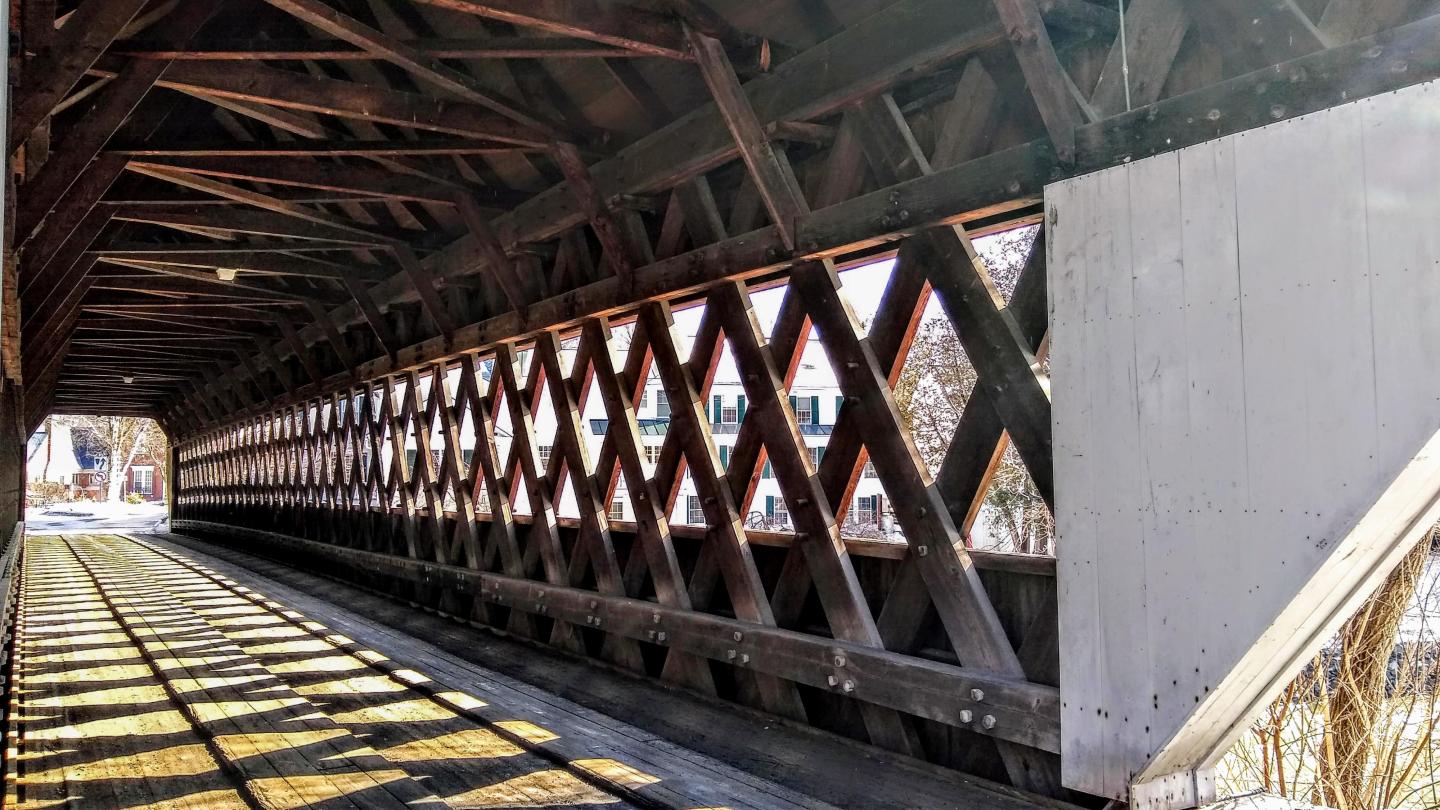 Likely the most photographed bridge in Woodstock, the 139-foot-long Middle Covered Bridge is a breathtaking sight to behold no matter the season. Pause on this town lattice truss structure in the height of summer for a break from the heat. Stand back in spring or fall for a show of brilliant color in view of its old wooden walls or admire the Mt Tom star shining bright above the bridge's snow-crusted roof in winter.
Built in 1969 by Milton Graton to replace an 1877 iron bridge, the Middle Covered Bridge is the second-youngest structure in our list but contains centuries' worth of charm! That's because it was constructed using traditional methods and materials down to the wooden pegs in lieu of nails. After it was set aflame by arsonists in 1974, the bridge was repaired to its current glory, as seen today. With a separate walkway for foot traffic and its location on a quiet side street, it's easy to snap your own spectacular shot.
Taftsville Covered Bridge
Location: Covered Bridge Road, Woodstock VT – just off Route 4
Nearby attractions & landmarks: Andrew Pearce Bowls
After three predecessors were lost to floodwaters in rapid succession, Solomon Emmons III was contracted to build the timber-framed Taftsville Covered Bridge that stands today. Completed in 1836, it is one of the oldest covered bridges in the nation, and the longest on our list, spanning 189 feet.
In recent years, it has survived Hurricane Irene and a hit-and-run, a rare accolade thanks, in part, to its early craftsman design likely influenced by Swiss tradition. The modified multiple kingpost truss design complete with arches is not based on any US patent but remains one of the most stunning and effective designs in covered bridge history.
Be cognizant as you stop roadside for photos of this bridge as bright as a candy apple, as traffic is slow but consistent.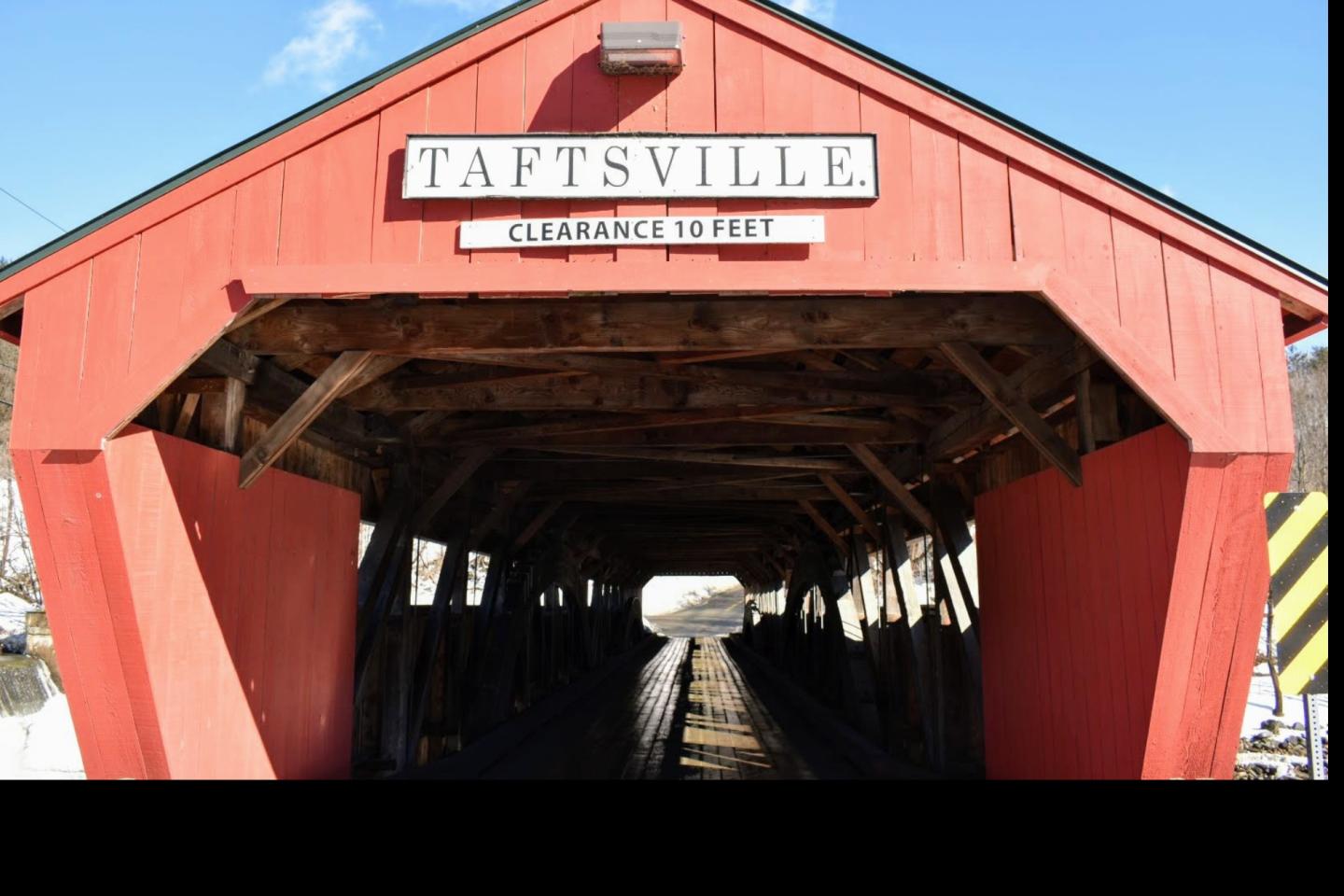 In 1877 at the time of its construction, the Lincoln Covered Bridge was an anomaly. The only known wooden example of a variation of the Pratt truss (patented thirty-three years earlier) – featuring flanking arch trusses made of six laminated layers– this design would pave the way for steel highway and railroad bridges of the future. Now a site listed on the National Register of Historic Places (circa 1973), this 136-foot bridge is well worth a visit.
Reopened to traffic after recent damage, you can once again turn off Route 4 to drive across this one-lane bridge built by R.W. Pinney and B.H. Pinney and hear the echoes of tire on wood. Once inside, linger to admire the unique construction that has served this structure well over hundreds of years before passing through to the dirt road on the opposite side. There, you'll find clear views of this beautiful, historic structure and the babbling Ottauquechee River it spans.
Quechee Covered Bridge
Location: Waterman Hill Road, Quechee VT – where it meets Quechee Main Street just off Route 4
Nearby attractions & landmarks: Simon Pearce, Balloons over New England (site of the hot air balloon festival)
The Quechee Covered Bridge, with its sweeping views and intrinsic Vermont charm, offers a grand entrance into the sleepy downtown of Quechee. But in 2011, the original 70-foot-long bridge suffered catastrophic damage at the hands of Hurricane Irene. Disconnected from the roadway on either side, the 1970 steel stringer structure sat teetering on weakened abutments after the floodwaters cleared – until it was redesigned and rebuilt at the end of 2012 with a combination of modern and traditional materials, resulting in a beautiful structure that settles in nicely with its historic surroundings.
Lengthened to 85 feet to reduce the risk of future flood damage, this two-lane bridge includes a pedestrian walkway offering western view of the old dam waterfall and Simon Pearce. To the east, you'll find a tumble of rocks leading downward to a scenic gorge, the Ottauquechee cutting a winding path through its middle.
Ample parking offers many spots to pull over and snap a picture of this postcard-perfect spot.